Simulation Intent
INTRODUCTION
Simulation Intent captures from the outset of the design process how the component is to be idealised and represented in the simulation model
In this work the thin-sheet and long-slender regions are identified and subdivided out of an aerospace component
Depending on the simulation intent defined, different meshing strategies can be used to create efficient meshes for the subdivided model
MODEL PARTITIONING USING GEOMETRIC REASONING
The CADfix Thin-Thick tool is used to identify and extract thin-sheet regions from the model.
QUB algorithms then use the CADfix API to extract long-slender regions.
The remaining regions are classed as 'Complex'.

SIMULATION INTENT 1 : USE A REDUCED DIMENSIONAL MESH, WITH ELEMENT TYPE MATCHED TO GEOMETRIC SHAPE
Idealisation automated in Siemens NX
Interface data from a cellular model used to automatically tie different regions together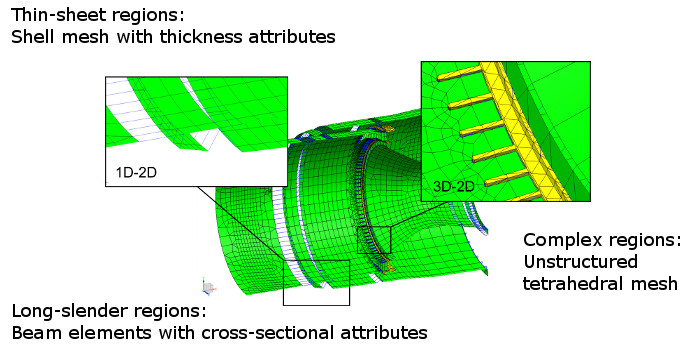 SIMULATION INTENT 2: USE A SOLID MESH, WITH ELEMENT SHAPE MATCHED TO GEOMETRIC SHAPE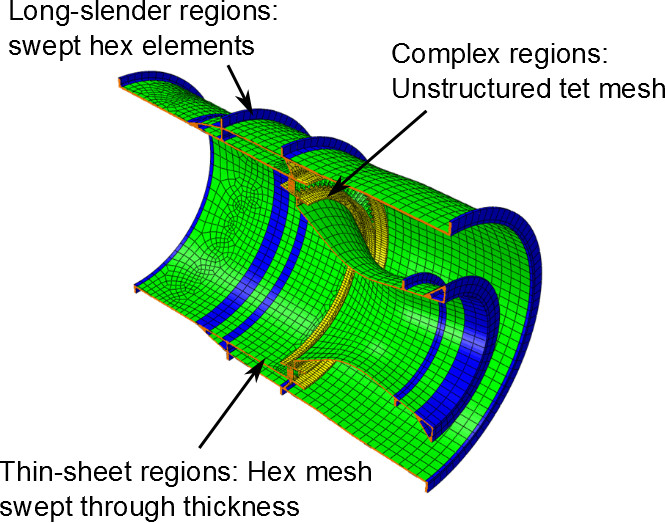 CONCLUSIONS
Geometric reasoning has been used to subdivide aerospace components based on shape
Simulation intent has been used to define different mesh styles for subdivided regions
To view a video of Simulation Intent being used to create a shell-beam mesh of the above aero engine component, please click below.