PMC launch an online PD-L1 educational module as part of IUK funded PathLAKE project.
The Precision Medicine Centre at Queen's University Belfast has developed an online PD-L1 training module as part of a digital pathology course on the Philips Digital Pathology Education Tutor. As a leading development partner, QUB has produced the module, alongside a breast and a prostate module, as part of the PathLAKE Centre of Excellence project, funded by Innovate UK.
The PD-L1 module will provide an opportunity for trainees to view examples of immunohistochemistry cases and to gain insight into digital presentation of PD-L1 in non-small cell lung cancer, which is notoriously one of the most difficult tests conducted in contemporary tissue pathology.
With an excellent diagnostic record and leading publications for PD-L1 testing(1, 2) under the direction of Dr Perry Maxwell, Clinical Lead, and Dr Matt Humphries, Scientific Lead for Tissue Hybridization and Digital Pathology, the PMC is distinctively placed to provide definitive educational content for training of future digital pathologists.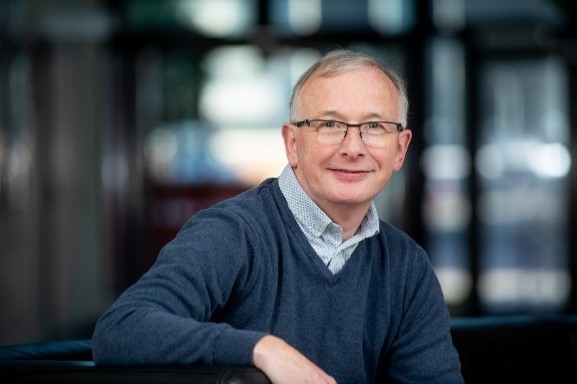 Dr Perry Maxwell, Tissue Hybridisation & Digital Pathology Clinical Lead and Dr Matt Humphries, Tissue Hybridisation & Digital Pathology Scientific Lead at the PMC, QUB.
The PD-L1 module is approved for two CPD points from the UK Royal College of Pathologists and participants are awarded a Certificate of Participation upon completion, which could be included as evidence towards completion of Stage 1 validation in digital pathology.
Dr Jackie James, Consultant Pathologist, Clinical Reader at QUB and co-PI of Belfast-PathLAKE said, "At a time when online training is essential for diagnostic and research endeavours, this resource represents high quality material for those involved in tissue diagnostics, as well as also those engaged in digital pathology and artificial intelligence research."
Access to the Philips Digital Pathology Education Tutor platform is open to all. To request access, please email pathlake@uhcw.nhs.uk or complete the Contact Us form at www.pathlake.org/contact-us
References:
1. Humphries MP, McQuaid S, Craig SG, et al. Critical Appraisal of Programmed Death Ligand 1 Reflex Diagnostic Testing: Current Standards and Future Opportunities. J Thorac Oncol. 2019;14(1):45‐53. doi:10.1016/j.jtho.2018.09.025 http://tiny.cc/608epz
2. Humphries MP, Bingham V, Abdullahi Sidi F, et al. Improving the Diagnostic Accuracy of the PD-L1 Test with Image Analysis and Multiplex Hybridization. Cancers (Basel). 2020;12(5):E1114. Published 2020 Apr 29. doi:10.3390/cancers12051114 http://tiny.cc/818epz