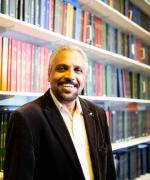 Senior Lecturer, Geography
School of Natural and Built Environment
Email | Research Portal | Orcid | LinkedIn
As a specialist in South Asia, my research focuses on the production and mapping of the colonial and postcolonial regional and urban development spaces in India. My research has three specific strands all connected to South Asia and Northern Ireland context. My initial years of research focused primarily on regional and urban development with a particular focus on sectoral labour market analysis including an evaluation of economic policy impacts across the sector.

Concurrently, my research also advanced specifically to include questions about the impact of Climate Change on Cultural Heritage in fragile ecological zones of Assam. In particular, the role of Heritage in the promotion of Zero Carbon Footprints was a key initiative which I have led over the last three years. This primarily focused on seeking to understand the role of indigenous communities in protecting their environment and strengthening their resilience in the wake of climate change.
The third strand of my research is the identification of the historical roots of underdevelopment and the significance of the unfinished project of decolonisation in India and globally.

Recently I was nominated as the Distinguished Honorary Chair of Global Sustainable Development Goals (Techno-India University, Kolkata, India, 2023). I sit as a Panel member for the AHRC Peer Review College since 2021 and as a Sustainability Advisor for NI SMEs under the aegis of Cordovan enterprise.