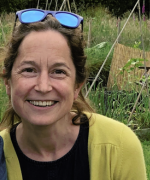 Assistant Environmental Manager, Waste Management
Estates Services
With a degree in Geography and a Masters in Environmental Management and in Business Administration, Nicola Keown has been Assistant Environmental Manager at Queen's University for fifteen years. Nicola has over 20 years experience in a number of environmental sustainability roles across a variety of large public and private sector organisations, including the electricity and poultry processing industries and local and central government.

In her current role as Assistant Environmental Manager, she leads on waste management across the University estate, including waste reduction and recycling strategies, plastic reduction and the circular economy. This includes the procurement and management of waste contracts including legal compliance and financial efficiencies.