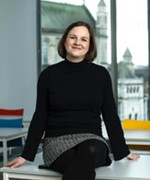 Lecturer in Hospitality Management
Ulster University
Email | Research Portal | Orcid | LinkedIn | Twitter
Dr. Susann Power was born and raised in Germany and has lived in Denmark, Sri Lanka, Russia, England and the United States before settling in Northern Ireland, where she really enjoys being near the sea.

Susann is a researcher with a practitioner background. After managing the World Travel & Tourism Council's sustainable tourism programme for several years, Susann gained a PhD in 'ethics and entrepreneurship' from the University of Surrey, where she then held a post as a Lecturer in Business Ethics. Susann now works as a lecturer and researcher at Ulster University Business School, where she is also the faculty's Sustainability Lead. Her research interests combine ethics, entrepreneurship and tourism - often applying an environmental ethics lens paired with environmental psychology. She has published widely in leading academic journals and presented globally on these research areas. She's currently supervising PhD research on post-growth business models, sustainable rural tourism development and user-centred pro-environmental behaviour change.

Susann hopes that through her work she can advance academic knowledge, but also contribute to the sustainable development of tourism destinations, most notably her adopted home Northern Ireland. She sits on the Board of Directors of environmental charity Sustainable NI, advises local and regional governments on sustainability policies and volunteers as a marine litter surveyor for DAERA.

In her free time, Susann can most often be found on the beach picking litter with her group of Ards and North Down Beach Cleaners.