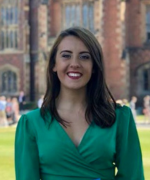 PhD Researcher, International Business
Queen's Business School
Email | Research Portal | Orcid | LinkedIn
Claire Kilpatrick is a PhD student at Queen's Business School and member of the International Business, Entrepreneurship, and Marketing (IBEM) group.

Claire's PhD research is centred in International Business and will explore how two megatrends - Industry 4.0 and sustainable development – combine to influence the global strategies of multinational enterprises. By transforming business practices and relationships along global value chains, 4.0 technologies such as artifical intelligence (AI), Internet-of-Things (IoT), blockchain and digital twins offer an exciting opportunity to augment the global sustainability efforts of multinational enterprises. However, unintended consequences, such as job loss from automation, exacerbation of the digital divide and significant increases in energy requirements, could hinder sustainable development. Considering these developments, Claire's research aims to explore the role of 4.0 technologies in enhancing global sustainability and understanding how managers leverage 4.0 technologies to enhance the global sustainability efforts of their multinational enterprises.

Previous to her PhD, Claire completed MSc Leadership for Sustainable Development in QUB School of Biological Sciences, and has researched the impact of the Troubles on environmental attitudes and behaviors in Northern Ireland, and the impact of climate change on the queer community.