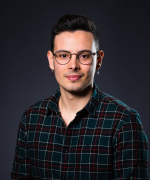 PhD Researcher, Soil biodiversity
School of Biological Sciences
I'm a first year PhD student in the school of Biosciences studying soil biodiversity in agroecosystems. Healthy soils are the foundation for healthy ecosystems and sustainable production. Soils hold enormous amounts of the world's carbon and biodiversity, but soil organisms are often overlooked compared to charismatic megafauna. Soil communities are an essential part of achieving sustainable agriculture, helping to mitigate climate change, reduce pollution, and improve human health.