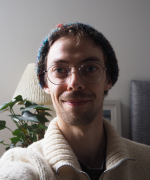 PhD Researcher, Sustainable Chemistry
School of Chemistry and Chemical Engineering
Research title: Exploring whisky pot ale as a sustainable resource for valuable materials.

My research is focused on developing methods to add value to pot ale, a large waste stream generated during whisky production, via a circular economy approach, with a particular focus on protein and phosphate. Another important aspect of my work is to reduce the cost of conventional methods of dealing with pot ale, which can have detrimental consequences for the environment.