Meet the NICRF Nursing team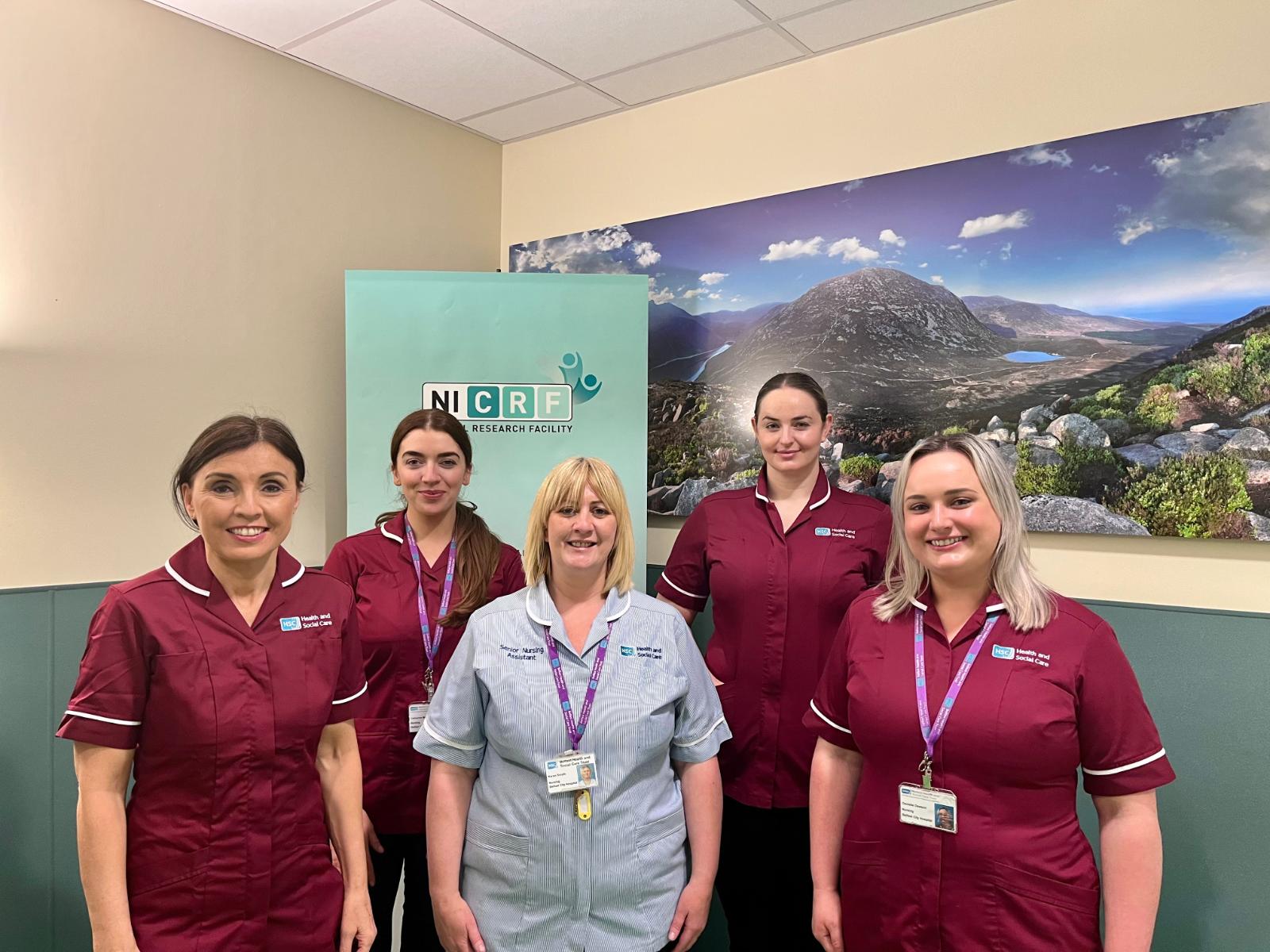 Meet the NICRF Nursing team.
Danielle Dawson – Lead Research Nurse in the Northern Ireland Clinical Research Facility in Belfast.
I am a registered nurse with over 8 years' experience coordinating and delivering Phase I-III trials.
My role extends to being staff manager and a member of 2 UKCRF network theme groups - Quality assurance and Research Nurse and Practitioners.
My clinical research experience includes coordinating commercial and investigator-lead trials in public and private sectors across multiple phases and therapeutic areas in Northern Ireland and Australia.
This research experience includes leading on all aspects of trial setup, costings, recruitment as well as coordinating drug trials including oral, intramuscular, subcutaneous and intravenous routes.
I am passionate about delivering clinical trials with the highest standards to ultimately offer new treatments to patients and improve healthcare.
Catherine Mc Neil
My name is Catherine I am a clinical research nurse I completed my nursing degree at Liverpool John Moore's University in 2011. After qualifying I worked in respiratory nursing which led to my interest and passion in ventilation. This brought me to England where I worked in 2 different regional weaning centres that specialised in sleep and acute/long term ventilation. I cared for a variety of patients with complex disorders and loved working within this speciality. More recently due to the pandemic the service and my role changed to caring for COVID patients.
During this time and seeing research in action I saw first-hand how crucial and important research is to saving lives and improving outcomes which has brought me to my current role in the NICRF
I have worked in the NICRF for the past year during this time I have worked on phase 2 and phase 3 studies (CTIMP and non CTIMP) alongside learning and developing new skills as a research nurse.
It is great to be part of something that makes a positive difference, helps improve patient care and deliver treatment pathways.
Karan Smyth
My name is Karan, I am a Senior Health Care Support Worker and I have been working within the Belfast Trust for 22 years. For the past 15 months I have been working in research in the NICRF based at the BCH. My previous experience includes working with the HYPE Team, Cardiology Services and in the Cancer Centre. Working within research has given me the opportunity to expand my understanding and knowledge of research and how important and ground breaking research is for millions of people living with debilitating medical conditions and help improve their lives.
I have worked on pilot trials, phase 3 trials and was involved in the Novavax and Omicron trial which was working towards understanding and finding a vaccination against the Covid 19 pandemic which effected the whole world. I have gained new skills working in the laboratory and feel proud to be part of a team that are 100% committed to research and compassionate in delivering safe and high quality care for participants.
Sharon Carr - Lead Research Nurse in the Northern Ireland Clinical Research Facility in Belfast. I lead on both ATIMP and CTIMP research and as well as delivering on these studies, I lead on costing and set up. Other elements to the role include educational lead, (Emergency life support trainer, arranging emergency scenario and lunchtime education session to all CRF staff.) Also seeking new business opportunities via presenting to university staff and students, liaising with potential sponsors and Principle Investigators. I am UKCRF Education Group member, Irish Research Nurse and Midwives Network (IRNM) Committee member and IRNM Grant subgroup member. I was delighted that during the Covid 19 Pandemic that I was Lead Research Nurse on the NI vaccine study, which enabled our team in the NICRF to show case our excellent facilities and expertise in setting up and delivering a large-scale study. I particularly enjoyed dealing with those colleagues and students new to clinical trials research and was keen to show how this career option has a valuable contribution to make to our healthcare system. I am also passionate about raising the profile of NI research so it was a great privilege to have a poster accepted for the UKCRF conference in 2021 and to deliver a video profiling NICRF Belfast shown at the conference. My personal and professional ethos is to be a good leader by the examples I set so the high standards that good quality research requires keeps me focused and drives my behaviours both at work and in my personal life.