New £4M centre enables more patients to take part in clinical trials in Northern Ireland
A new £4M clinical research hub opening in Belfast today will enable more patients than ever before to take part in clinical trials in Northern Ireland.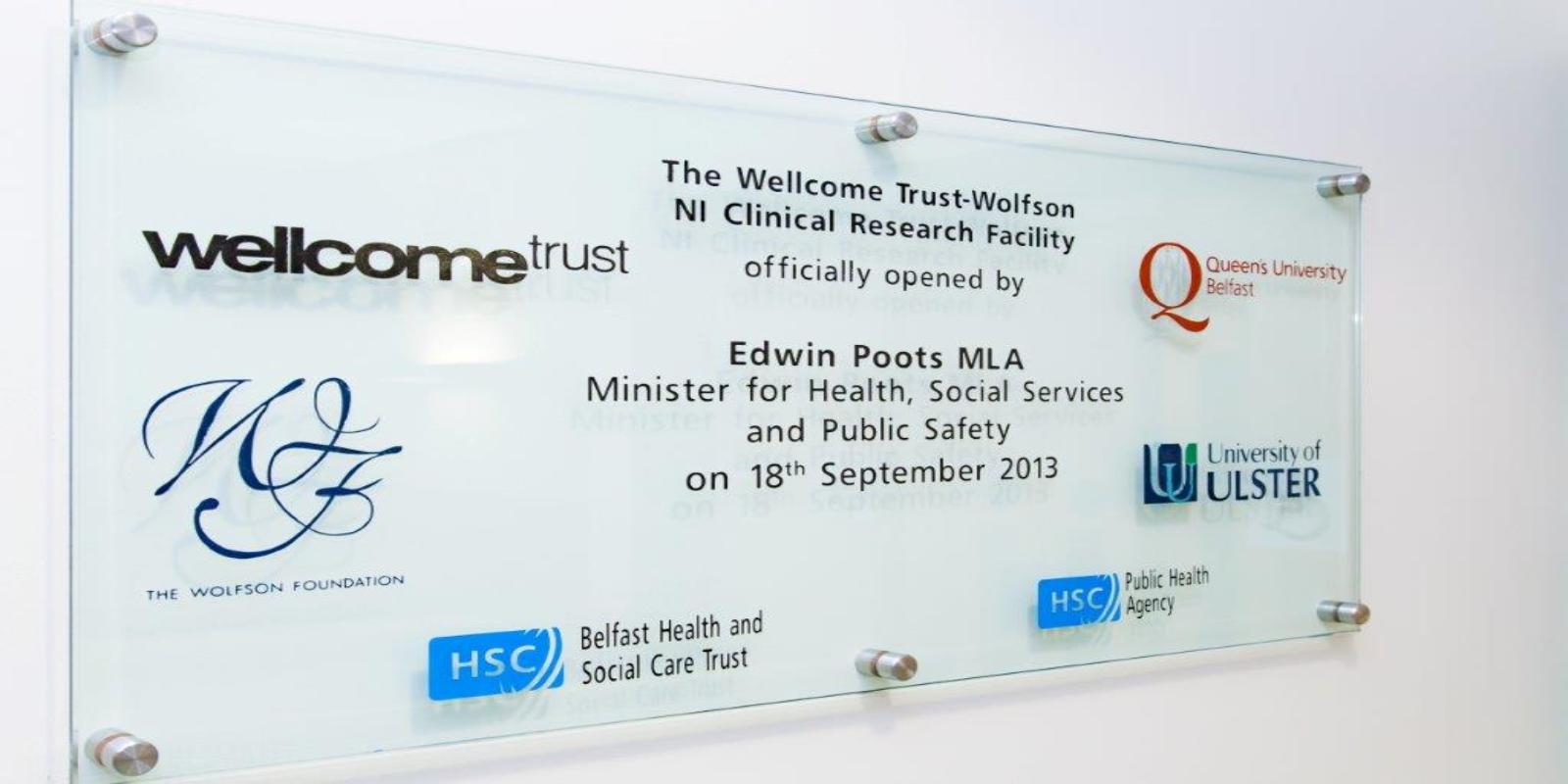 Known as The Wellcome Trust-Wolfson Foundation Northern Ireland Clinical Research Facility (NICRF), it will concentrate on four main research themes; cancer, nutrition and metabolism, vision science and respiratory research.
The facility will also benefit those with rare conditions, who, until now, have had to travel to England to participate in trials.
It is a joint venture between Queen's University Belfast, The Belfast Health and Social Care Trust, The University of Ulster and Health and Social Care Research and Development (HSC R&D), a division of the Public Health Agency (PHA).
Based in Belfast City Hospital, the NICRF has the infrastructure to support clinical trials from conception to completion. With dedicated staff, the NICRF now allows researchers to access a specialised area for clinical research, including equipment not available in the NHS. It contains ten clinical rooms, a blood processing facility and a diet kitchen for nutrition studies.
Researchers hope that hundreds of patients will be offered the chance to take part in clinical trials each year, leading to a major increase in numbers previously enrolled in research studies in Northern Ireland.
Speaking ahead of the launch today, Health Minister, Edwin Poots MLA, said: "This new state-of-the-art facility is an important element of Northern Ireland's health research infrastructure and will enhance our ability to produce valuable, useable results.
"Across the Northern Ireland Health and Social Care Trusts, we have invested significantly, especially in the past five years, so that our professional staff can undertake research directly relevant to their patients and practice and can use the knowledge gained from that research.
"Research, development and innovation are essential for modern healthcare systems so we can advance the quality of our services, whether in disease prevention, diagnosis or treatment. Research also provides vital knowledge that can improve the cost –effectiveness and value for money of our health services."
A number of programmes are already underway. These include studies on asthma, cystic fibrosis and bronchietasis. Others are focusing on cardiovascular conditions including stroke and rare genetic conditions including Morquio syndrome.
Professor Danny McAuley from Queen's Centre for Infection and Immunity, and acting director of NICRF, said: "Researchers throughout Northern Ireland are making some of the most important scientific discoveries in the world today. Until the NICRF there was no dedicated area with such an array of specialist equipment to support clinical research in Northern Ireland. Now, we will be able to translate laboratory discoveries into advances in patient care. We are tremendously grateful to the Wellcome Trust, the Wolfson Foundation and Health and Social Care Research and Development within the PHA for their vision and support in funding the facility which is already bringing real benefit to patients here."
Aidan Kearney, a patient with Morquio syndrome, who has been one of the first to be treated in the new facility, said: "Already the NICRF is having a positive impact to my life. I now don't have to go outside of Northern Ireland for my treatment and that means it takes much less time. I'm not tired from the travelling and I also now have the reassurance that the location and staff treating me will be the same every time. It has made a real difference to me."
Welcoming the opening of the new facility, Lord Mayor of Belfast, Councillor Máirtín Ó Muilleoir, said: "This new state of the art facility represents a fantastic step forward in clinical research trials. It provides a base for our medical researchers to carry out their important and ground breaking work."
Dr John Williams, Head of Clinical Activities at the Wellcome Trust, said: "Working with patients is a crucial part of the Wellcome Trust's mission to turn laboratory discoveries into improvements in human health. This new facility will act as a focus for clinical studies in Northern Ireland, providing core resources for internationally recognised research."
Paul Ramsbottom, Chief Executive of The Wolfson Foundation, said: "The Wolfson Foundation's funding is focussed on excellence, and so we are delighted to be involved in this outstanding new facility. We hope that the research undertaken will be of significant benefit to patients in Northern Ireland - and beyond."
Colm Donaghy, Chief Executive, Belfast Health and Social Care Trust, added: "Having this facility in Belfast City Hospital means we will see more patients enrolling in clinical trials. They will learn more about their diseases and as a result help to define how we go about treating them. The NICRF also provides new opportunities for the doctors, nurses and other health professionals, including physiotherapists and nutritionists, within Belfast Trust, to take part in training programmes, all of which will enhance their skills and further enhance our patients' treatments and outcomes."
Professor Hugh McKenna, Pro-Vice-Chancellor at the University of Ulster, said: "This facility is very much a collaborative venture and we look forward to working with our partners to produce research findings that have global impact."
The facility will have four core staff as well as a Director and Deputy Director but more staff can be accommodated depending on the needs of the trial.
Professor Bernadette Hannigan, Director of HSC Research and Development, said: "People throughout Northern Ireland, including patients of our Health and Social Care Trusts, will benefit from the opportunity to take part in clinical research in the high quality, safe environment of this new Clinical Research Facility."
Media
Telephone: 02895040342