Interested in sharing your ideas about how to queer peace and security? Totally new to the idea and want to learn more? Join us!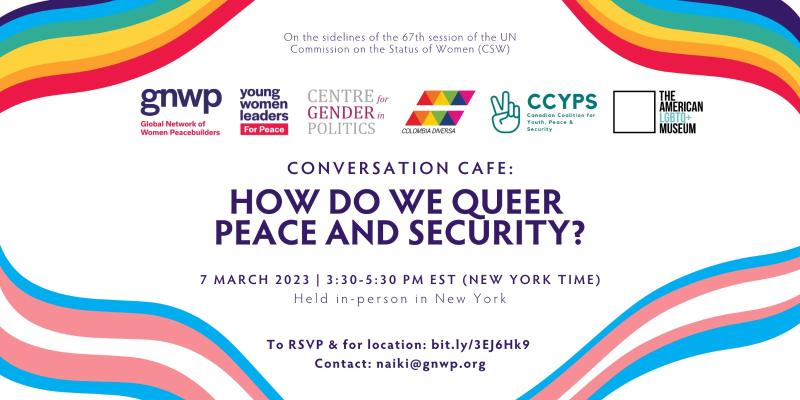 ---
Interested in learning more or sharing your ideas about Queering Peace and Security? This in-person event will take place in the format of a conversation café guided by facilitators to discuss how and why it matters to Queer the Women, Peace and Security (WPS) and Youth, Peace and Security (YPS) agendas.
Join us at the Conversation Café: How do we Queer Peace and Security for facilitated discussions on Queering Peace and Security across various contexts. You do not need to identify yourself as part of the LGBTIQA+ community to attend this event. We look forward to celebrating the existing efforts to Queer Peace and Security and to co-creating new ways forward to amplify LGBTQIA+ leadership in peace and security.
This event is trans inclusive. All participants are required to comply with the code of conduct included below.
Themes for the tables include:
Queering Peace and Security - Leadership from the Global South
Queering National Action Plans
Queer Youth Leadership
Feminist and Queer Alliances
Queering Peace and Security - From Local to Global
Co-hosted by:
Global Network of Women Peacebuilders (GNWP)
Young Women+ Leaders for Peace (YWL), Philippines chapter
Centre for Gender in Politics, Queen's University Belfast
Colombia Diversa, Colombia
Canadian Coalition for Youth, Peace & Security
The American LGBTQ+ Museum
Accessibility: Venue has an elevator, but there is there is one small step to get to the elevator.
Light refreshments will be available. Location to be shared to registrants closer to the date.
Questions about the event? Contact: naiki@gnwp.org
Code of Conduct:
We are committed to ensuring this event is a safe, open, respectful, supporting and inclusive space. By joining this convening, participants agree to adhering to the following principles:
Interact and engage respectfully. We welcome differences in opinion, disagreement and opposing viewpoints, as they contribute to a healthy debate and lead to more thorough outcomes. However, differing and opposing opinions must be expressed respectfully and without malicious intent.
Be mindful of multiple lived experiences. Participants should strive to engage with others without judgment, presumptions about others' identities, status or intentions.
Use inclusive language. Pay attention to how people want to be referred to, what their pronouns are, and use inclusive language. Disrespectful language will not be tolerated.
Be conscious of people's safety. Do not quote, or photograph, or tag anyone in social media without their permission.
Challenge inappropriate or offensive behavior, including, but not limited to, harassment, bullying, verbal violence, LGBTQIA-phobia, classism, ageism, ableism, racism, misogyny, and/or heterosexism. Inappropriate or offensive behavior will not be tolerated.
Actions we are taking to create a safe space:
Staff will monitor spoken and written communication, respond to any requests, and strive to ensure the space remains safe and respectful. We will look out for inappropriate comments, sharing of links or other content which does not respect the spirit of the space we seek to foster, and address any inappropriate comments made during the gathering.
How you can help us to keep this space safe:
Your help in identifying actions that go against the above-mentioned principles is welcomed and appreciated. If you experience or witness disrespectful, offensive or otherwise inappropriate behavior you should notify one of the event organizers immediately.
What will we do in the case of a breach?
If opinions are expressed in a less than respectful manner, the organizers will issue individual participants one verbal warning. If the warning is not heeded, the organizers reserve the right to remove any participants from the space.
Thank you for helping us create an inclusive and respectful event for all. In the spirit of participatory community-building, should you see an opportunity to improve this Code of Conduct, let us know what language you believe should be added or amended. This code of conduct was adapted from the Outright International Code of Conduct.