UPCOMING EVENTS and SEMINARS
Race and Policing in the Americas Seminar Series
Autumn/Fall 2021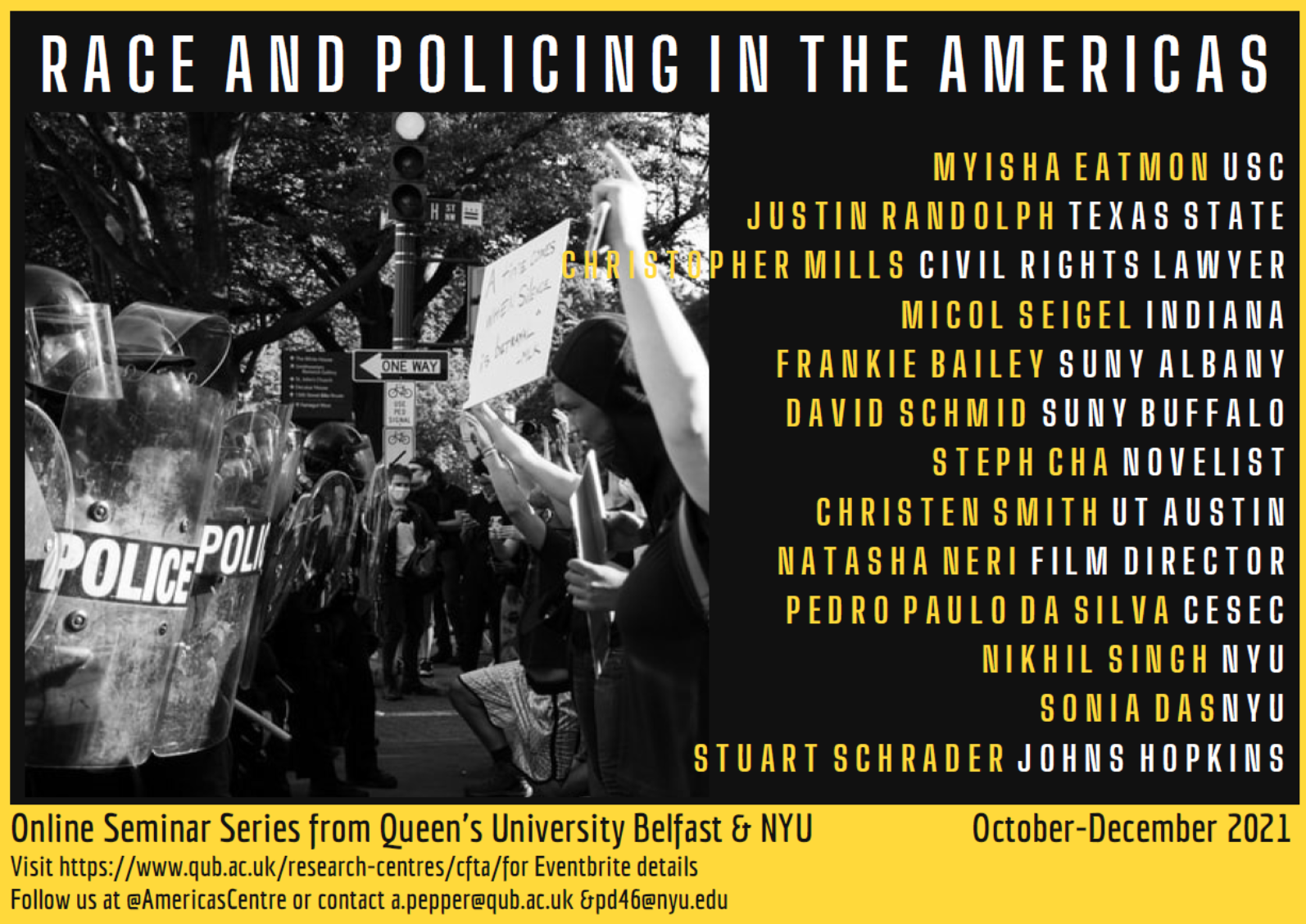 This online international seminar series, hosted by the Centre for the Americas and The Senator George J. Mitchell Institute for Global Peace, Security and Justice at Queen's University Belfast – in conjunction with the Cultures of War research group at New York University – examines the complex relationship between race, class and policing in the Americas. One jumping off point is the police killings of black men and women in the contemporary US and Brazil which in turn brings into focus the legacies and consequences of this violence and its centrality to historical understandings of the state. Another is the various strategies of resistance employed by activists at a local, national and global level. Participants will explore these issues as a set of contemporary phenomena tied to the militarization and privatization of policing and/or as part of a longer historical continuum linked to the founding of the state and the consolidation of modern capitalism. These contributions will focus exclusively on individual states and regions or offer comparative, transnational perspectives. As well as exploring the complex entanglements between race, class, policing, capital and the state historically and in the contemporary, participants may explore the representation of these entanglements in fiction and non-fiction and consider how effectively particular genres can interrogate the problem of racialised policing and agitate for wider social justice and political change.
Christopher is a civil rights attorney in Columbia, South Carolina. He has twenty-five years of experience handling criminal defense, police misconduct, and class action suits against adult and juvenile correctional systems. He does public presentations on these and related topics, including an upcoming seminar on the current state of policing for the South Carolina Bar Association in January 2022.
However, the officers' account is confronted by the emergence of videos and the fight of mothers who try to prove their sons were innocent. The film portrays the clash of versions in court hearings, the backstage of police investigations and the State Parliamentary Inquiry Committee established to investigate the high rates of homicides during police operations.
The film won the prize for best feature at the It's All True - International Documentary Film Festival in 2018 as well as being nominated for the International Documentary Filmfestival Amsterdam (IDFA)'s Amsterdam Human Rights Award.
On Zoom: https://nyu.zoom.us/j/95255686838
In this roundtable discussion (Via Zoom), Sonia Das (Linguistic Anthopology, NYU), Gabriella Johnson (English, NYU), Stuart Schrader (Africana Studies and Program in Racism, Immigration, and Citizenship, Johns Hopkins) and Nikhil Singh (Social and Cultural Analysis, History and Prison Education Program, NYU) will share their research on race, policing, mass incarceration and prison abolitionism in the United States and beyond. The panelists will explore how research undertaken and disseminated in different contexts (both within and outside of universities in the wake of Black Lives Matter movement and other protest movements) and across diverse approaches (policing, carceral studies, technology, prison education, literary and cultural studies, and scholar-activism) can contribute to raising critical awareness of police violence and mass incarceration.
Sonia is Associate Professor of Linguistic Anthropology at New York University and Co-Editor-In-Chief of the flagship Journal of Linguistic Anthropology. She is the author of Linguistic Rivalries: Tamil Migrants and Anglo-Franco Conflicts (Oxford UP 2016), a study of the migration and diasporic experiences of Tamil-speaking Indians and Sri Lankans since the 1840s. Her current research examines how the big data of body-worn camera and predictive policing perpetuates racial inequities in U.S. law enforcement.
Stuart is Associate Research Professor in the Center for Africana Studies and the Associate Director of the Program in Racism, Immigration, and Citizenship. He is the author of Badges Without Borders: How Global Counterinsurgency Transformed American Policing (U of California Press, 2019) which looks at the relationship between US projections of power overseas and the rise of the carceral state at home. His new project examines the political activities of police in the United States since the 1960s, via professional organizations and unions.
Nikhil is Professor of Social and Cultural Analysis and History and Faculty Director of NYU's Prison Education Program. A historian of race, empire, and culture in the 20th-century United States, Singh is the author of Race and America's Long War (U of California Press 2017) and the award-winning, Black Is a Country: Race and the Unfinished Struggle for Democracy (Harvard UP 2004). A new book Exceptional Empire: Race, Colonialism and the Origins of US Globalism is in-progress, and forthcoming from Harvard University Press.
Patrick Deer is Associate Professor of English at NYU and co-organizer of the NYU Cultures of War and the Postwar research group. He published a scholarly book about war writing and war culture in World War II, Culture in Camouflage: War, Empire and Modern British Literature (Oxford University Press, 2009; paperback ed. 2016). His current book project is We Are All Embedded: Understanding American War Culture Since 9/11.