International Client Consultation Competition 2022
Congratulations to Jemma Smyth (A&L Goodbody) and Georgia Holley (Mackenzie & Dorman) on reaching the semi-final of this year's International Client Consultation Competition.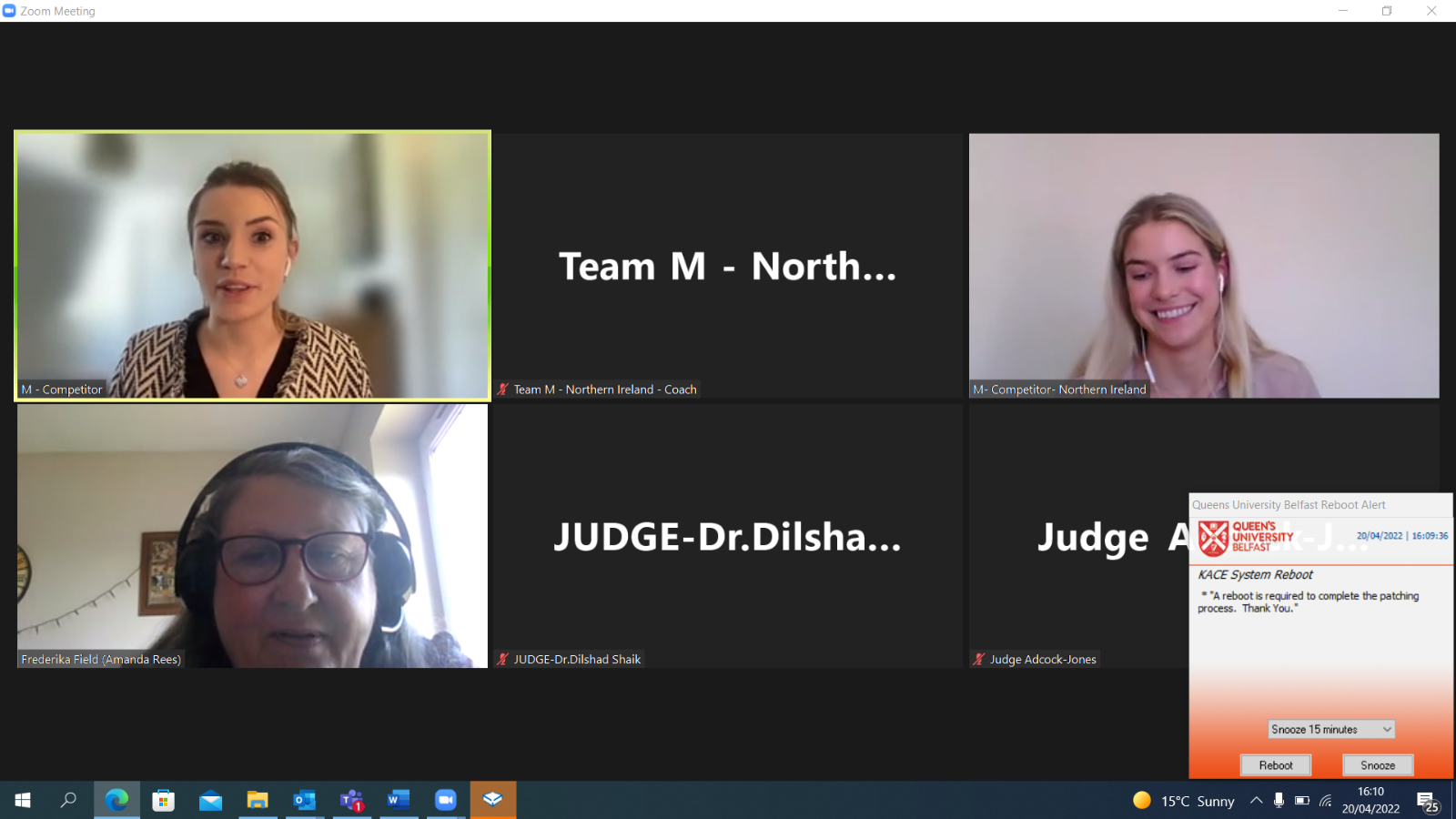 Congratulations to Jemma Smyth (A&L Goodbody) and Georgia Holley (Mackenzie & Dorman), who were coached by Stuart Harper (IPLS), on reaching the semi-final of this year's International Client Consultation Competition. This was a fantastic achievement, well done! Please see below their three blogs from the tournament.
International Client Consultation Competition 2022 - Blog 1
Following winning our national client consultation competition hosted by the Law Society of Northern Ireland we held several practice sessions with our team coach Stuart Harper (IPLS). We went through lots of different scenarios and conducted mock interviews. We also took time to consider the topic for this year's international event which is contract Law in the context of sport and entertainment. We took the opportunity to brush up on our contract law and read through some relevant recent cases on the subject area.
Last Wednesday we attended the opening ceremony of the International Client Consultation Competition, hosted online by the Swansea Law School. At the opening ceremony there were a variety of different countries represented including Germany, USA, Canada, Uzbekistan, Brazil, England/Wales, and the Netherlands. A presentation was given by the competition host Matthew Parry, who explained the history of the competition, the rules for this year's event and provided some top tips. We also received a virtual tour of the Hillary Rodham Clinton School of Law at Swansea University. During the opening event we were split into break out rooms and had the opportunity to meet fellow competitors. This was a great time to meet a diverse range of people from different backgrounds ahead of the competition.
The first round of the competition was based on an athlete who had been suspended following a positive doping result. We were nervous at the start of the interview but the judges and client made us feel very comfortable. The programme ran extremely smoothly, and we were given feedback from the judges directly after the interview. The judges are practicing lawyers and lecturers from all over the world and their constructive criticism was very helpful. We will use this feedback as we prepare for the coming rounds.
The second round of the competition took place on Wednesday evening this week. We interviewed 'Freddie Fields' who had made an appointment to get some legal advice about a booking gone wrong. Freddie was a booking agent for bands and artists. This was a more difficult interview, and two different and complex issues were raised which we had to handle in a short space of time.
We have thoroughly enjoyed the first few rounds and the experience so far. It has been an invaluable learning tool and we hope to bring in some of the interview techniques we have learnt into practice.
This evening we are competing in the final round of the competition. We have been provided with a memo from a secretary at our firm who has arranged an appointment for an Andy Andrew. The memo reads Andy Andrews has made an appointment to get some legal advice about a situation with a sponsored athlete. Andy indicated that s/he is the CEO of a company called Vivacity. We have carried out a considerable amount of preparation and considered how best to approach this interview given this scenario. Hopefully, we can solve Andy's problems and provide him/her with some good advice and options!
We will update you with how we get on!
International Client Consultation Competition 2022 - Blog 2
Thursday was our final preliminary round out of three which would determine whether we would be selected to participate in the semi-final.
This round centred around Andy Andrews, a CEO of a drinks company. The company was sponsoring a tennis athlete to promote their brand on social media however due to mental health the athlete had to take some time out and Andy was concerned about the terms of the contract and whether this could be renegotiated. Similarly, previous social media posts by the tennis athlete had put the company's reputation into disrepute and Andy wanted to explore how to restrict the content of the social media posts.
We explored various boilerplate provisions that the contract should include, in particular, anti-competition, break clauses, trademark and IP as well as a social media content provision and how we could draft these to be more preferable to Andy's company. This was a difficult task as we did not have the contract in front of us and as such, we had to establish what Andy's goals were and advise her that we would have to negotiate the terms on behalf of Andy with the tennis athlete's legal representatives.
This round was an extremely beneficial experience as we had to think on our feet and provide the client with advice that would be suitable to her needs and ensure she felt comfortable with our proposed solutions without a contract to consider in front of us.
Following this final preliminary round, the results were sent out and having earned a place in the semi-final, training will commence over the weekend. The semi-final will take place against the Netherlands and Scotland on Saturday 23rd April.
International Client Consultation Competition 2022 - Blog 3
The semi-final of the competition took place on Saturday afternoon, where we competed against the Netherlands and Scotland.
Our client was a woman named Vic, who was an Olympic badminton player and social media influencer. The issue raised surrounded Vic's endorsement contract with clothing brand, Top Dog. On her social media platforms, Vic regularly voiced her opinion on controversial topics but after warnings from a friend, she was hesitant to share her latest views on transgender athletes in sport. Vic showed us the morality clause in the endorsement contract which allowed Top Dog to terminate the contract if Vic was involved in criminal or immoral behaviour or acted in a way that shocked, insulted or offended the public. Vic expressed her desire to stay sponsored by Top Dog and sought advice on the repercussions if she were to post her controversial opinion.
We first looked at the morality clause itself and considered whether it was too broad and subject to unreasonably wide interpretation. We discussed the possibility of re-negotiating a more refined and succinct clause that would state clearly what Vic could and could not post. Vic's previous social media posts had had no repercussions and so we considered Top Dog's duty to act in good faith and in accordance with the reasonable expectations of the other party. Finally, we considered what steps we would take if Top Dog did terminate the contract because of the post.
Unfortunately, we did not make it through to the final but wish to congratulate the winning team, Canada. We thoroughly enjoyed the competition and gained valuable skills on how to identify the issue at hand and offer the client sensible and suitable advice with limited information. We would like to thank our coach, Stuart Harper for support and enthusiasm throughout the process.