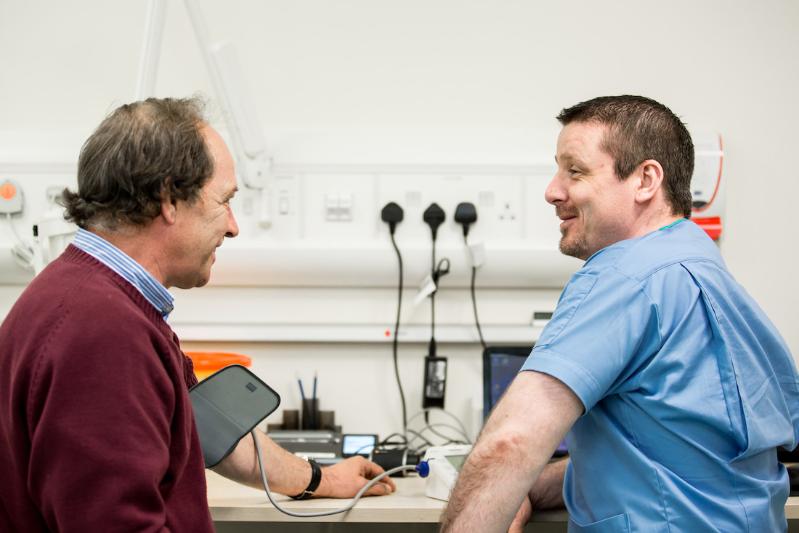 The NICOLA Health Assessment
takes place in the Northern Ireland Clinical Research Facility based at the Belfast City Hospital
The health assessment is designed to help medical professionals and other health and social care professionals understand the processes of ageing and its effect on bodily systems.
Although you may recently have had a check up with your doctor or feel that you are healthy, the health assessment simply allows researchers working on NICOLA to collect clinical measurements and monitor changes in your physical health over the years of your involvement in NICOLA. If we discover some health issue that would require you to visit your GP for a consultation, for example high blood glucose levels we will inform you.
What Happens During the Health Assessment?
Your health assessment appointment will take approximately 2 hours. A fully trained NICOLA nurse or NICOLA Research Assistant will ask you questions and seek your permission to take a variety of measurements and samples. These measurements include:
Upper and lower body strength
Waist and hip measurement
Body fat and muscle measurements
Participation in the Health Assessment is entirely voluntary. If you feel uncomfortable with any measure or question you can decline that specific test.
All information you provide is kept entirely confidential and completely anonymised. Additional information regarding the data security and removal of personal details can be found in the Frequently Asked Questions (FAQs) section and is also detailed in the NICOLA Privacy Notice.
Feedback following participation in the Health Assessment has been very positive to date.
Travel and Expenses for Attending the Health Assessment
You can claim back travel expenses for your attendance by completing a simple claim form following the assessments (include receipts as necessary). The nurse can help you with this.
For those travelling by car and parking in the City Hospital car park, a pre-paid car parking ticket will be given to you upon your departure.
Additional information on the specific measures and samples taken during the health assessment can be found in the Participant Information Leaflet for the Health Assessment.
Read more
Read less
---