Dean and Head of School for the Queen's Management School
Welcome from the Pro Vice-Chancellor
As Pro Vice-Chancellor of the Faculty of Arts, Humanities and Social Sciences at Queen's University Belfast, I would like to thank you for showing an interest in the position Dean and Head of School for the Queen's Management School.
Queen's is ranked at 200 in the QS World University Rankings 2020, with an annual turnover in excess of £370 million, over 24,000 students, including 2,600 international students and 4,300 staff, our university plays a unique leadership role in Northern Ireland, contributing £1.9 billion to the UK economy. This website provides you with all the information you will need about the Dean and Head of School for the Queen's Management School, as well the wider University.
I am proud of the positive impact that we make on society and the economy in Northern Ireland, supporting the communities that we serve. This impact reflects both the strengths of Queen's and our approach to partnership and collaborative working. Our Social Charter for example, reaffirms our commitment to engaging with society and celebrates the many ways our students and staff make a valuable contribution to our local community. The University is also playing a key role in the Belfast Region City Deal, leading on a number of innovation projects that will have a transformative effect on the local economy.
Providing a world-class education and student experience is always a priority in our thinking. For example, we recently launched a new campaign to raise awareness of mental health issues for our students and staff. Last year our international student population increased by 11% and this will continue to be a focus for us moving forward. Ranked 22nd in the world for international outlook, we are a diverse institution with almost 700 international staff and over 3,000 international students from over 85 different countries.
As a member of the Russell Group of UK research intensive universities, we are continually looking to strengthen our culture of research ambition, tackling global challenges such as Food Security, Cyber Security and Global Peace, Security & Justice. The University was ranked 8th in the UK for Research Intensity by Times Higher Education with over 75% of our research assessed as 'world-leading' or 'internationally excellent' in REF 2014. In research innovation, our impact has been recognised by seven Queen's Anniversary Prizes, the most recent just this year for our work on shared education. We have also just been ranked No 1 in the UK for commercialising our research through spinout companies.
---
We are globally connected from our home in Belfast with strategic partnerships across the world, helping us to expand our impact on wider society locally, nationally and globally. Amongst our dynamic partnerships are academic links with leading institutions in America, China, India, the Middle East and Asia.
We are developing our new Strategic Plan which will reflect the changing external environment and new opportunities. It will be an exciting time to come and join us on our journey as we continue to 'Shape a Better World'.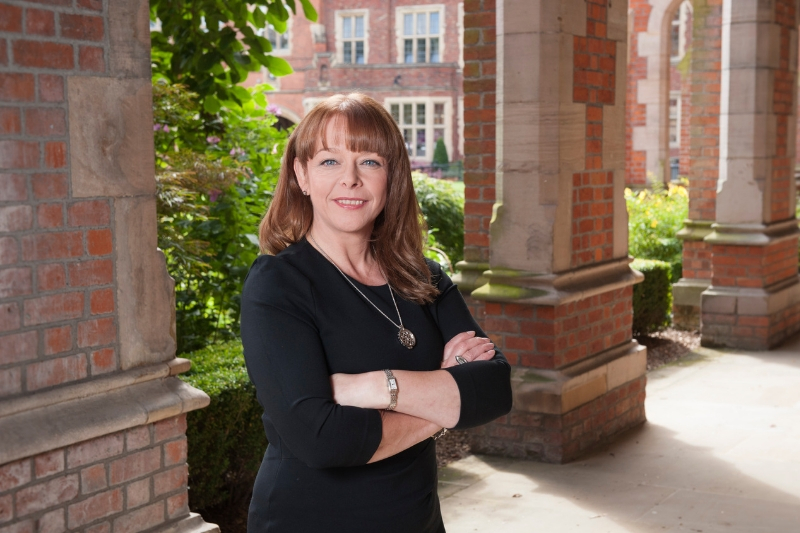 Professor Nola Hewitt-Dundas, Pro Vice-Chancellor, Faculty of Arts, Humanities and Social Sciences
Executive Summary
Queen's University Belfast is one of the leading universities in the UK and Ireland with a distinguished heritage and history. A member of the Russell Group, Queen's combines excellence in research and education with a student-centred ethos.
The University welcomed Professor Ian Greer as its new President and Vice Chancellor in August 2018. Professor Greer is committed to ensuring Queen's continues to be a world-class global university with regional impact, and he is ambitious to drive the University's research and educational offering through significant investment in the coming years. Professor Nola Hewitt-Dundas was previously Head of the School of Management and this year was appointed to the role Pro-Vice Chancellor for the Faculty of Arts, Humanities and Social Sciences and became a member of the University Executive Board.
Queen's is now seeking to appoint a new Dean and Head of School for the Queen's Management School. Reporting to the Pro Vice-Chancellor for the Faculty of Arts, Humanities and Social Sciences, the successful candidate will play an important role in shaping and leading the future direction of the School. The School of Management has been on an upward trajectory over recent years becoming renowned for delivery of the University's strategic priorities, particularly in the areas of internationalisation, corporate engagement, ethical practice and social relevance.
The Dean and Head of School for the Queen's Management School will work with colleagues across the core disciplinary units of Accounting, Economics, Finance and Management to lead an environment of excellence which enables education and research to flourish and with the William J Clinton Leadership Institute delivering impactful executive education programmes. They will also have the desire to forge meaningful partnerships outside of the University, whether with businesses in Northern Ireland and internationally, or other institutions interested in the ideas and innovations coming from the School.
You will find more information regarding the University, the Faculty, School and role on this site.