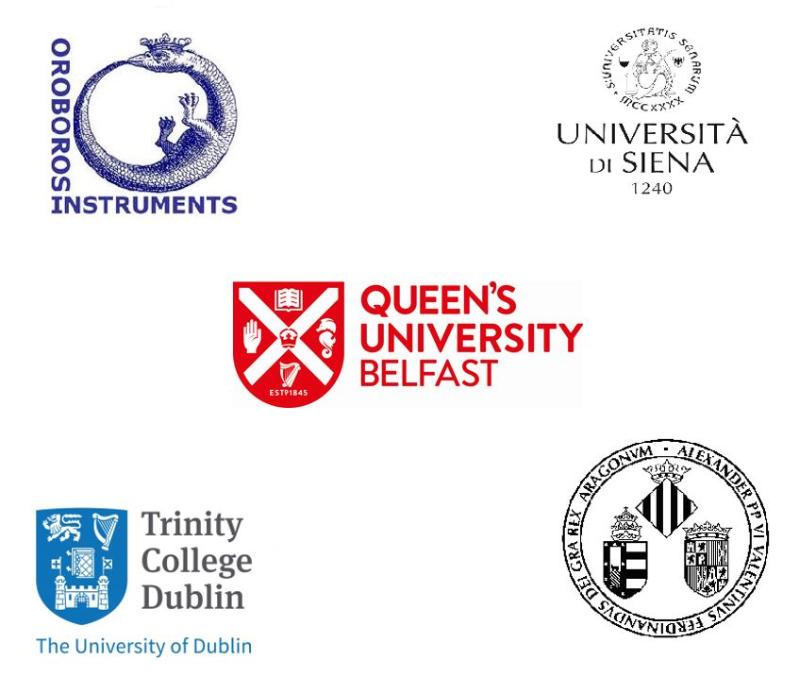 Introduction
Our Core Members
Through our core members, SME and industrial partners, PhD Fellows will be exposed to next-generation technologies in cancer diagnosis, metabolism, genome scale CRISPR knockout and next-generation sequencing, imaging, biomarker identification, exosome isolation/analysis, medicinal chemistry, target identification/validation, bioinformatics and drug development.
Trinity College Dublin is recognised internationally as Ireland's premier university and is ranked 78th in the top 100 world universities by the QS World University Rankings 2015 and 48th in the world for Biological Sciences. The Trinity Biomedical Sciences Institute (TBSI) is a state-of-the-art research facility built around the areas of immunology, cancer and medical devices and linked directly to both medical education and industrial collaboration. The multi-disciplinary facility currently accommodates 65 principal investigators (PI's) and their research groups (approx. 520 researchers) from five TCD schools: Biochemistry & Immunology, Chemistry, Pharmacy & Pharmaceutical Sciences, Bioengineering and Medicine. The eleven-storey development contains 17,000 m 2 academic research space, 3,000 m 2 for industry-academia collaborative research and 4,000 m 2 purpose-built teaching space. Since 2011, TBSI researchers have published eleven papers in Nature and two in Science, with five of these having TBSI investigators as lead author. During this period, there have over 78 interdisciplinary publications between the participating Schools.


The University of Siena (UNISI) is almost 800 years old and is composed by 15 Departments, including the School of Pharmacy to which the Department of Biotechnology, Chemistry and Pharmacy (DBCP) belongs. Within FP6 and FP7, the University was granted 60 projects and there are about 180 EU projects currently active, while 7 projects were granted to UNISI within the H2020 framework. . The research focus of the DBCP is in bioinformatics, design and synthesis of bioactive compounds, natural products, pharmacology, enzymology & parasitology. The DBCP includes the European Research Centre for Drug Discovery and Development (NatSynDrugs. www.natsyndrugs.org), an international multidisciplinary research network that encompasses Universities and Institutes that have a major commitment to the development of innovative drugs. NatSynDrugs will facilitate the transfer of knowledge and innovative technologies among Italian and European groups.


Queen's University Belfast, The Patrick G Johnston Centre for Cancer Research
The Patrick G Johnston Centre for Cancer Research (formerly CCRCB) is increasingly recognised on the national and international stage for both its basic and translational research programmes in addition to its rapidly evolving clinical trial expertise. The CCRCB forms the hub of the Belfast Cancer Research UK (CRUK) Centre and the Experimental Cancer Medicine Centre in Belfast. The integrated clinical and basic scientific research programmes funded by Cancer Research UK, MRC, BBSRC, EPSRC, Wellcome Trust and other major cancer charities address clinically-relevant questions and areas of strategic priority, the outputs of which are underpinning improved patient outcomes in high incidence, solid tumours of Gastro-intestinal, Prostatic, Breast and Ovarian origin. The CCRCB provides a unique environment where researchers in basic science can work alongside and interact with clinical scientists in a variety of laboratory programmes. Our unifying research theme is to develop translational outputs, i.e. biomarkers and/or novel therapeutic strategies that enable CCRCB to be at the forefront of personalized cancer medicine in these prevalent diseases. The major impact of our research upon patient outcomes in Northern Ireland resulted in Queen's and CCRB receiving Her Majesty's Jubilee Anniversary Prize in 2012.
Valencia University (UVEG) was founded over five centuries ago by the Juries of Valencia, and has become a modern, public university that teaches all areas of knowledge: social, economic and legal sciences, experimental sciences, engineering, health sciences, educational sciences and the humanities. More than 45,800 undergraduate students and 8,600 postgraduate students take classes taught by more than 3,300 professors, lectures and researchers with the support of over 1,700 administration and service staff. Our University is committed to being a university of reference: we are ranked second in Europe in receiving Erasmus students and fourth among Spanish universities in research. According to the most prestigious international rankings, we are the ranked fourth in Spain. The National Registry of Childhood Tumours is located in the Faculty of Medicine of the University of Valencia, and aims to carry out epidemiological research that contributes to improving care for infants suffering from cancer in Spain and to study the fundamental mechanisms underlying this disease


Erich Gnaiger is founder and CEO of the SME OROBOROS INSTRUMENTS Corp. with worldwide technological leadership in high-resolution respirometry (>1600 Oxygraph-2k publications) and reference laboratories in 42 countries. The cooperation between academia (Medical University of Innsbruck) and industry (OROBOROS INSTRUMENTS) is formalized in the MitoFit Centre of Excellence by Erich Gnaiger.

‌