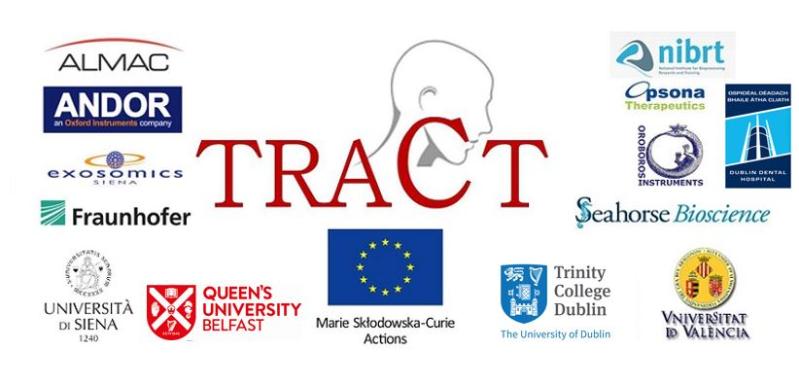 Read more
Partner Organisations
Through our core members, SME and industrial partners, PhD Fellows will be exposed to next-generation technologies in cancer diagnosis, metabolism, genome scale CRISPR knockout and next-generation sequencing, imaging, biomarker identification, exosome isolation/analysis, medicinal chemistry, target identification/validation, bioinformatics and drug development.
Manufactures Seahorse Flux Analyzers XFe24, XFe96 and XFp, along with kits and reagents that provide easy access to gold standard applications in the field of cancer metabolism. Seahorse also collaborates with many academic and industrial laboratories around the globe.


NIBRT is a company whose mission is to provide a continuum of world class research and training solutions for the bioprocessing industry with a specific focus on the design, development & optimisation of bioprocesses for the safe and efficacious production of biopharmaceutical products.
The Hamburg site of the Fraunhofer Institute for Molecular Biology and Applied Ecology IME has four main areas of activity: Drug Discovery – covering all stages from target validation via small molecule screening to candidate selection; Biomarker and Translational Research – supporting biomarker discovery studies for clinical and pre-clinical research projects; Enabling Technologies – developing and benchmarking novel assay and screening technologies; R&D Information Technologies – using "Big data," approaches to improve efficiency in antibiotic drug discovery and Computational Chemistry approaches for hit finding and optimisation. Both ESRs 3 and 4 will have secondments in Fraunhofer IME-SP in Hamburg.


Andor Technology
Andor Technology (Andor) is a world leader in scientific imaging and microscopy systems. Located in Belfast, Andor employs over 300 people in 16 offices worldwide and distributes its products to 10,000 customers in 55 countries. Andor acquired Bitplane (Switzerland) which incorporated Bitplane's focus on 3D/4D imaging to Andor's existing business. Andor then acquired Photonic Instruments (USA) who developed the revolutionary Mosaic/Micropoint products and are the market leaders in fluorescence imaging and laser ablation for confocal and widefield microscopy.


Almac Diagnostics has 80 staff and scientists focused on the discovery, development, validation and delivery of predictive and prognostic biomarkers. The bioinformatics and biostatistics department include 5 PhD and 6 MSc level scientists.
Opsona Therapeutics is one of Europe's most innovative and dynamic drug development companies. Opsona is at the forefront of drug development in immunology research, with particular focus on the innate immunity pathways. Since its founding in 2004, Opsona has validated and developed a series of exciting new drug candidates and strategies which modulate the human innate immune system. Opsona is located in Dublin, Ireland.


EXOSOMICS (EXS) was founded in 2011 and is located within the Toscany Life Science (TLS) Biomedical Park in Siena, Italy. Exosomics' R&D activities focus on the development of:
1) assays for diagnosis, prognosis and monitoring of prostate and colorectal cancer
2) assays for personalized medicine



‌