Whether you're a student looking for a tasty bite to eat or a staff member catching up with colleagues over coffee, Campus Food and Drink has some incredible options, all local and independent.
Hope Café
McClay Library
Monday to Thursday 8.30am to 4pm
Friday 8.30am to 3pm
Junction Café
Main Site Tower
Monday to Thursday 8am –3pm
Friday 8am – 3pm
Clements
Queen's Sport (PEC)
Monday to Friday 8.00am-3.00pm
Clements
The MBC
Monday to Thursday 8am-4pm
Friday 8am-3pm
Where to Eat Around Campus?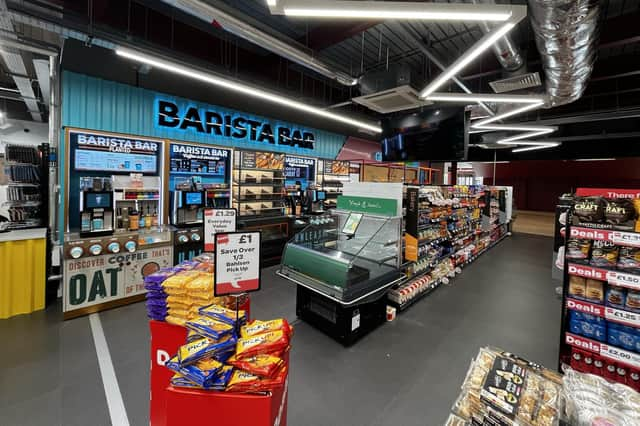 Union Shop - Spar.
The University has entered into a partnership with Hendersons to create a cutting edge retail outlet in One Elmwood. With features that include a deli /hot food to go bar, Barista coffee and a wide range of locally produced goods. A new store that has a little something for everyone
Opening hours Monday to Friday 8.00am to 8.00pm Saturday and Sunday 8.00am to 4.00pm (subject to review)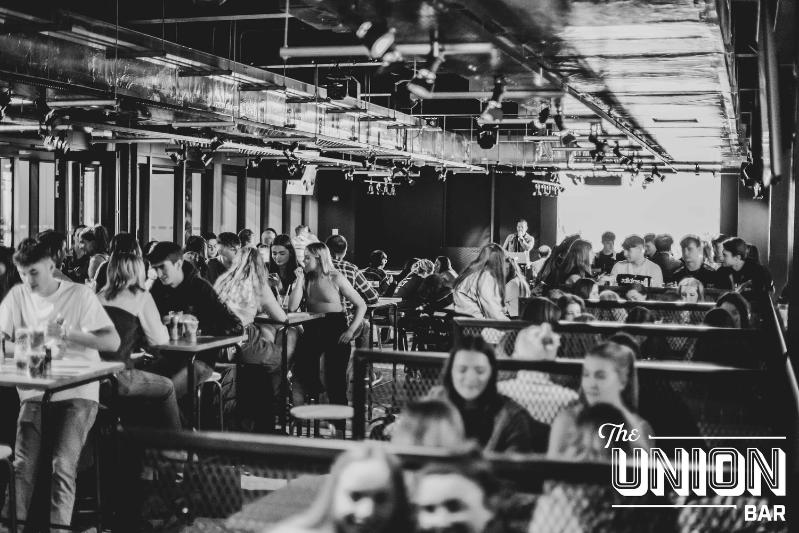 The Union Bar
Your local, open 7 days a week serving up fantastic food, tasty drink offers and free entertainment every night during term from quizzes, bingo, club nights, live sport and much more! Find The Union Bar on the second floor and check out the fabulous outdoor terrace. The Mandela Hall is our state of the art new venue and features a host of entertainment from the Queen's Comedy club to live music, pod casts and much more.
Opening hours Monday to Thursday 11.30am to 1.00am Friday 11.30am to 2.00am Saturday and Sunday 4.00pm to 1.00am
Social
Social is a continental style café bar with a wholesome food menu catering for the changing tastes and trends of the entire student population.
Artisan coffee and grab and go items will be available for those in a rush. Opening hours Monday to Friday 8.00am to 10.00pm.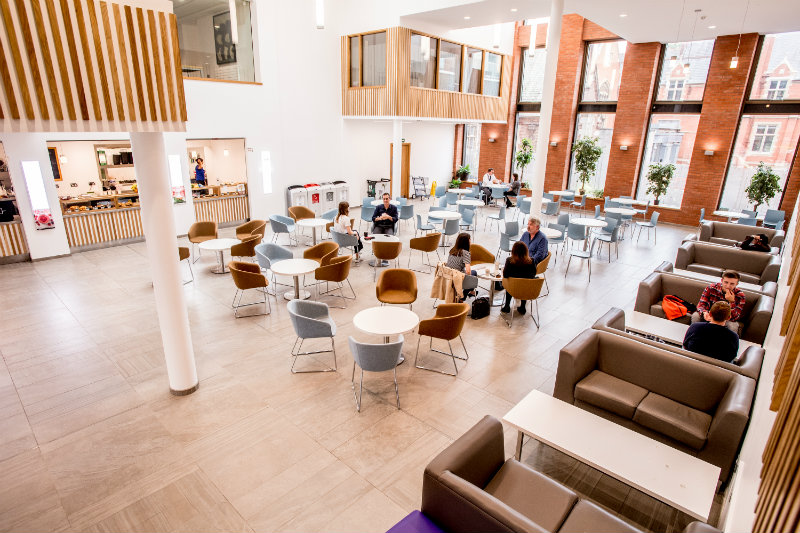 Junction
Tasty, healthy food from a calorie counted menu using only the freshest ingredients.
Coffee and tea in the centre of Queen's University, Belfast that is guaranteed to brighten up your day.
Offering baked goods, breakfasts and brunch, the café also features an innovative self-service counter, so if the queue is long, your wait needn't be!
Students and staff are also permitted to bring their own food into the communal area at Junction!
Junction website
Krem
Excellent for a whistle-stop, grab'n'go breakfast, with fresh pastries and great coffee, or a longer lunch with home-made soup, sandwiches, paninis and pasta.
Krem's outlets are located in the foyer of the David Keir Building and at the ECIT building in the Titanic Quarter.
Cafe Krem website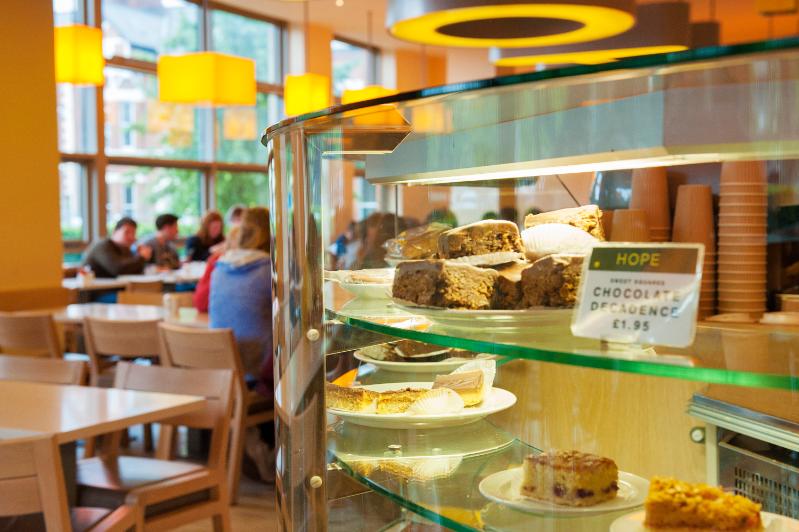 HOPE Café
HOPE Café in the McClay Library provides a welcome respite from studying, serving delicious breakfast, lunch and all day snacks in a high-ceilinged, airy space.
Mouth-watering specials are served every day. Hope's range of freshly prepared sandwiches and salads are also available to take away for those on the go!
Hope Cafe Facebook page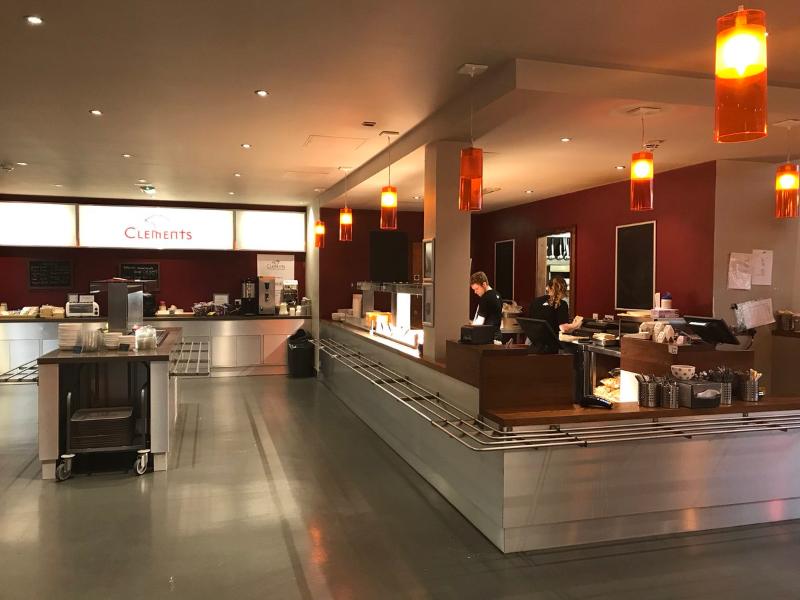 Clements
With branches in Queen's Sport PEC and the Medical Biology Centre MBC, Clements are, as they say themselves, 'religious about coffee.'
Clements specialise in sourcing only the finest coffees and aim for full traceability to origin, farm and farmer wherever possible.
Clement's Facebook page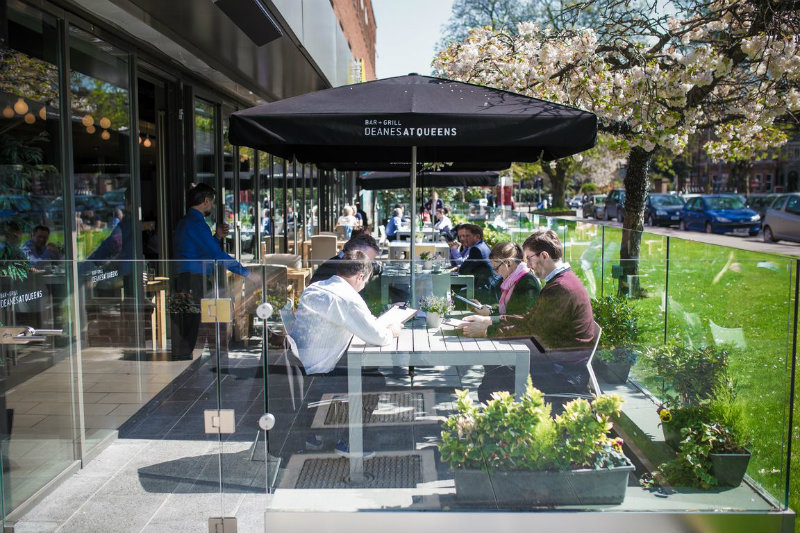 DEANES AT QUEENS
In the vibrant University Quarter, Deanes at Queens takes full advantage of its enviable leafy location overlooking the superb architecture of Methodist College.
Restaurant Head Chef Chris Fearon, of Great British Menu fame, consistently serves up dishes packed with the flavour of great local produce.
The newly installed Mibrasa Charcoal Grill adds a delicious dimension to the whole wide-ranging restaurant menu.
If you are a member of QUB staff and would like to book Deanes at Queens then please download the below form, fill it in and send it to Deanes at Queens by email: deanesatqueens@michaeldeane.co.uk
Deanes at Queen's Booking Form
Café Carberry
Café Carberry is located at INTO Queen's University Belfast on Lennoxvale.
Café Carberry sells a range of fairtrade tea and coffee and has a breakfast and lunch menu which includes toasties, soup and sandwiches.
View their full menu below.
Café Carberry website
Panama is located at the BT2 Accommodation on McClintock Street
Also known as the 'City Garden and Cafe', Panama Cafe is cozy, chic and dog friendly. Be sure to try the baked fry, a firm favourite with regulars.
To view the Panama Menu, please click below.
Menu
Queen's Business School Cafe
Queen's Business School Cafe is located in the new building at Riddel Hall.
Be sure to visit the new café located in the Student Hub. The café will be the first on-campus not to use single-use disposable cups, Encouraging customers to bring their own reusable cups or participate in a loan cup scheme where you can 'rent' a 2GoCup cup for a small deposit. The cafe will be open at term time from 8.00 am to 4.00 pm, Monday - Thursday and 8.00 am to 2.00 pm Fridays.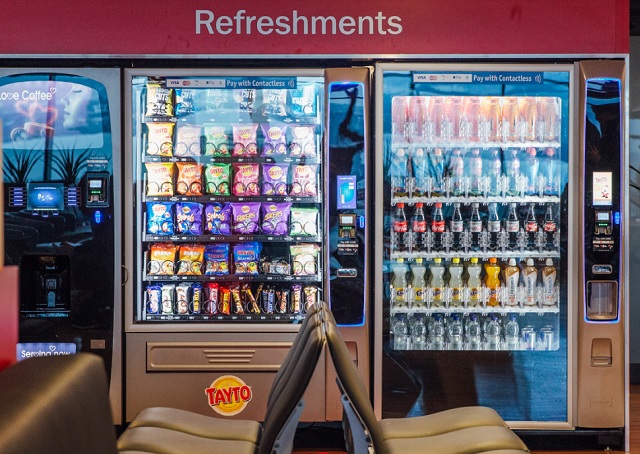 VENDING MACHINES
Pick up a snack or a drink without taking the time to go too far
Queen's University provides a range of vending services throughout the campus serviced by Castle Vending Ltd.
There are a wide range of competitively priced products on offer, such as soft drinks, hot drinks, confectionery and other food products in selected locations. The vending machines are energy efficient and are switched off during closure periods throughout the year to support the University's carbon reduction commitment. The coffee and tea sold through the vending machines are Fairtrade certified.
For customer service please telephone 02838345371 or 07901855142.
Castle Vending Ltd website
Flexible Hospitality

Queen's Easy Pay is a flexible hospitality system which makes it easier for you to pay for meals in campus restaurants and coffee shops and is available to all students and staff.

By loading money onto your Student Card or Staff Card you can use it to pay for snacks and meals on campus. Students will receive a student card when you enrol after arriving at Queen's. Once you have added funds on your card, you can start to use it to buy snacks or meals.

You have the flexibility and choice to buy as much or as little to eat whenever you want, for example, confectionary, soft drinks or a full meal. A typical breakfast or lunch meal deal may cost £3 to £5, or dinner meal deal may cost £5 to £7.‌

The benefits are:

No need to carry cash.
It's probably similar to the cashless system you had at school.
It's a faster method of paying.
Your parent/guardian can top up your account from home.

Adding Funds to your student card

New students

New students coming to Queen's and your parent/guardian can add funds to your student smart card account before you leave home and while you are at Queen's; follow these instructions:

For students who know their Queen's student identity number before you leave home to travel to Belfast:-

Log-in to Queen's Online, http://login.qol.qub.ac.uk using the student number and password which has recently been sent to you. Select 'My Smart Card' and follow the prompts to add money to your catering purse.

Returning students or students still living at Queen's

You can add money to your student card using a valid credit or debit card by visiting Queen's online and selecting 'My Smart Card' and follow the prompts.

Parent Guardian Topping-up

Your parent or guardian can add funds to your catering purse from home if you decide to pass them your Queen's Online user name and password.

You can use your student smart card in coffe shops and restaurants on campus. For more information about all the places to eat at Queen's please click here.

The credit on your Student Card also has other uses:

Printing and Photocopying - using your card you get preferential rates for printing and photcopying in the Univerity's libraries.
Student Experience Busary - this fund is updated automatically onto your smart card if Queen's University receives confirmaton from the Student Loans Company that you are entitled to a bursary. It can be used for payments in Queen's Sport, Queen's Film Theatre, Belfast Festival at Queen's, Language Centre, Careers in the One Elmwood Student Centre, the Information Services shop in the McClay Library, the SU Shop and Queen's Welcome Centre.

Point Of Sale

Internal Point of Sale (POS)

Internal Point of Sale allows (authorised) staff to purchase hospitality from our in-house hospitality units and charge it to their School or Directorate without having to create an online order, complete an IRCF form, raise a purchase order or use their own funds and later claim expenses.

Internal POS books are available at the following in-house providers:

Café Krem - PFC, ECIT
Clements Coffee - Queen's PEC, MBC and HOPE Café
Deanes at Queen's

Step by Step Process

The following shows how this straightforward process works and the control measures in place.

The Purchase

The customer (staff member authorised by their School or Directorate to use the facility) visits the catering unit and selects the items (either to be consumed in the unit or to be taken out) potentially for a working lunch, an informal or short notice meeting or to entertain a visitor to the University.
The customer must advise the cashier that they wish to pay by internal POS and present their staff card. Presenting your staff card is a mandatory requirement.
The cashier will complete the POS form which includes the date, staff name, staff number and amount. The cashier will verify the customers' identity by checking their staff card.
The customer will then complete the customer section of the form, including their School or Directorate name and project code to be charged, before signing the form to confirm the amount charged is correct.
A receipt will be given to the staff member as normal. We would advise staff to retain this receipt to reconcile against QFIS charges. The customer is required to check that the amount charged is correct before they sign the form authorising the transaction.
A copy of the order will be sent at the end of each month to Campus Food and Drink where they will debit your project code on QFIS.

Control Measures

Staff identity - the cashier will check and record staff card details to verify the identity of the customer.
If a School/Directorate has a query regarding any charge on QFIS, the Campus Food and Drink Finance team will provide details of the transaction as recorded in the POS book.
Authorisation - Heads of Schools and Directorates should agree who they will authorise to use this facility and inform staff accordingly.