CONFERENCES, BANQUETS, EVENTS AND MORE AT RIDDEL HALL
Contemporary meets traditional in one world-class venue. A self-contained conference centre set in a magnificent 13-acre site, Riddel Hall features an array of adaptable meeting spaces, with its own dedicated events staff and on-site catering.
Riddel Hall
The centrepiece of the site is the original Grade 2-listed red brick building, which has been sympathetically renovated to retain many original features while incorporating the best of today's technology. The beautiful lawns and grounds provide plentiful outdoor space in the heart of the city, ideal for conference breaks, team building, social gatherings and marquee set-up. Riddel Hall also has free limited on-site parking for delegates based on a first come, first served basis.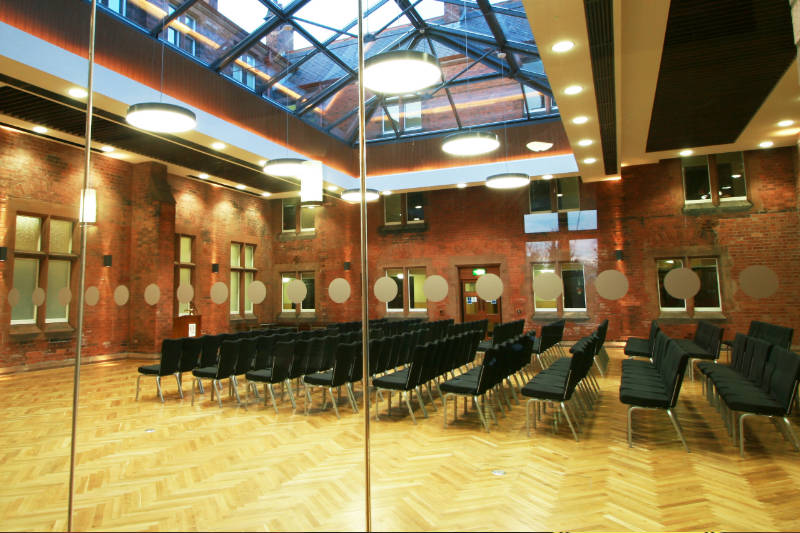 Riddel Hall
The original external courtyard has been enclosed by a glass roof and is now a multifunctional space with a capacity of 290 theatre style or 150 for banqueting.
Alongside Riddel Hall and linked by two glass walkways is a newly built Conferencing Centre with a lecture theatre for 110 and function space for up to 290 theatre style.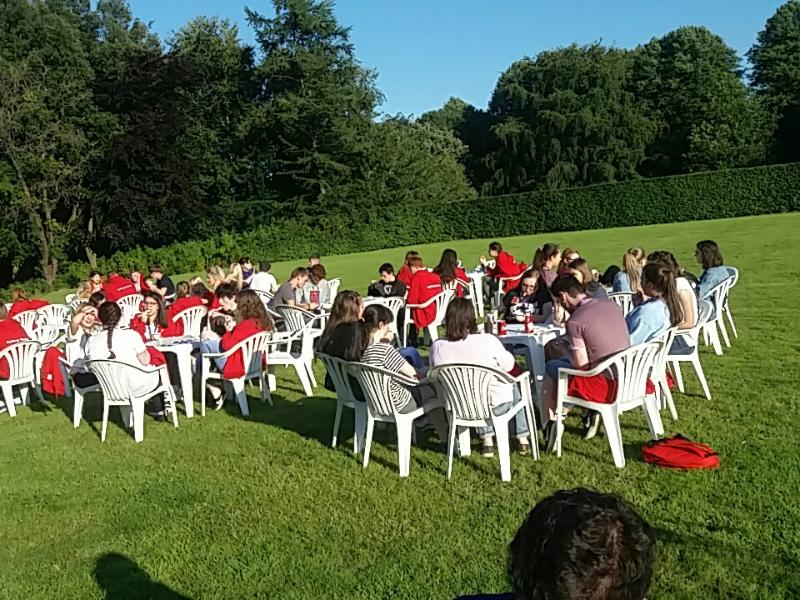 Hospitality at Riddel Hall
Hospitality at Riddel Hall is provided by our in-house team and can be planned to suit any event from small meetings to gala dinners.
The lawns and external courtyard can be used for conference breaks or evening receptions. All rooms are fully equipped with modern AV equipment and the facility benefits from providing on-site car parking for delegates.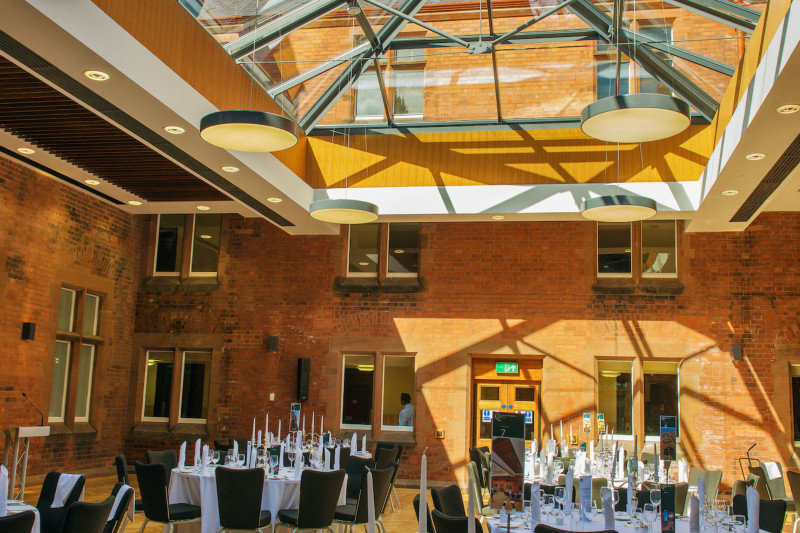 The Isdell Courtyard
A stunning mix of old and new.
The Isdell Courtyard, enclosed by a glass canopy, serves as a multi functional space for 290 delegates.
More Information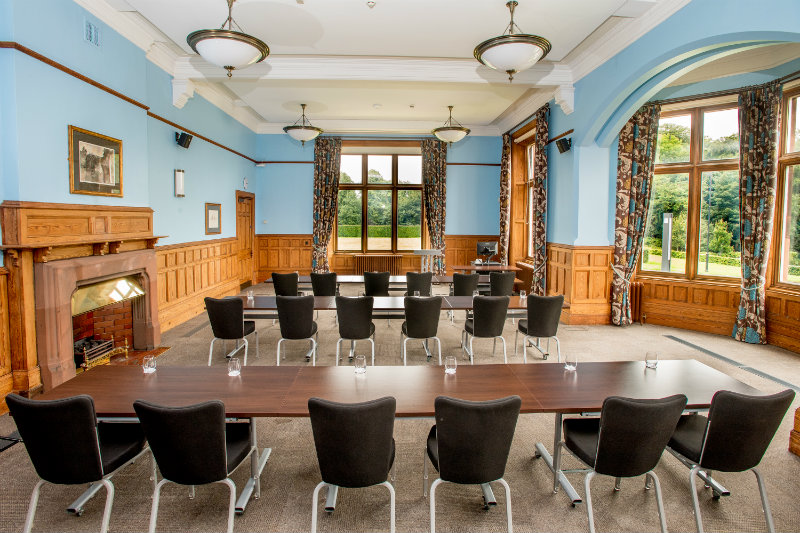 Lecture Rooms
Flexible spaces to suits your needs.
Riddel Hall comprises of four lecture rooms suitable for up to 94 guests.
More information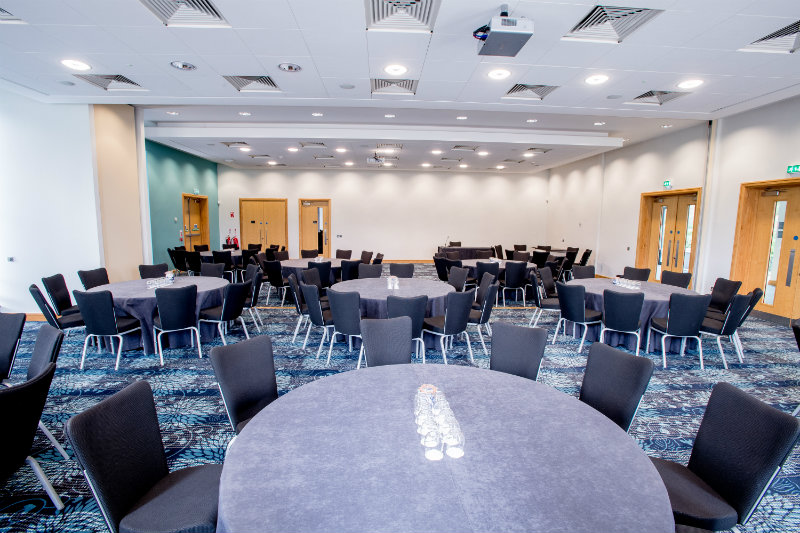 Conference Rooms
State of the art spaces for your event.
Linked to the original building by two glass walkways, Conference Rooms 1 and 2 provide function space for up to 276 delegates.
More Information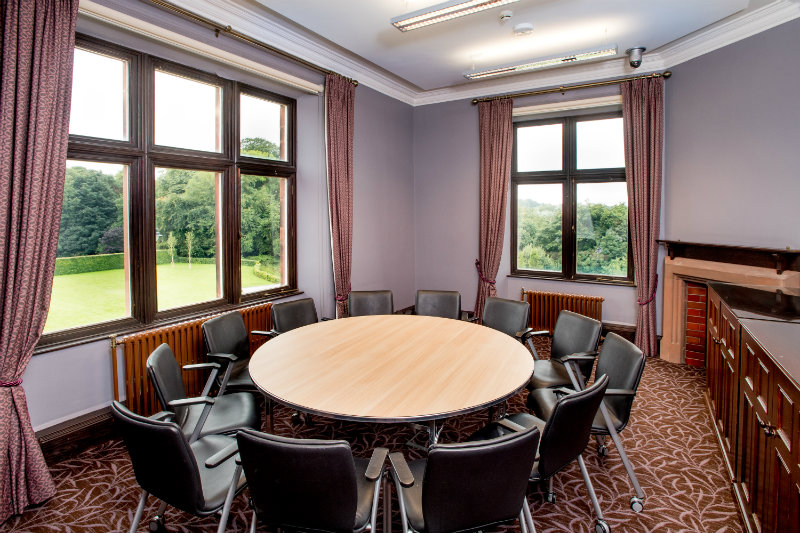 Syndicate Rooms
Well equipped spaces for smaller meetings and events.
Riddel Hall offers eight syndicate rooms suitable for events ranging from 12-36 delegates.
More Information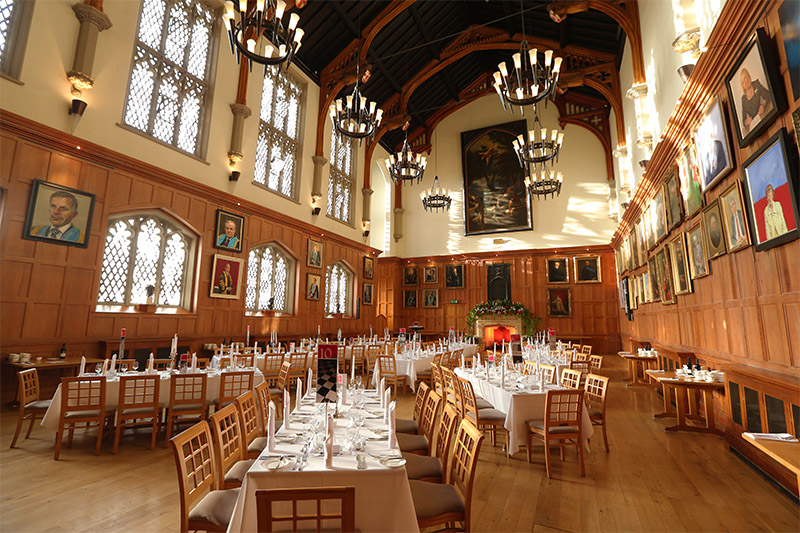 Other spaces at Queen's
THE UNIQUE VENUE FOR YOUR EVENT
As a venue for corporate, civic or private functions, the setting and ambience of Queen's University is quite simply unsurpassed. Dramatic Victorian architecture, elegant tree-lined walkways, and the unique buzz that only a University can generate, combine to make this venue truly special.
Explore
Ready to book Riddel Hall?
Have you an event or conference coming up soon? For more information and to book Riddel Hall contact us on 028 9097 4460 or email rhadmin@qub.ac.uk