Artemis receives £50k to develop Strength in Places bid for new hybrid vessel
Artemis Technologies has opened a new facility in Belfast Harbour. It leads a local consortium to develop a prototype wind/electric hybrid vessel, named the Autonomous Sailing Vessel (ASV). If the bid is successful up to £50m could be available.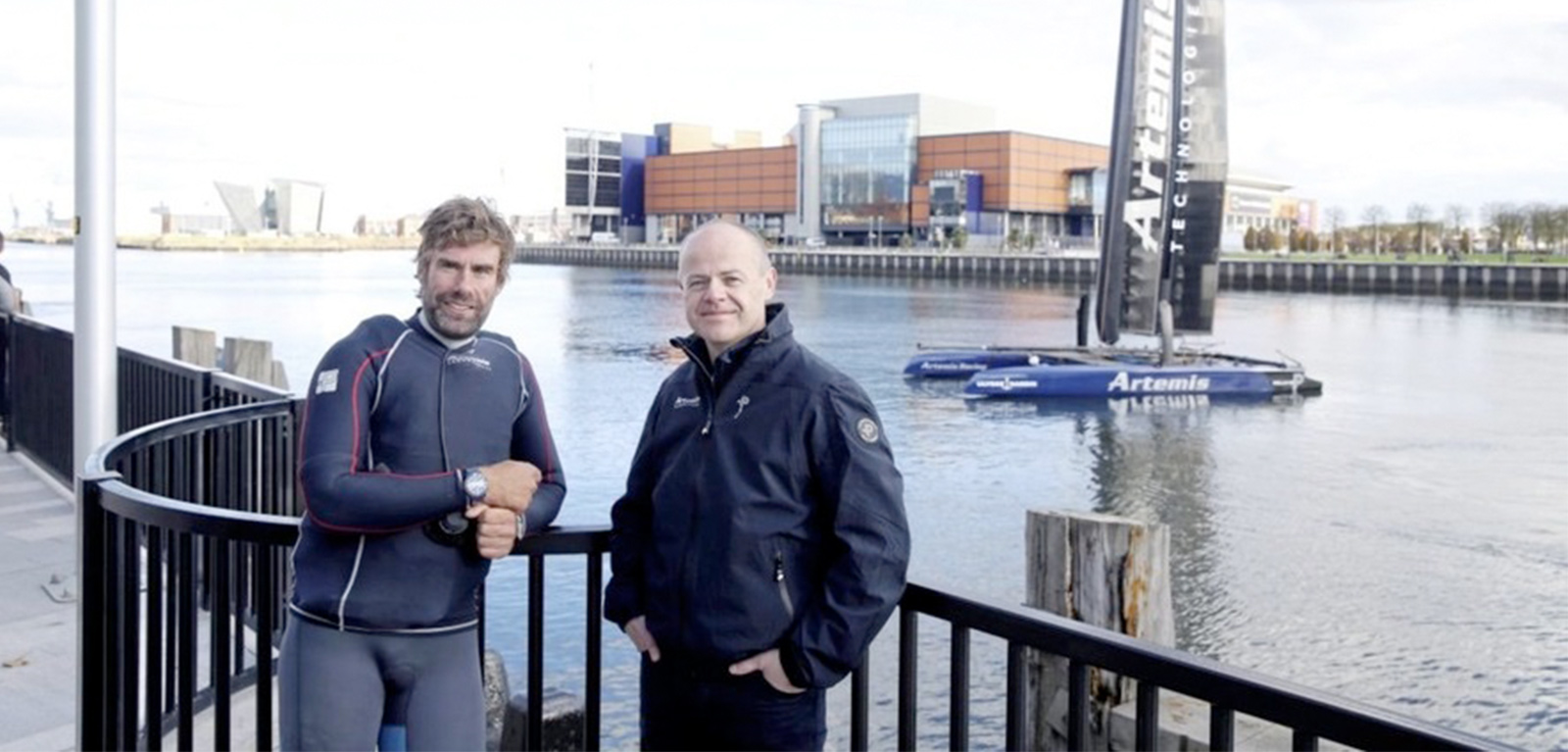 Artemis Technologies chief executive, Iain Percy pictured with the firm's head of innovation, Mark Gillan in Belfast last October to launch plans to establish a new Artemis facility in Belfast Harbour.
Things have moved on as Artemis has been awarded £50k by UK Research and Innovation [1] under the Strength in Places Fund[2]. Artemis leads a local consortium with the purpose to design, build and test the prototype of a new class of vessel, a hybrid, powered by wind/electric, named the Autonomous Sailing Vessel (ASV).

The initial challenge is to prepre a bid for submission to UK Research and Innovation in which the consortium will endeavour to convince the reviewers that they can prove the viability of a zero-emissions 45m oceangoing carbon composite commercial autonomous sailing catamaran vessel, that will have unlimited range. The novel vessel will include a number of key technologies, e.g., aerodynamic and hydrodynamic foiling optimisation; autonomous control systems and routing; drone delivery; advanced carbon composite structures and high (\>75kW/L) power density efficient (\>98%) energy recovery systems, etc.
Artemis Technologies, Chief Executive, Iain Percy OBE, a veteran of four America's Cup challenges, most recently as Team Manager and Tactician of Artemis Racing says the company has a clear vision:
"We aim to lead in the decarbonisation of the maritime industry by building on our America's Cup heritage and expertise in hydrofoils, wing sails and control systems to develop and manufacture green-powered commercial vessels, helping to ensure a sustainable maritime future. The ASV has a variety of applications including City to City passenger transportation and will be the first in a series of commercial maritime products developed by Artemis Technologies in Belfast using the wind and innovative energy recovery systems. Through collaboration, research and innovation we plan to utilise Belfast's rich maritime history and the region's world-class expertise in aerospace and composite engineering to create the UK's most advanced maritime manufacturing facility. The Artemis Technologies' team already consists of experts from the fields of motor sport, aerospace, yacht design, simulation, electronics and aerodynamics. We plan to share our expertise with Northern Ireland and work in collaboration with stakeholders to grow this sector by delivering innovative yet sustainable maritime products."

Dave Thompson, General Manager of Northern Ireland Advanced Composites and Engineering said:
"The locating of Artemis' centre in Northern Ireland is a great endorsement of the technological capability of the region. Artemis is developing products that have the potential to revolutionise sustainable maritime transportation. The technologies required to support these developments correspond well with the capabilities and aspirations of our local supply chain. The ASV, and itsprecursor, will draw on aspects of aerospace, automotive, marine and electrical engineering, in addition to AI, control systems and data security. There are a number of innovative advanced engineering firms in Northern Ireland already operating in these areas and they welcome the unique opportunity to work with Artemis. Local knowledge providers such as NIACE, QUB and UU are relishing the opportunity to collaborate with the company's technical team on numerous advanced development activities."
References
[1] UK Research and Innovation is a new body established by the UK Government which works in partnership with universities, research organisations, businesses, charities, and government to create the best possible environment for research and innovation to flourish, powered by a £7 billion budget, and brings together the seven Research Councils, Innovate UK and Research England.
[2] Strength in Places Fund (SIPF), led by the UKRI, is a new competitive funding scheme that takes a place-based approach to research and innovation funding, to support significant regional growth. Specifically innovation-led regional growth through the identification and support for areas of R&D that have the potential to innovate, or to adopt new technologies, and drive clusters of competencies with the potential to become nationally and internationally competitive.