SEA-KIT; first commercial crossing of the North Sea by uncrewed autonomous vessel
100 years after Alcock & Brown flew non-stop across the Atlantic, 5kg of oysters sail across the North Sea!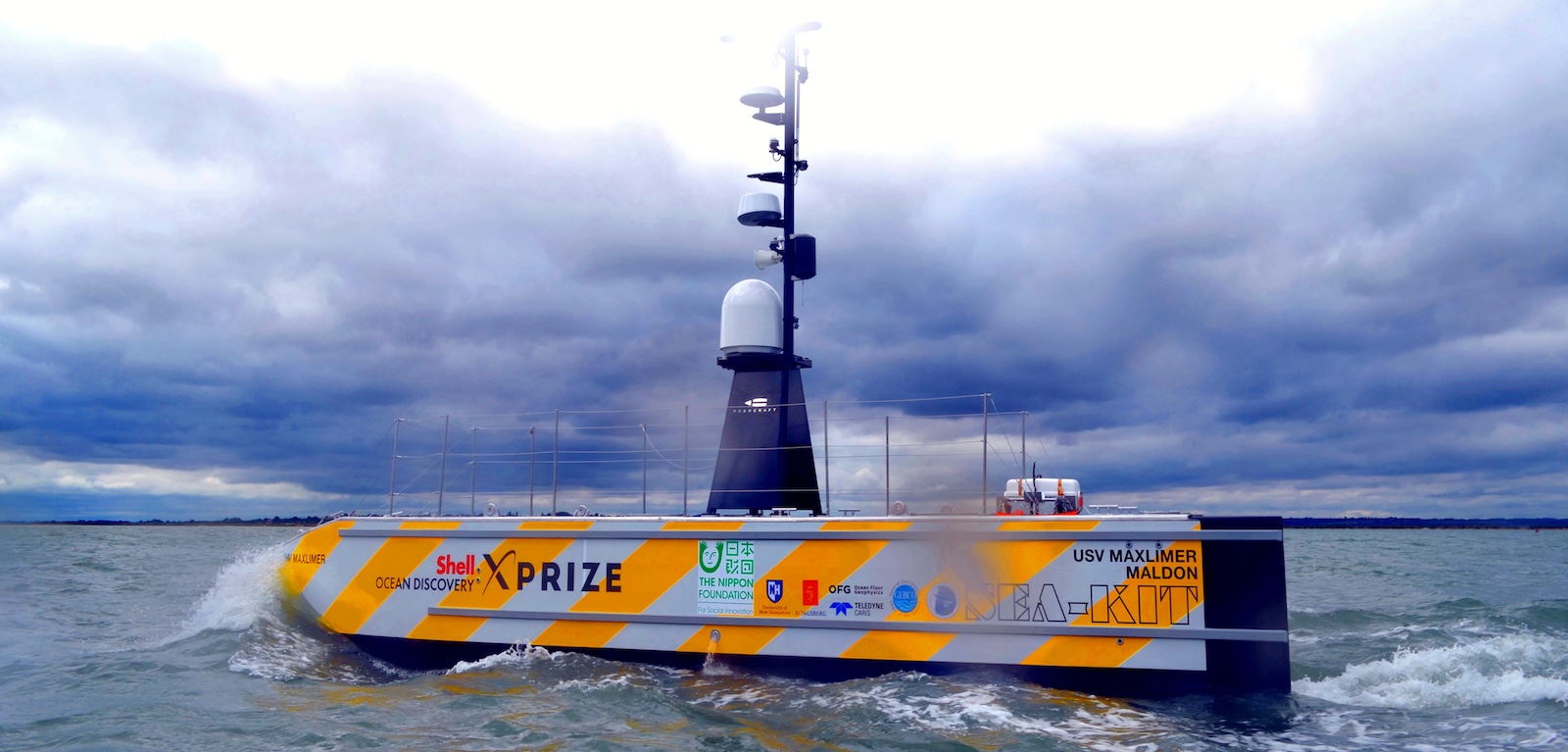 On Tuesday 7 May 2019 a 12m-long uncrewed surface vessel (USV) delivered 5 kg of oysters to Oostende, Belgium, after a 22 hour journey across the North Sea from West Mersea in England [1].
The mission was designed to showcase SEA-KIT's [2] navigation capabilities through GPS and satellite communication, including marine traffic avoidance in what is one of the world's busiest shipping routes. It's long term purpose is not to deliver oysters, rather to be a USV workhorse that can carry up to 2.5tons.
SEA-KIT was designed and built by Hushcraft Ltd, based in Tollesbury, Essex, and operated by SEA-KIT International Ltd. It was developed for, and used with, the Kongsberg Maritime Hugin AUV System for the GEBCO-Nippon Foundation Alumni Team [3] entry to the Shell Ocean Discovery XPRIZE [4].
Breaking News - GEBCO-Nippon Foundation Alumni Team win the prize!!!
On the 31 May 2019, the BBC reported [5] that GEBCO-Nippon Foundation Alumni Team had won the Shell Ocean Discovery XPRIZE.
The Shell Ocean Discovery XPRIZE will accelerate innovation for the rapid and unmanned exploration of the uncharted deep sea; catalyze markets in deep ocean exploration and discovery, sustainable resource development, and protection; illuminate the most mysterious part of the planet; and ignite the public imagination.
References
[1] https://www.maritime-executive.com/article/first-commercial-crossing-of-the-north-sea-by-autonomous-vessel
[2] http://www.sea-kit.com/
[3] https://www.gebco-nf.com/
[4] https://www.xprize.org/prizes/ocean-discovery
[5] https://www.bbc.co.uk/news/science-environment-48473701