International Research and Innovation Strategy unveiled by UK Government
At EUREKA Global Innovation Summit Science Minister Chris Skidmore unveiled the UK's new International Research and Innovation Strategy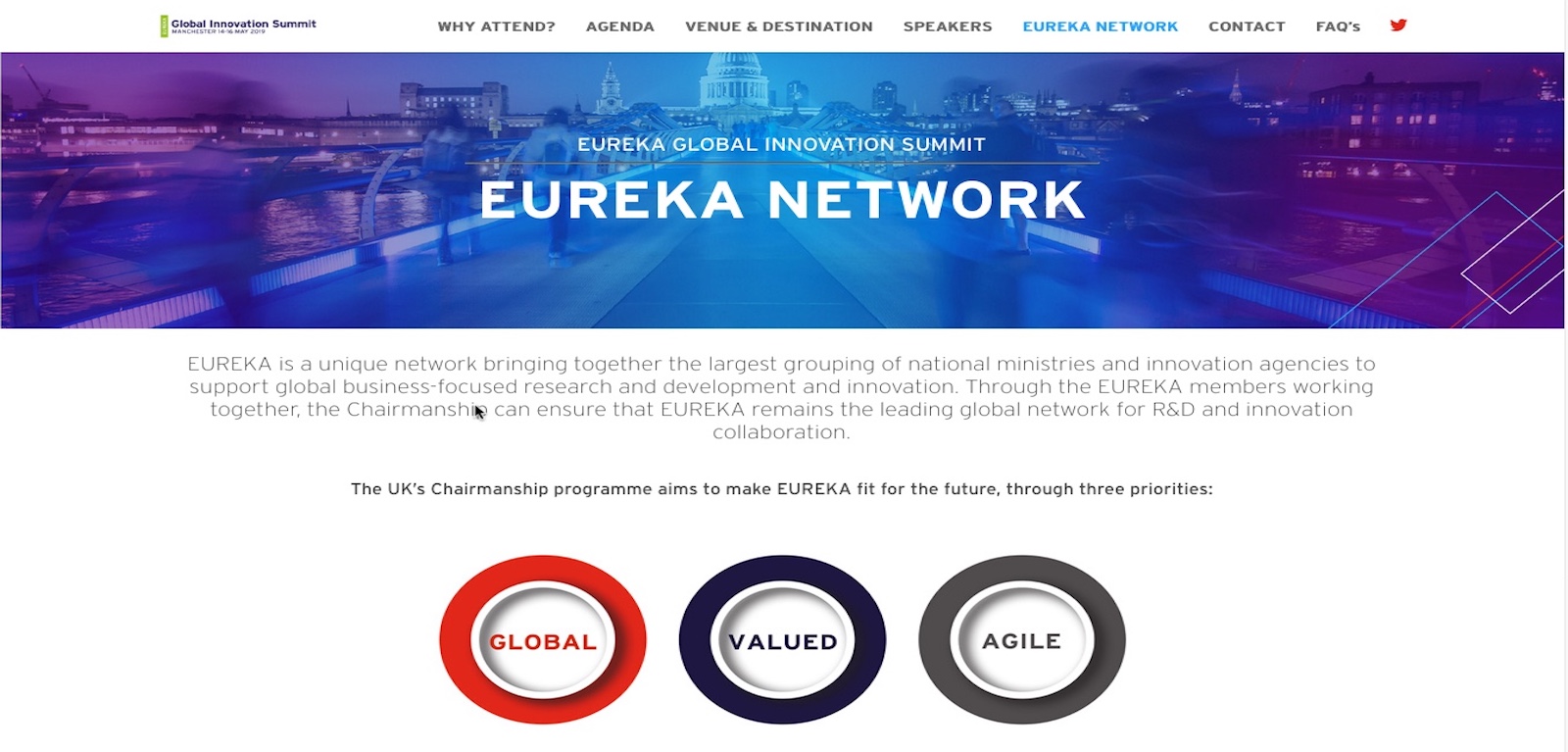 Innovate UK hosted the EUREKA Global Innovation Summit [1] in Manchester at which Science Minister Chris Skidmore unveiled the UK's new International Research and Innovation Strategy. The strategy aims to underline the UK's commitment to worldwide science collaboration and investment.
The summit, which ran from the 14 to 16 May 2019, was the flagship event of the UK Chairmanship of the EUREKA network, 2018/19.
EUREKA is a publicly-funded, intergovernmental network, involving over 40 countries. EUREKA's aim is to enhance European competitiveness by fostering innovation-driven entrepreneurship in Europe, between small and large industry, research institutes and universities. Source [<https://www.eurekanetwork.org/about-eureka>]
It is reported that representatives from over 1,700 businesses and 65 countries attended the summit which had approximately 50 speakers [See: <http://egis2019.org/speakers/>].
The Minister announced £4m for a EUREKA competition that seeks projects in three areas:-
GlobalStars [2], a funding competition between Singapore, the Netherlands and the UK focused on medical technology, smart mobility and advanced manufacturing
Smart Manufacturing Cluster [3] Call, which invites applicants to propose projects in advanced manufacturing applications and technologies
Artificial Intelligence and Quantum [4], a project between 10 EUREKA country members working on disruptive new technologies
References
[1] <https://www.gov.uk/government/news/eureka-summit-unveils-new-strategy-and-funding-programmes>
[2] <https://www.eurekanetwork.org/content/globalstars-multi-track-approach-internationalisation-eureka>
[3] <https://www.smarteureka.com/en/about-us/vision-and-mission/>
[4] <https://www.eurekanetwork.org/content/call-project-ai-and-quantum-technologies-10-countries>
Footnote
EUREKA is an intergovernmental organisation for pan-European R&D funding and coordination. 41 full members, including all EU Member States, the European Union (represented by the European Commission), 1 partner country (South Korea) and 3 associated members (Canada, Chile, South Africa). EUREKA is not an EU research program, rather an intergovernmental organisation. Co-operation and synergy are sought between EUREKA and the research activities of the EU, notably with European Union's Horizon 2020 and the European Research Area.