Calling all GPs! Why not come along and inspire the next generation of GPs?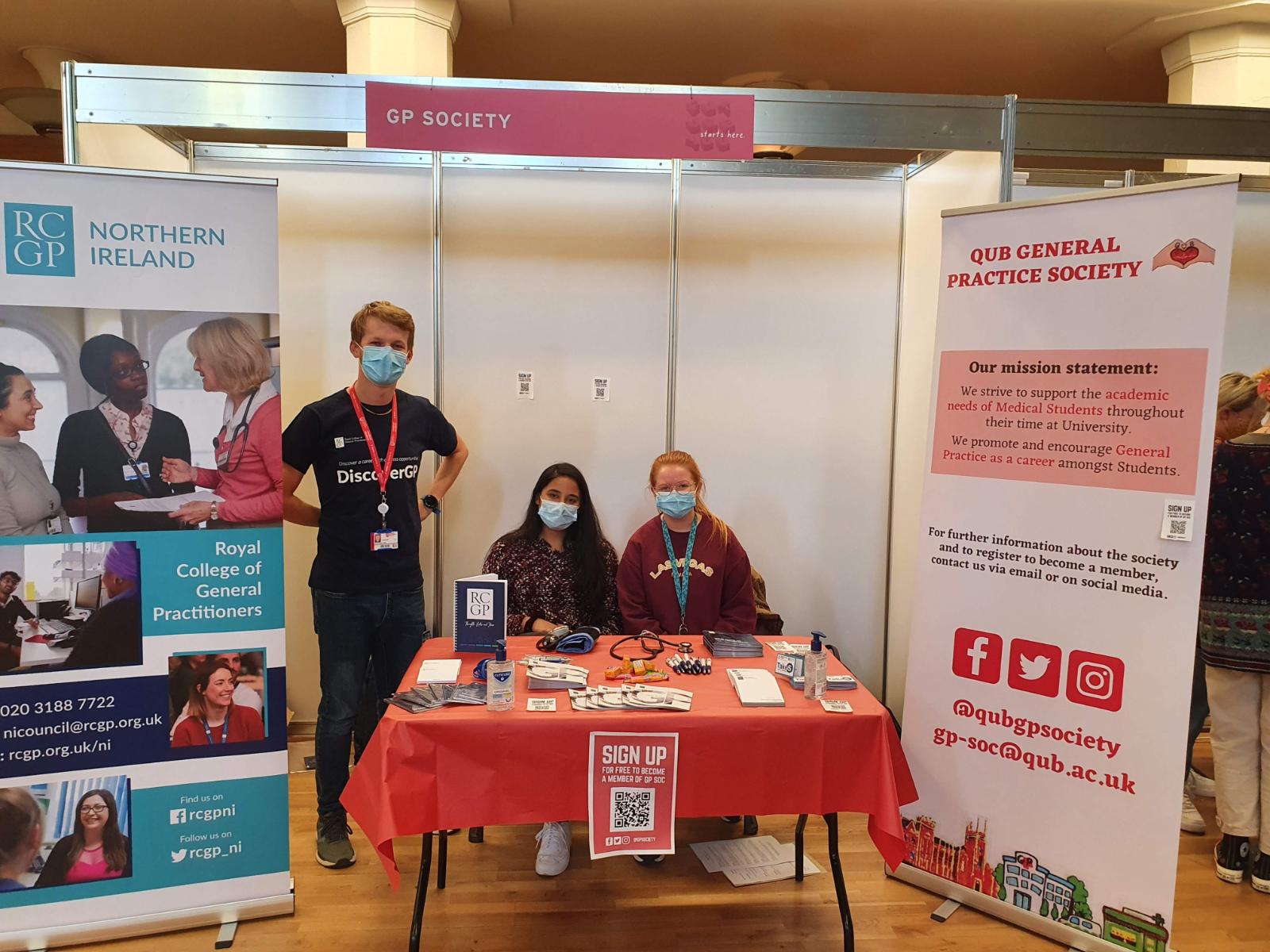 QUB GP Society would love volunteer guest speakers, podcast guests and volunteers for mock OSCE events throughout the academic year.
Please fill out this short form and we will be in touch https://forms.gle/Uy2RWfskN2pzNNBi8
For further information, please email gp-soc@qub.ac.uk
The Society launched their own Podcast in 2021, 'Common Conditions in General Practice'. These short, bitesize, revision-style podcasts are "for Medical Students, by Medical Students". Different members of the Committee have covered topics such as Hypertension, Asthma and Chronic Kidney Disease. The Podcast has been a much-appreciated resource by students at QUB and far beyond, attracting over 7,500 unique streams.
The Society's success has been recognised more widely
Highly Commended GP Society of the Year at the RCGP annual conference 2020/21
Winning the 'Innovative Online Activities' Award at the QUBSU Awards in 2021.
The Society has also been involved at a number of conferences
RCGP Annual Conference (Liverpool), October 2021 - 4 committee members attended the conference and pre-conference GP-Societies Summit alongside a number of RCGP-NI Colleagues. 2 members were involved in presenting a session to help GP-Societies design events and the society picked up a Highly Commended GP-Soc of the Year Award.
RCGP ROI Spring Meeting and AAUSGP Inaugural Meeting (Limerick), March 2022 - 4 committee members travelled to attend this annual meeting and host the first face to face meeting of the All Island Association of Undergraduate Societies in General Practice (AAUSGP). President Davog McCaffrey was also awarded an RCGP Medal in recognition of his service to establishing the group.
RCGP / WONCA Conference (London), June 2022 - 2 committee members represented QUB GP-Soc at the internationally attended conference in London, with keynote speaker Prof Sir Michael Marmot.
Crucial to the growth of our Society is continued relationship building with external organisations – for example, the Royal College of General Practitioners, the British Medical Association and GP Federations. The All-Island Undergraduate GP Medical Group has offered additional opportunities for cross-border collaboration with other institutions. QUB GP Society would like to thank the GP Team at Queen's, RCGP Northern Ireland, BMA Northern Ireland, and all those who have worked along with us for their ongoing help and support. Your enthusiasm, encouragement, and desire to help the next generation in turn allows us to best support our members and ensure we can build a strong General Practice workforce in Northern Ireland moving into the future.
QUB GP Society is a vibrant and enthusiastic group of Undergraduate Medical Students at Queen's University, Belfast. Our aims are two-fold - firstly, to encourage General Practice as a career amongst Medical Students at QUB and beyond, and secondly, to support the academic and educational needs of Medical Students during their time at University. In recent times, thankfully we have been able to embrace the virtual world and create innovative solutions to help us continue to achieve both aims.
The academic year 2021/22 saw a Return to Face-2-Face events
GP Spotlight "In the Hotseat" - a speed-dating style event in which we showcased the variety of careers available within General Practice with representatives from over 15 different Specialist Interest areas, from Dermatology, Education, Sports Medicine - the list goes on!
Dear Colleague: Menopause - a face to face version of our popular online Dear Colleague Series, in which we were joined with BBC-NI Health Correspondent Marie-Louise Connolly. We dissected and discussed all things Menopause, with input and questions from right across the Primary and Secondary Care systems.
It also saw the continuation of our Popular Online Series events
GP with Specialist Interests - showcasing a number of career opportunities
Ace your SJTs - an educational event aimed at final years preparing for SJT examinations
Dear Colleague - as above, covering topics like Domestic Abuse, Healthcare in Prison, Conflict Related Trauma and Endometriosis, collaborating with other student groups including O+G Soc, and Midwifery colleagues.
Paediatric Presentations to GP Series
Podcast
Our Podcast, 'Common Conditions in General Practice' have been hugely popular. These short, bitesize, revision-style podcasts are "for Medical Students, by Medical Students". Different members of our Committee have already covered a range of clinical topics. You can check out the Podcast on:
Apple https://apple.co/2IKjicO
Spotify https://spoti.fi/3pHsgs7
If you have been enjoying the Podcast, we would really appreciate if you could Subscribe, Review and Share to help us further increase our reach!
You can keep up to date with our Society via social media
Facebook - QUB GP Society https://www.facebook.com/qubgpsociety
Twitter @GPQUB https://twitter.com/QUBGPSociety
Instagram @QUBGPSociety https://www.instagram.com/qubgpsociety/
Email gp-soc@qub.ac.uk