Vice-Chancellor's Update - April 2022
Over the past month, the conflict in Ukraine has dominated world headlines and received widespread condemnation.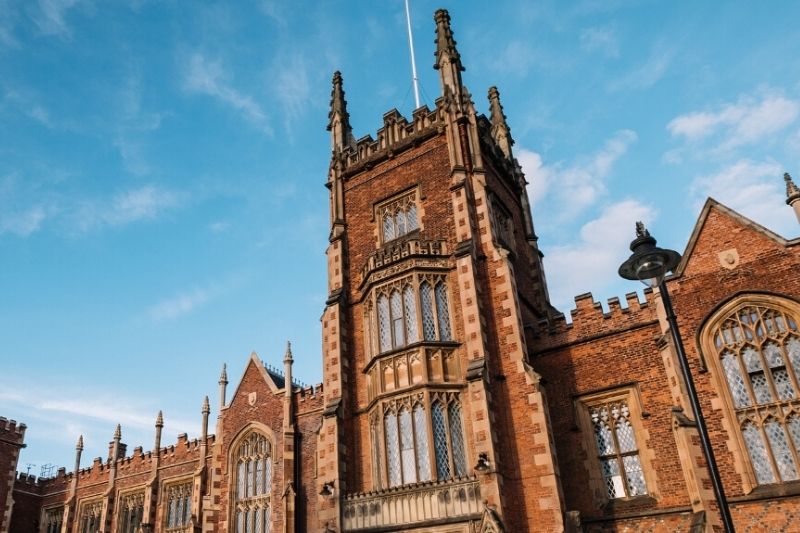 As a university, we stand in solidarity with Ukraine and have expressed our deep concern and support for all those who have been affected by the conflict. There are a number of Ukrainian and Russian students and staff within our own university community. We are continuing to reach out to them to offer support at this incredibly difficult time. I had the opportunity to introduce some of our Ukrainian students to His Royal Highness, The Prince of Wales, during his recent visit to Northern Ireland. At the event, which was attended by a number of community groups and support agencies, our students were able to share their own personal experiences with His Royal Highness.
We are continuing to monitor our response to the conflict in Ukraine. As a first step and following a review of our international collaborations, we have taken the decision to suspend formal links with universities in Russia across research, education and teaching. This decision is in line with other universities and funders including the UKRI and European Commission. Our University Executive Board is currently exploring ways in which we can offer further practical support to those impacted by the conflict. The Board has agreed to make a donation to the Polish Young Academy of the Polish Academy of Sciences (AMU PAN, https://amu.pan.pl/) which is working to offer critical support to Ukrainian scholars who have fled the war in Ukraine. We will also continue to support the work of the Council for At Risk Academics (CARA) to provide a place of safety at Queen's for all threatened in the current conflict.
The end of March marked a significant milestone for the University with the phasing back to on-campus working for staff. Whilst many staff were already working regularly on campus, all staff are now transitioning back, with agile working arrangements, as agreed through local team standards, in place from 11 April. We understand that for some colleagues this may be the first time you are returning to campus for quite some time and appreciate that this will be a period of change for you.
It is important for all of us to create the right balance between home and work life. That is why our recent staff pulse survey focussed on work-life balance. I know that this is an important issue for staff, so it was great to see so many of you engage with the survey and share your views in order for us to be able to improve your experience at work. Following discussion with the Staff Forum and reflecting on feedback from the Trade Unions, areas for action have been identified and have been shared in an all-staff communication. These include: agile working practices; embedding of our Core Values and managing performance; and workload allocation and distribution.
Workload is a key concern for many colleagues and, as we know, was one of the issues behind the recent periods of industrial action. Another area of priority is casualisation and fixed-term contracts. We are working on a number of solutions to address these issues:
We are making amendments to the Teaching Support Framework as it relates to Teaching Associates to ensure it properly reflects the work involved in delivering the tasks.
Professor Stuart Elborn is leading a task and finish group which will look critically at the factors involved in workload and on an ongoing basis, make recommendations for change. This group has recommended investment in an online workload analysis system and this investment has been approved.
The People and Culture Directorate is leading a project to reduce our use of fixed-term contracts, so that in the near future they are only applied in specific limited circumstances.
The implementation of the QWork system will ensure that casual staff are on the right contracts and being paid the correct rates. I understand that there have been teething issues with the introduction of the system and I recognise that some business areas may need additional staff to support the operation of the system. The system itself will have a number of updates to improve user functionality over the summer and we will continue to evolve it over the next academic year.
In relation to our lowest paid colleagues, the University will join the Living Wage Foundation. We will move to paying this higher hourly rate as minimum for all staff, by the end of this calendar year.
Another area for action identified in the Pulse Survey is our approach to planning and how we agree and communicate institutional priorities. As you will be aware, in July 2021, we launched Strategy 2030 which set out our future direction for the next ten years. As part of the implementation of the Strategy to deliver excellence and impact across research and education, an integrated annual planning cycle has been established to support the University Executive Board in the consideration of rolling three-year Institutional plans. Planning meetings are currently taking place with each of the Faculties and Professional Services to agree priorities for the next academic year. A key outcome of this process will be approval for investment in additional posts and for filling vacancies against existing plans across the University, which will address some of the workload issues mentioned above. Steps are also being taken to enhance the capacity within People and Culture to ensure that we can progress approved recruitment in a timely manner given its importance to the University.
As part of that planning process and to communicate the key priorities, the University Executive will be hosting a series of Faculty and Professional Services meetings over the coming months. Further details will be communicated when arrangements have been finalised. I look forward to seeing many of you at these meetings and having the opportunity to engage in discussions about our priorities going forward.
As well as setting out our future direction, the meetings will be an opportunity to reflect on our recent successes and achievements, and there have been many this year already.
Economy Minister Gordon Lyons, Vice-Chancellor Professor Ian Greer and PhD student Lauren McGarry at the Northern Ireland Technology Centre.
Significant progress is being made in the Belfast Region City Deal and recently, the Economy Minister, Gordon Lyons, announced more than £170million in funding for the three Queen's-led innovation projects: Advanced Manufacturing Innovation Centre (AMIC); Global Innovation Institute (GII); and the Institute of Research Excellence for Advanced Clinical Healthcare (iREACH). We also recently received the good news of a major funding boost from the Irish Government with Queen's being awarded over €9m for 43 projects in the first funding round of the Shared Island North-South Research Programme. The programme is based in the Taoiseach's Office and I was delighted to meet with Micheál Martin last week when he delivered the inaugural Chief Executive's Club Dublin lecture. Entitled 'Building a Shared Island', the lecture, which was held in the Royal Irish Academy, was attended by over 70 business leaders and Dublin based Queen's Alumni.
Last month, we held a number of events in New York with our Chancellor Secretary Hillary Rodham Clinton, one of which was the award of an Honorary Degree to the former Irish Ambassador to the US, Anne Anderson. The award of honorary degrees is an important tradition for the University in recognising individuals who have achieved distinction and given outstanding service in their field. Our honorary graduates are valued members of the University community and many have become powerful advocates for the University in progressing our ambitions. The Honorary Degrees Committee recently considered a number of nominations for the award of honorary degrees in 2022/23. Further nominations would be welcome, particularly for under-represented groups, including females and members of the BAME community. Completed honorary degree nominations should be forwarded to the Registrar's Office by Monday, 16 May 2022.
Professor Janice Carruthers pictured with the French Ambassador to the UK, Her Excellency Mme Catherine Colonna
There has been significant success for individual staff members over recent weeks. Professor Janice Carruthers, Professor of French Linguistics and Dean of Research in the Faculty of Arts, Humanities and Social Sciences, has been made a Chevalier dans l'Ordre des Palmes Académiques, presented by the French Ambassador to the UK, Her Excellency Mme Catherine Colonna, at a special ceremony hosted at Queen's. Janice received The Palmes Académiques, one of the oldest civil honours bestowed by the French Republic, for her significant contributions to French language and culture studies. Her award comes just a few weeks after Professor Nola Hewitt-Dundas, Pro-Vice-Chancellor for the Faculty of Arts, Humanities and Social Sciences, was named a Fellow of the Academy of Social Sciences for her significant contribution to social sciences. Congratulations to both Janice and Nola and also to all those staff who received a Staff Excellence Award which were announced at the beginning of March. Your contribution to the University is greatly valued and highly appreciated.
Campus Food and Drink were named Team of the Year at the Staff Excellence Awards
Looking forward to next term, we have the publication of the REF Results in May, which we will be communicating to staff. We also have the opening of One Elmwood, the new Student Centre and Students' Union, later in 2022. There has been an incredible amount of work going on behind the hoarding to ensure the delivery of this exciting social, open and flexible space, which will cater for the changing needs of students and create a new focus for life on campus. We look forward to the new building opening.
In the meantime, I would like to wish you all a relaxing and enjoyable Easter break.