Clearing Stories
Many of our students found courses through Clearing at Queen's that turned their lives around. Hear them talk about their clearing experience, life in Belfast and how they've enjoyed their time at Queen's so far.
Poppy McPeake, BSc Physics, from the Wirral- 'It feels a lot like home'
"I called Queen's through the number on their website, told them my grades and got a place. It was as simple as that!"
Poppy found results day difficult as she was the only one among her friends who didn't get into her choice of university, "I took a day to process what happened - but you've got to keep your head up. Even before I got my exam results, I was interested in Queen's because I have family here and it's a really good university.
"When I was looking, Queen's was in the top 10 in terms of research quality for Physics, which was obviously very important to me. It has been a Russell Group university for a long time, which is a sign of high academic quality. And I really like the lecturers!".
Poppy wasn't sure what to expect from Belfast, but found her feet very quickly.
"Belfast is quite similar to Liverpool – they're both really good value. It's a lot more calm here, which surprised me, but still really enjoyable. It feels a lot like home."
First year students from GB have guaranteed accommodation at Queen's, and Poppy was impressed with her new home, "I live in Elms BT9 and, even though I didn't get my first choice, I'm very happy with the facilities. It's really good value – a lot of my friends complain about the cost of their accommodation, and I'm sitting back in my ensuite room. It's brilliant!"
---
Gabriella Dancer, MA Violence, Terrorism and Security from London: "Clearing can be nerve-wracking but you definitely won't get a place if you don't try.;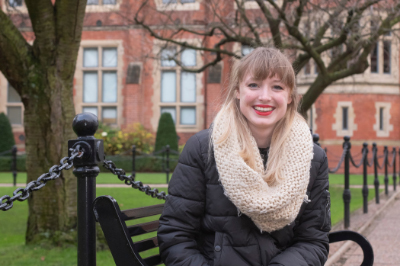 "When I went through Clearing, I felt my whole world had come crashing down. Remember it is not the end of the world, there will be a university place for you. Take a moment to breathe and start looking for Clearing Places." Gabriella Dancer
BA Criminology

---
Dylan Kerr, MSc Biochemistry: "Clearing opened new possibilities up for me. I've never looked back."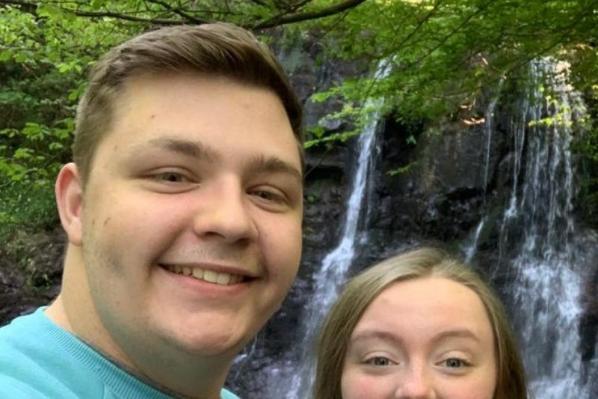 "Clearing offers you the chance, whether you are delighted or disheartened with your results, to jump into new experiences and find fresh opportunities. After the last year we have all been through, cut yourself some slack, you've worked hard!" Dylan Kerr
BSc Biochemistry

---
Alice Poole, BSc Architecture, from Cheltenham: "The cost of living in Belfast is so cheap – I love it!"
"My nearest capital city was London so it's definitely a different experience. It's much more friendly and I feel a lot safer here".
Alice knew what she wanted when it came to picking a university "Russell Group universities are the more prestigious universities within the UK. It was really important to me that Queen's was a Russell Group university."
She's settled into life in her new city quickly, "I feel really safe in Belfast, especially around the university. I like walking around the city. I love going out to the Titanic Quarter by the docks and the Cathedral Quarter is lovely too – it has lots of bars and restaurants".
There are other perks to Belfast,
"The cost of living is so cheap! I pay less bills and rent than my friends. Going out in Belfast is really fun. There are lots of different options and everywhere is within walking distance!"
The city's excellent transport links have come in handy, "Pre-Covid, I travelled home and had people over to visit quite often. Normally I travel home by plane and fly into London or Birmingham, depending on which is cheaper. You can get cheap taxis around the city and to the airports. There's also a great value day pass for the buses."
Alice made the most of guaranteed accommodation in her first-year, "it was really helpful because it takes a lot of pressure off. And I got my first choice really easily, which was great!
I lived in Elms BT9. I loved the village feel of it and you get to know people from different buildings."
---
Aaron Johnson, LLB Law from Lancashire: "Choosing Queen's has been my best decision ever."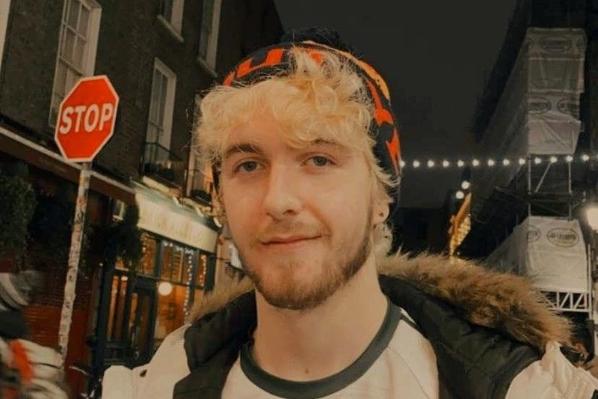 "I felt like a fish out of water when I was placed in Clearing last year. But choosing Queen's has been my best decision ever. I have the chance to be independent in a completely new city with a lot of nightlife and culture, and I really like the structure of my course" Aaron Johnson
LLB Law

---
Gabriella Dancer, MA Violence, Terrorism and Security from London: "After speaking to Queen's, I knew I was making the right decision."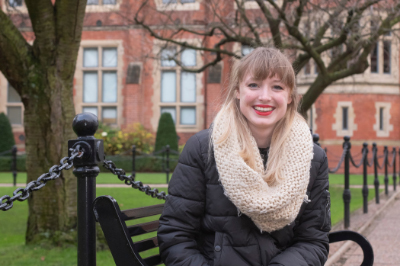 "I hadn't visited Queen's or Northern Ireland before so, two days after getting a place through Clearing, I hopped on a flight to Belfast. The staff at Queen's were brilliant - they had arranged a last-minute, personalised campus tour. I even got to have a chat with one of my future lecturers!" Gabriella Dancer
MA Violence, Terrorism & Security

Read Gabriella's story – from Clearing to a postgraduate degree
"The efficiency of the process was first rate. In addition, the phone lines for clearing were open during all sociable hours of the day so I could always call and check to see if everything was going as planned." Tom Thorogood, Politics and Philosophy, Liverpool
"It was really quick and easy, also I was able to speak to a current student which was really nice just to have an honest chat with someone about queens and what it's like." Rosie Wright, History, Carnforth
The Student Recruitment Officer, Emma, had a huge impact. She was so helpful on the morning of results day, and the following days after trying to sort accommodation and everything else. She also set me up with people who had taken my course modules. " Rheannon Platman, Anthropological Studies, Essex