Graduating soon? Remember, once you graduate, no refunds are available on your smartcard purses.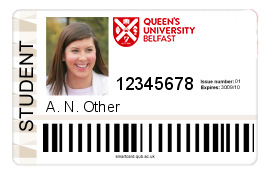 All staff and students are issued with a Smart Card at commencement of employment or registration. You are required to carry this with you at all times.
Staff: Please contact the HR Hub at hrhub@qub.ac.uk for further information.
Students: Cards are issued at inital registration and students must bring their card to registration each year for validation.

How do I use my Smart Card?
Visit Smart Card Services for a full definition of the services offered.
Support: