Graduating soon? Remember, once you graduate, no refunds are available on your smartcard purses. See FAQs for more information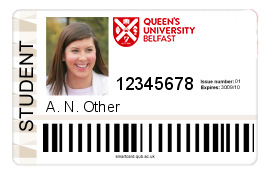 All staff and students are issued with a Smart Card at commencement of employment or registration. You are required to carry this with you at all times.
Staff: Please visit the More Details on arrival; phone +44 (28) 9097 3044 to make an appointment.
Students: Cards are issued at inital registration and students must bring their card to registration each year for validation.

Electronic Payment for Services

The Library
The Treehouse at Elms Village
Some School facilities

Purchases

Buy books online from Blackwell's - use funds on your smartcard to purchase a gift card in the Blackwell's shop in the Student Union, then use the gift card for online purchases via Blackwell's Online Bookstore

Educational and clothing items in the Students Union shop

Library Services

Social activities

Careers items in the Student Guidance Centre - OLD

Access to Buildings

This is mainly for out of hours access but also for high security areas. These include: