eduroam for QUB Staff and Students
‌‌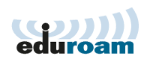 ‌
Eduroam (education roaming) is also available for QUB staff and students to use when visiting other eduroam-enabled educational organisations.
Please note - The eduroam connection MUST be tested on campus before travelling.
How do I connect to eduroam?
Connect to eduroam from any device

From the device you wish to access eduroam, select eduroam

from the list of available WiFi networks and click

connect

Enter your username in the form staff/student no@ads.qub.ac.uk e.g. 1234567@ads.qub.ac.uk
Enter your QUB password and confirm internet access by browsing to a website of your choice

If these steps are not successful please refer to the configuration page and follow the instructions.

Please Note: If unsuccessful after following the above, QUB staff and students may seek help from the IT Service Desk in the McClay library.
Important please read: eduroam Conditions of Use
When on campus, QUB staff and students are advised to use the internal '_QUB_WiFi' wireless network. This provides a high bandwidth, encrypted connection to the internal wired network, its internal resources and the internet. Internal users are unaffected by visitors or any conference events sharing the eduroam facility.
Updated Sept 2016