Undergraduate Admissions Policy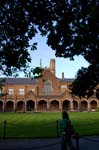 Photo of University Quad
Queen's University Belfast is committed to providing a professional admissions service. The Undergraduate Admissions Policy and accompanying procedures are transparent, fair and consistently applied which ensures that prospective students understand how the admissions process works and applications are processed in a timely manner.
The Policy applies to the admission of undergraduate students to Queen's University Belfast. It provides information on procedures and related matters together with details of the responsibilities of those involved in the process. The Policy is kept under review and is updated periodically to reflect progress in achieving the aims of Strategy 2030 and Widening Participation.
To achieve these aims the University:
encourages applications from suitably qualified applicants, particularly from groups which are currently under-represented in Higher Education;
selects on the basis of fair, transparent, reliable and objective criteria, applied equitably and consistently;
admits the best qualified applicants to degree courses in line with the University's priorities, the targets agreed in academic plans and within the overall constraints applied by the government and professional bodies.
The Undergraduate Admissions Policy complies with relevant legislation affecting the admission of students and meets the expectation of the Quality Assurance Agency (QAA) UK Quality Code for Higher Education, Chapter B2: Recruitment, Selection and Admission to Higher Education (2013) (www.qaa.ac.uk).
Download the Admissions Policy 2015/2016
Download the Admissions Policy 2016/2017
Download the Admissions Policy 2017/2018
Download the Admissions Policy 2018/2019
Download the Admissions Policy 2019/2020
Download the Admissions Policy 2020/2021
Download the Admissions Policy 2021/2022
Download the Admissions Policy 2022/2023