Junior Academy Year 10 Engineering and Physical Sciences Taster Day 2019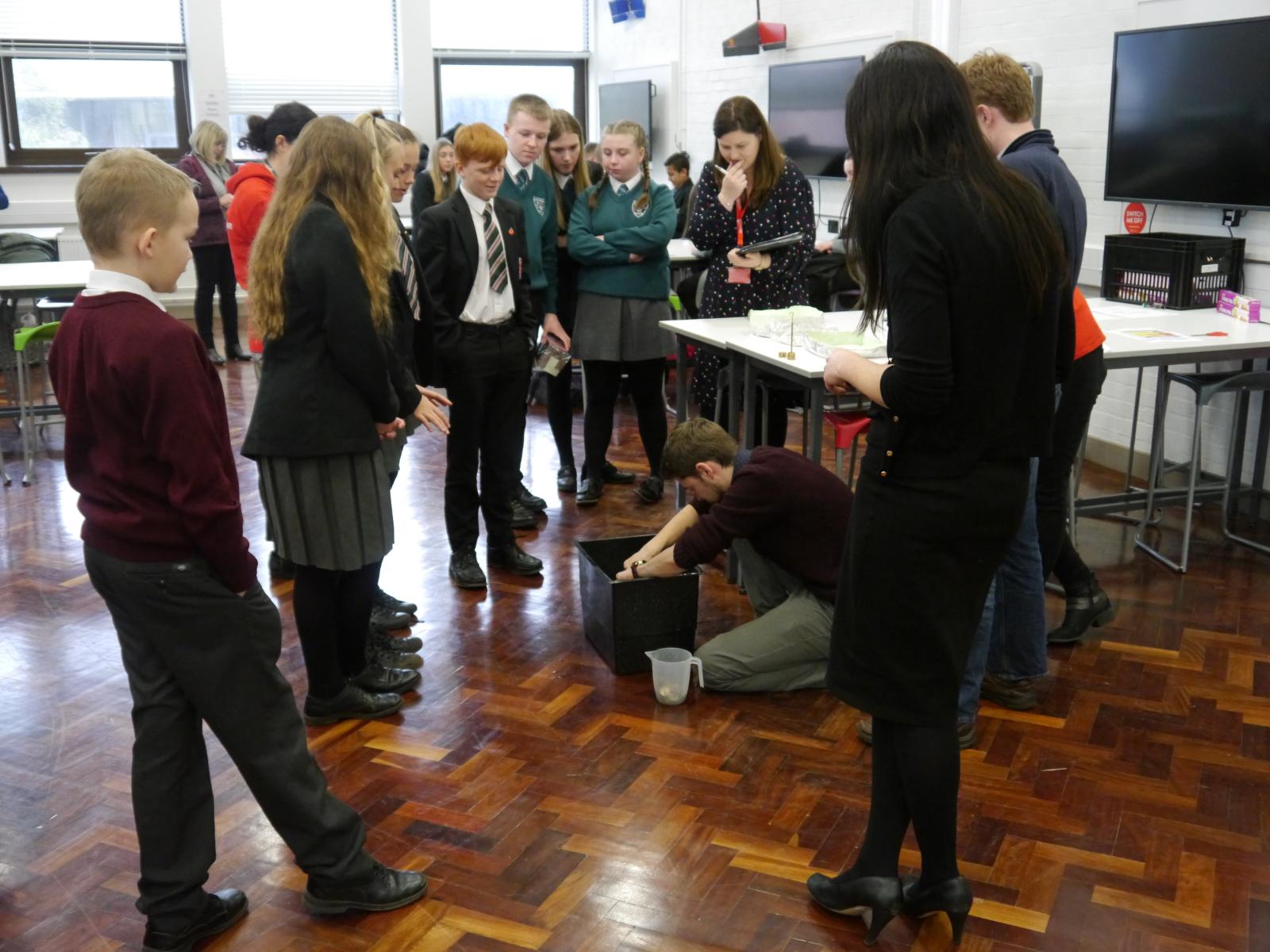 On Tuesday 5 November 2019 Queen's Junior Academy welcomed 87 pupils from 18 schools for their first event of Year 10, the Engineering and Physical Sciences Faculty Taster Day.
After arriving at the Great Hall for an overview of the subjects available in the Faculty, schools split into three groups in order to take turns participating in three different workshops in different locations around campus.
Those who were staying put in the Great Hall had their first session with a special guest from the School of Electronics, Electrical Engineering and Computer Science, Baxter the robot.
After watching some impressive videos of Baxter's ability to perform tasks such as pour coffee or automatically adjust his grip depending on the size and shape of the object handed to him, pupils worked to solve some engineering puzzles. The schools really rose to the challenge and worked their way through the mazes at a speedy pace.
The second workshop, held in the Geography building, focused on Archaeology. Queen's University archaeologists gave a fascinating outline of exactly what archaeologists do (and don't do) before inviting pupils to delve into an interactive archaeological Minecraft experience.
The activity was hugely popular with all the school groups, with many seasoned Minecraft pros delighted to turn their hand to the game with a special archaeological theme. One slightly over-enthusiastic group dug so far into the ground they hit lava - luckily it was a virtual experience!
Workshop number 3, run in the Ashby building by Queen's mechanical engineers, was a competitive activity. Pupils were challenged to see whose tinfoil boat could hold the greatest weight. With just 15 minutes to build their vessel, the budding engineers watched with bated breath to see how many coins the boat could hold without sinking.
Ultimately there was a tie between Omagh and Ulidia, with their boats holding the equivalent of 1.45kg, a significant weight, especially considering the time constraints involved in the challenge!
When all three groups had made their way through the three workshop stations, the cohort reconvened in the Great Hall for lunch before making their way to the day's final activity, a lecture in Psychology. Pupils were invited to rate the conventional looks of the subjects of a range of photos, and to then guess which of the faces they had seen were actually in a couple in real life (the idea being that people tend to match up with partners who are exactly as attractive as they are). The workshop revealed interesting psychological insights into how we perceive appearances and connect them, including a competitive edge as participants checked at the end of the lecture how many of their guesses had been correct.
After the lecture, school groups made their way back to buses and taxis with goodie bags in tow, guided by Junior Academy student assistants and hopefully excited for their next taster of university subjects in January, in the Faculty of Arts, Humanities and Social Sciences.
Junior Academy Year 10 EPS Taster Day 2019 Images