Hi! My name is Grace Gordon, I'm an MA in Public History graduate from Donegal currently working as a curatorial staff member with the Public Record Office of Northern Ireland.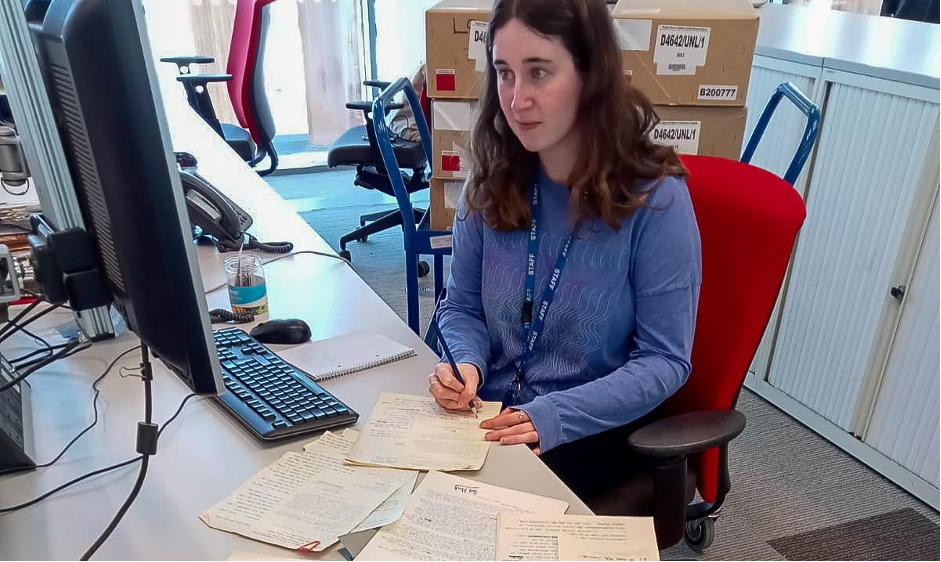 I chose to do the MA in Public History in 2018, the very first year that it was run as a Master's programme at Queen's University Belfast. What initially drew me to the course was the emphasis on preparing students to work in the history and heritage sector and the 30-day internship - I knew that I wanted to work in a history role but I had no practical experience and wasn't exactly sure where to start! In the MA in Public History, we learned the fascinating theory behind how history is presented in public spaces and particularly how it manifests in Northern Ireland. On top of this, the course was able to show me the wide range of jobs outside of an academic setting that I could work in with my history degree.
The MA course attracted a group of friendly and enthusiastic students from all over the world. Each of us had our own unique research interests and perspectives which led to some very lively discussions in our tutorial groups.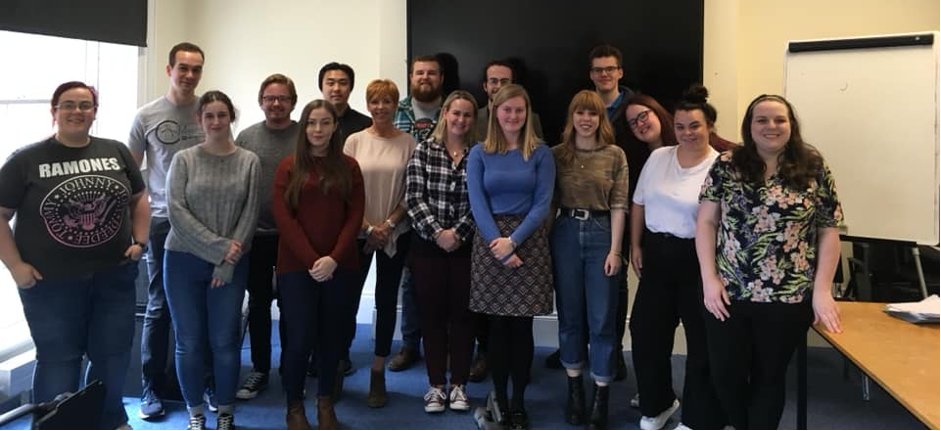 MA in Public History Class 2018/19
For me, the idea that folklore and folk history could be used as a public history resource really grabbed me early on in the course. The exaggerated folk stories that we grow up hearing can have as much to tell about the history of a community as the same history represented in a museum or academic paper. When the Private Records team at PRONI let us know that they were offering an internship cataloguing the papers of Armagh folklorist, Michael J Murphy, I jumped at the chance!
My internship was invaluable – Through working with PRONI, I gained hands-on, practical experience and learned the basics of archival standards and cataloguing. My internship also helped me to understand how PRONI operated as an institution and how the preservation of history is achieved on a governmental level.
During my internship, I managed to help the wonderful Private Records team to sort, box and begin cataloguing over 60 boxes of Michael J Murphy's papers. I became so familiar with this collection that it sparked the basis of my dissertation - although I think in reality maybe I just didn't want to let it go so soon!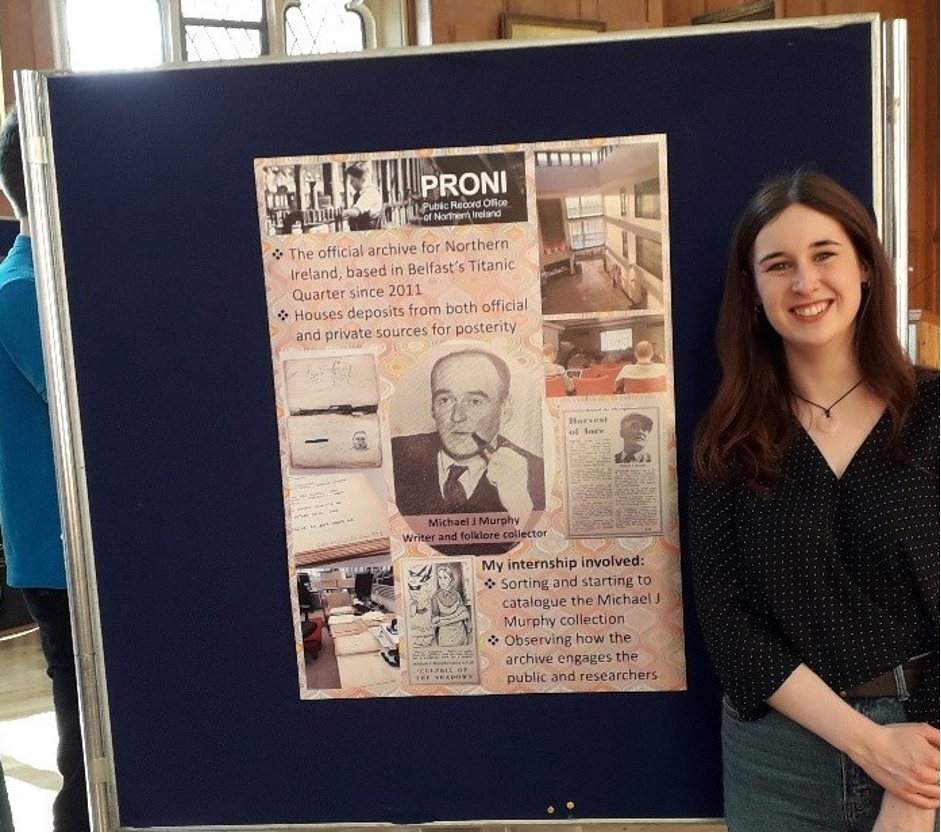 Internship module- poster presentation 2019
After my dissertation was submitted, I started to look for vacancies in history and heritage roles in Belfast. My internship supervisor at PRONI got in contact with me and let me know that there was a temporary administrative position opening at the archive. I applied for the role through the employment agency that advertised the post and was delighted to be accepted. My first day working at PRONI was the day after my graduation ceremony in 2019 and I've been with them ever since! Although I started out in an administrative role, as I gained experience I was able to apply for a temporary curatorial role in the same department, giving me more responsibilities in my work with the Private Records team.
We look after material held by PRONI from a range of sources including private businesses, charities, clubs and societies, community groups, families, individuals and churches. Every day at PRONI is different from the last, although generally, I deal with written queries from the public. These can come in the form of:
Access requests from students and researchers to work with collections closed to the public.
Requests for permission to use PRONI material in articles, exhibitions and academic papers.
General queries relating to any of the thousands of collections at PRONI and requests for copies.
Contact from members of the public who have material that they would like to deposit with PRONI.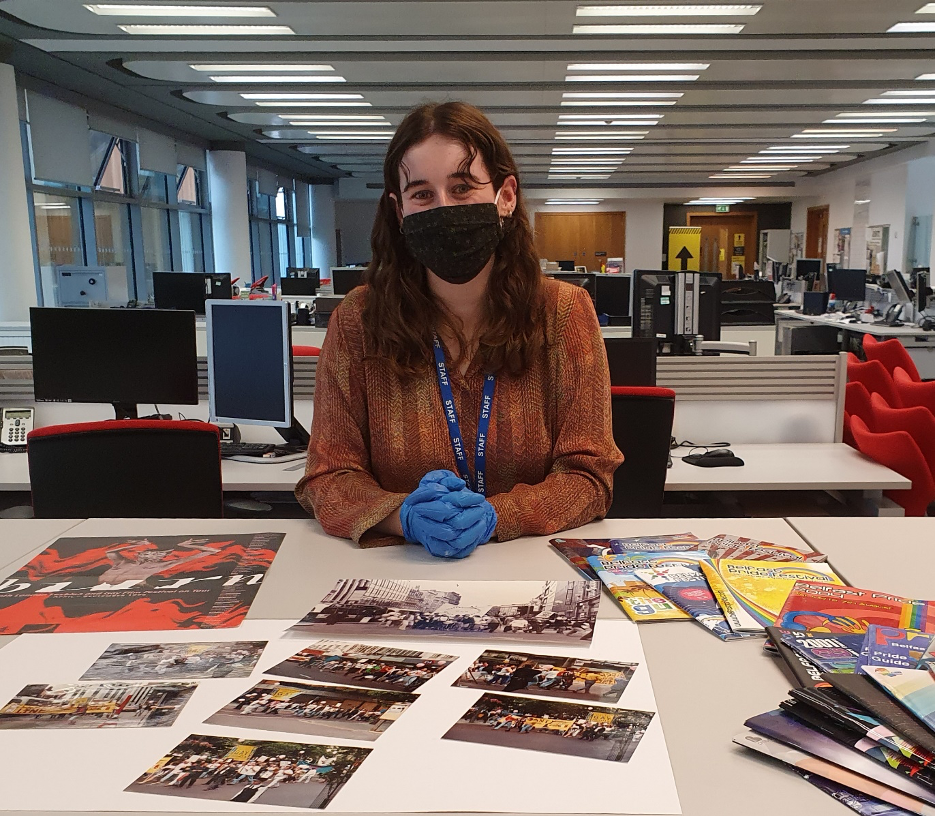 Samples of the PA MagLochlainn papers D4779
Like during my internship, I also get the chance to sort and catalogue some of the diverse collections held at PRONI and help to make them more accessible to the public. Every so often, the Private Records team also help with public engagement and promotion of our collections via public talks and social media. Last December, each of us on the team tried our hands at recreating different Christmas recipes we could find in the archives and posted our varied results on PRONI's social media! The Michael J Murphy Winter School also invited me and my manager to speak about our ongoing work with the Michael J Murphy Papers at PRONI and our plans for the collection in the future. More recently, I have also been given the responsibility for looking after interns working with our department, including some from the MA in Public History course! I got so much out of my internship, so I loved the opportunity to pass on the experience to this years' batch of students!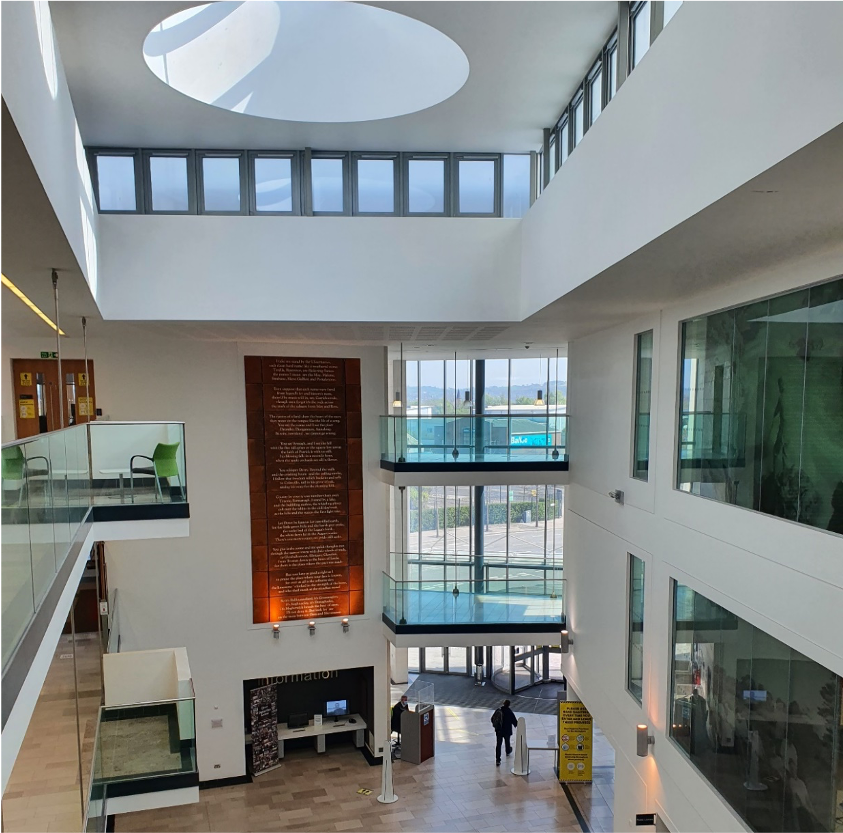 The MA in Public History helped me to discover an interest I never knew I had in archival work and to build up relevant practical experience in a role I enjoyed immensely. I have been able to see first-hand how PRONI has been putting into practice the public history theory I learned on my course. It is incredibly exciting to be working at PRONI at a point in time when there is a focus on adding context to collections, on improving accessibility to the public and on promoting diversity at the archive.
By Grace Gordon
Uploaded 11 July 2022