Our History
The Institute of Irish Studies at Queen's University Belfast was the first of its kind to be established anywhere in the world.
It was founded by in 1965 by Prof Estyn Evans 'to encourage interest and to promote and co-ordinate research in those fields of study which have a particular Irish interest'.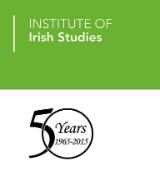 For over 50 years the Institute has been one of the leading centres for research-led teaching in Irish Studies globally. Since its inception, it has attracted scholars from such widely ranging fields as Archaeology, Anglo-Irish Literature, Geography, History, Irish Language and Literature, Political Science, Palaeoecology, Social Anthropology, Sociology, Art, Architecture, Economics, Mediaeval Studies and Ethnology. The genuinely interdisciplinary nature of the Institute has proved a major strength. The combination of experience and background, resulting from the wealth of experience of its Fellows, provides a stimulating working environment, often leading scholars to develop new approaches in their research and publications.

The Institute's first Director, Professor Estyn Evans, eminent archaeologist, geographer, and ethnographer, was especially well qualified to develop a broad, flexible approach, as were his two successors, Professor Rodney Green, an economic historian and Professor Ronald Buchanan, geographer and former Chairman of The National Trust's Regional Committee, a prestigious national charity committed to the preservation of historic properties and the conservation of important environmental sites.

The Institute has offered a popular taught MA programme since 1987, providing the opportunity for graduates to undertake interdisciplinary study in the field of Irish Studies: the wide range of subjects offered maintains the spirit of the Institute, expressed by Estyn Evans in 1966 in the words: 'We would like to hold an increasing number of our own graduates who could enter the research field through the gateway of Irish Studies'. It has also hosted an International Summer School in Irish Studies since 2000.

In 1995 the joint meeting of the American Conference for Irish Studies and the Canadian Association for Irish Studies was hosted by the Institute, and in 2010 it hosted the annual conference of the Irish Studies Association of Australia and New Zealand (ISAANZ).
Directors

Prof. Emyr Estyn Evans (1965-70) [left]

Prof. E.R.R. Green (1970-82)

Prof. Ronnie Buchanan (1982-93)

Prof. Brian Walker (1993-2002)

Dr Dominic Bryan (2002-16)

Prof Peter Gray (2016-)
Emyr Estyn Evans
Emyr Estyn Evans
(1905-1989)
Ireland's first Professor of Geography, was the youngest of four sons and one daughter, children of the Rev George Owen Evans and his wife, Elizabeth Jones. His father was a minister of the Presbyterian Church in Wales, and his early life was spent in the parish of Coedway, on the border of Wales near Shrewsbury where he was born on May 29th 1905.
Educated at Welshpool County School, Evans won a scholarship to University College of Wales at Aberystwyth graduating in 1925 with first class honours in geography and anthropology. He gained his MA in 1931, and in 1939 was awarded a D.Sc from the same university. Following graduation he had planned to go to Oxford, but ill-health prevented him accepting his studentship: instead he spent his convalescence in Wiltshire, developing an appreciation of prehistoric landscapes in the company of local archaeologists. Later he worked for a time for his former professor, H.J. Fleure, as a consultant editor on the 14th Edition of the Encyclopaedia Britannica, until in 1928 he was appointed Lecturer in geography at Queen's University, Belfast. He spent the remainder of his professional career at Queen's, with short breaks on sabbatical in the USA, at Bowdoin College in Maine, Louisiana and Indiana. He was appointed Professor in 1945, and by the time of his retirement in 1969 the department he founded had become one of the largest in Britain and Ireland. He also helped establish archaeology and social anthropology as independent departments at Queen's, as well as the Institute of Irish Studies, a multi-disciplinary centre for postgraduate research; in 1965 he became its first Director, and remained an honorary research fellow until his death.
In his first decade at Queen's, Evans developed his interests in prehistoric archaeology through survey and other excavation; with his colleague Oliver Davies he revived the Ulster Journal of Archaeology, and undertook the first systematic field survey of historic monuments, an enormous task which was published in 1940. His experience was put to use for many years as a member of the government advisory committees on historic monuments in both Northern Ireland and the Republic, and as a Trustee of the Ulster Museum.
Through fieldwork Evans developed an intimate knowledge of the Irish countryside and the way of life of its people. His books, Irish Heritage (1942) and Irish Folk Ways (1957) were pioneer studies, based on first-hand knowledge and experience, and opened a whole new field for scholarly research. The Ulster Folk and Transport Museum, founded in 1958 was a tangible result of his work and he served as a trustee for many years. The journal Ulster Folklife, first published in 1955, was another initiative, catering for the growing professional and lay interest in the subject.
As a geographer, Evans work dealt mainly with the evolution of the man-made landscape, in Ireland and in western Europe. He dealt with these themes in papers to international symposia and in his Presidential addresses to the geography section of the British Association for the Advancement of Science in 1957 and to the anthropology section in 1959. Work on the urban geography of Belfast was given recognition by the Royal Town Planning Institute, which made him an honorary member in 1950. As President of the Institute of British Geographers in 1970 he developed his long-held interest in regional identity, first explored in a regional geography of France written in 1937, and in his classic Mourne Country (1951), perhaps his favourite book. His last major publication, The Personality of Ireland (1973), bore the apt sub-title, habitat, heritage and history: the intertwining of these three strands, he believed, provided the geographical-basis for regional identity and the sense of place.
Evans academic work brought him many honours: the Victoria medal of the Royal Geographical Society (1973), the merit award of the Association of American Geographers (1979), and honorary doctorates from UCD, TCD, NUI, QUB, Wales and Bowdoin College in Maine, New England. For his public work on many advisory and statutory bodies he was awarded the CBE in 1970. He was one of the foremost scholars of his generation, an academic who gave unstintingly of his time and expertise for public benefit, but who above all was a fine lecturer and caring teacher, much loved by his students. In 1931 he married Gwyneth Jones, herself the daughter of a university Professor, and two of their four sons have also become academics, in medicine and in architecture. Evans died in Belfast on August 12th, 1989.