Programme for Carers Week 5th - 9th June 2023
An Audience with Carers and the School of Nursing & Midwifery PCEP Forum "Recognising and supporting carers in the community"
Carers week will run daily from Monday 5th June 2023 until Friday 9th June 2023 from 12.00 - 13.00 via MS teams. Each day will represent a different Nursing and Midwifery theme. Click on the read more for a detailed synopsis of each day:-
Monday 5th June – Midwifery – 'Partners as carers in maternity services'
Tuesday 6th June – CYP - 'Caring through the eyes of a younger person'
Wednesday 7th June – MH 'Bereaved caregivers of people with serious mental illness'
Thursday 8th June – Adult – 'Caring for a loved one living with dementia'
Friday 9th June – LD – 'Caring through the eyes of an older person'
To join any of the lunchtime sessions please click here
Monday 5th June 2023 - Theme – Midwifery - 'Partners as carers in maternity services'
An audience with Bethany Connaughton, PCEP member and Dr Lorna Lawther, Lecturer in Midwifery Education, QUB
Bethany and Lorna will be discussing the role of partners as carers during specific periods of the maternity journey through the experiences of three partners.
Bethany Connaughton is a PCEP member, mummy to three boys aged 5, 3 and 1. Bethany has been a service user of both mental health services and maternity services including the perinatal mental health service over the last 6 years. Bethany was a staff nurse for 9 years prior to the birth of her youngest and a previous midwifery student at Queen's.
Tuesday 6th June 2023 - Theme – Children and Younger People - 'Caring through the eyes of a younger person'
An audience with Judith Younger, Family Support Practitioner, Action for Children and Lucy Simms, Teaching Assistant, QUB
Judith and Lucy will be discussing the challenges that young carers face through family circumstances. Jude has worked with Action for Children's Young Carers Project for 11 years, working across Belfast, South-Eastern and Southern Trusts with a variety of families from many different backgrounds.
They will be chatting about family experiences and highlighting the support available from Action for Children as this is often hidden in society. The aim of the Young Carers Service is to raise as much awareness and support for Young Carers as possible.
Wednesdy 7th June 2023 - Theme – Mental Health - 'Bereaved caregivers of people with serious mental illness'
An audience with Marianne Tinkler, PCEP member and Mr Iain McGowan, Senior Lecturer, QUB.
Iain and Marianne will be having a chat and discussion with regards to bereaved caregivers of people with serious mental illness.
Marianne Tinkler is a Palliative Care Nurse/PhD Fellow who is currently completing a PhD in Palliative Care and persons with serious mental illness at Queens University Belfast.
Thursday 8th June 2023 - Theme – Adult - 'Caring for a loved one living with dementia'
An audience with Brian Fitzsimons, PCEP member, Sandra Aitcheson Assistant Director Nursing Adults and Older people, Public Health Agency & Gary Mitchell, Senior Lecturer, QUB
Brian Fitzsimons will recount his personal odyssey as a devoted husband, steadfastly supporting his wife through her journey with dementia. He will eloquently trace the story, commencing from the pre-diagnosis phase, navigating the complexities of caregiving, and ultimately arriving at the pivotal juncture of transitioning to long-term care.
Concluding the interview, Sandra Aitcheson, our Assistant Director for Nursing Adults and Older Public at the Public Health Agency Northern Ireland, will skilfully expand upon the salient themes embedded within Brian's narrative, deftly connecting them to broader experiences, policies, and practices.
Friday 9th June 2023 - Theme – Learning Disabilities - 'Caring through the eyes of an older person'
An audience with Mary Duffin, PCEP member , Anne Mallon, Carer and Ailish McMeel, Lecturer QUB.
Mary Duffin will be chatting with Anne who will be sharing her perspective of her life journey as a carer for her daughter Kelly Ann which spans over decades.
Anne will share her experience of years of campaigning for better services for people with Learning Disabilities and their carers.
Read more
Read less
---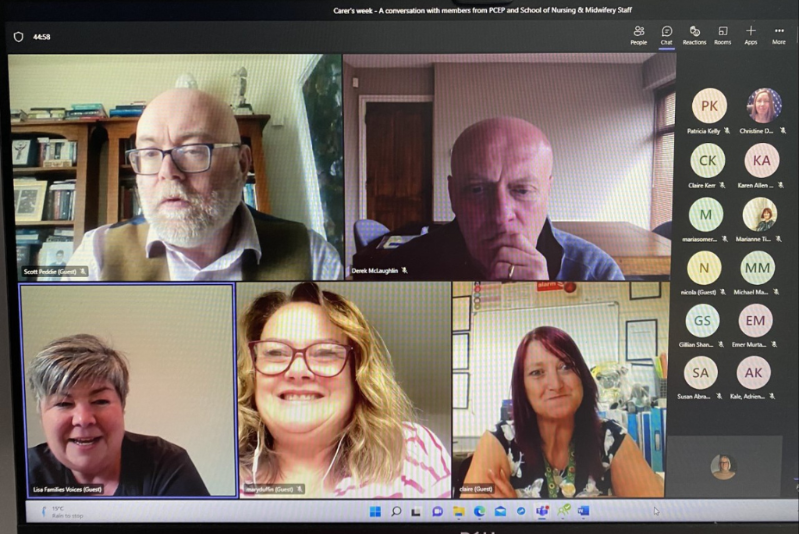 Celebrating Carers' Week - 6th - 10th June 2022
'Make caring visible, valued and supported' and the values of 'real listening'
To mark Carers' week this year the Patients and Carers Education Partnership Forum organised daily virtual lunchtime chats which were very well supported by Staff, Students and our Trust Partners.
Each day followed a different theme for all the fields of Nursing & Midwifery. The session began with an informal chat between staff and PCEP member which gave the audience a true insight into what it is like for carers, families and service users on a daily basis.
The main take away message from these sessions was the importance of "Real Listening".
Members of our School Research team provided detail on all the excellent research projects that are ongoing which involve service users and carers, linking all aspects of the involvement of service users and carers across the school.
some of the lovely chat messages received throughout the week:-
"Thank you so much to all of you guys who presented today. I wish we had had the whole country on here today to have heard you all. We need everyone behind this emotive area which affects way too many of us. Thank you just doesn't seem enough"
"The power of the lived experience voice - it is vital we all hear this and actively listen. Thank you all for sharing."
"Susan…..just wonderful to have heard your story. You have re-enforced my reason for being proud to be a nurse. Such a humbling privilege to be part of our patient's journeys. Keep well and thank you again"
"Thanks Emma for your contribution to carer's week so important to hear your experiences and the part you have played in improving and developing midwifery care and education"
"Maria you have really made me stop and think about that dual role of mother and carer thank you for sharing your story"
"Thank you for sharing your story. I'm not a mum, but from working in ED one thing I know for sure is never doubt a mother because they are the true experts of their children! I feel saddened that you had to fight to be heard. I hope we can all work together to empower healthcare professionals to stay strong and advocate for parents, families and the disabled community"
"Thank you so much for sharing your story Susan, your determination is truly inspiring Olinda thank you for all the work you do. I'm so proud to be a nurse that trained at Queen's."
Photo from our Midwifery themed session:-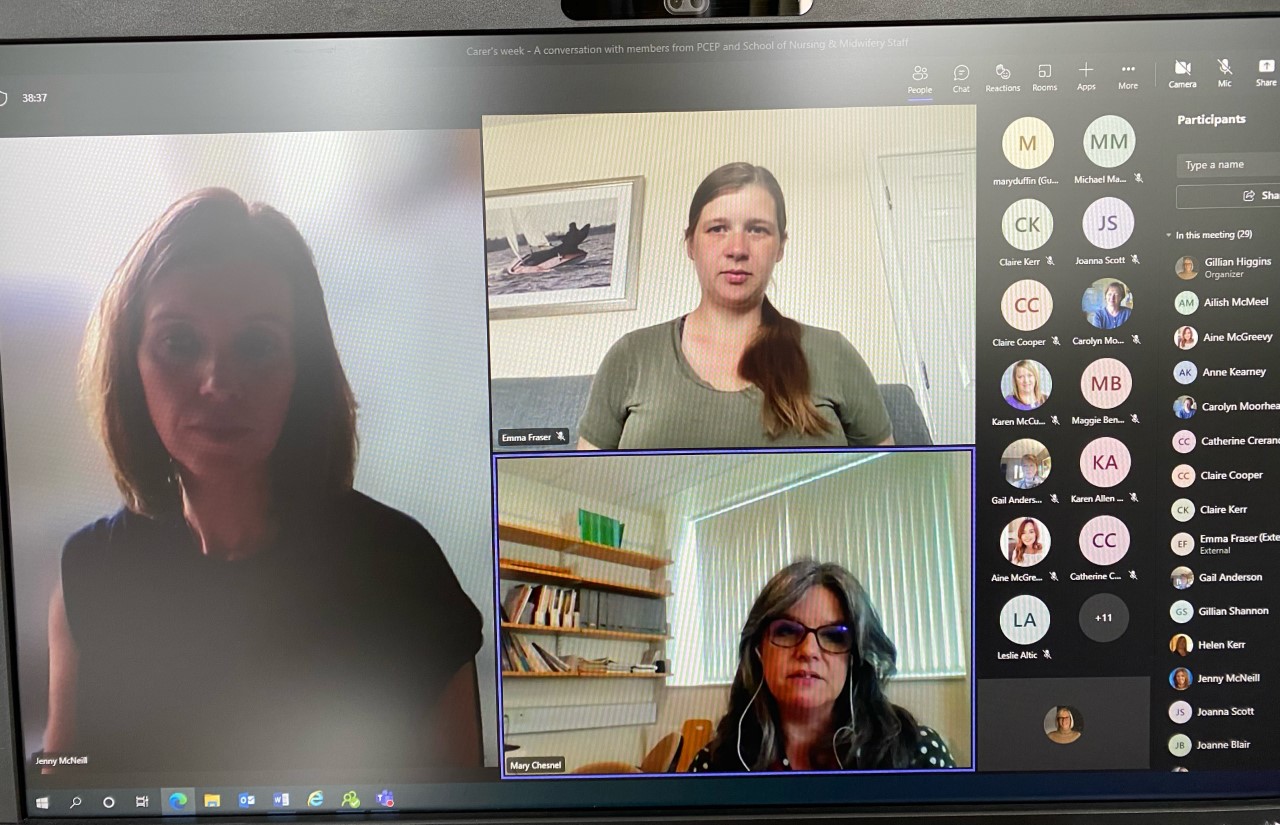 Photo from our Learning Disability themed session:-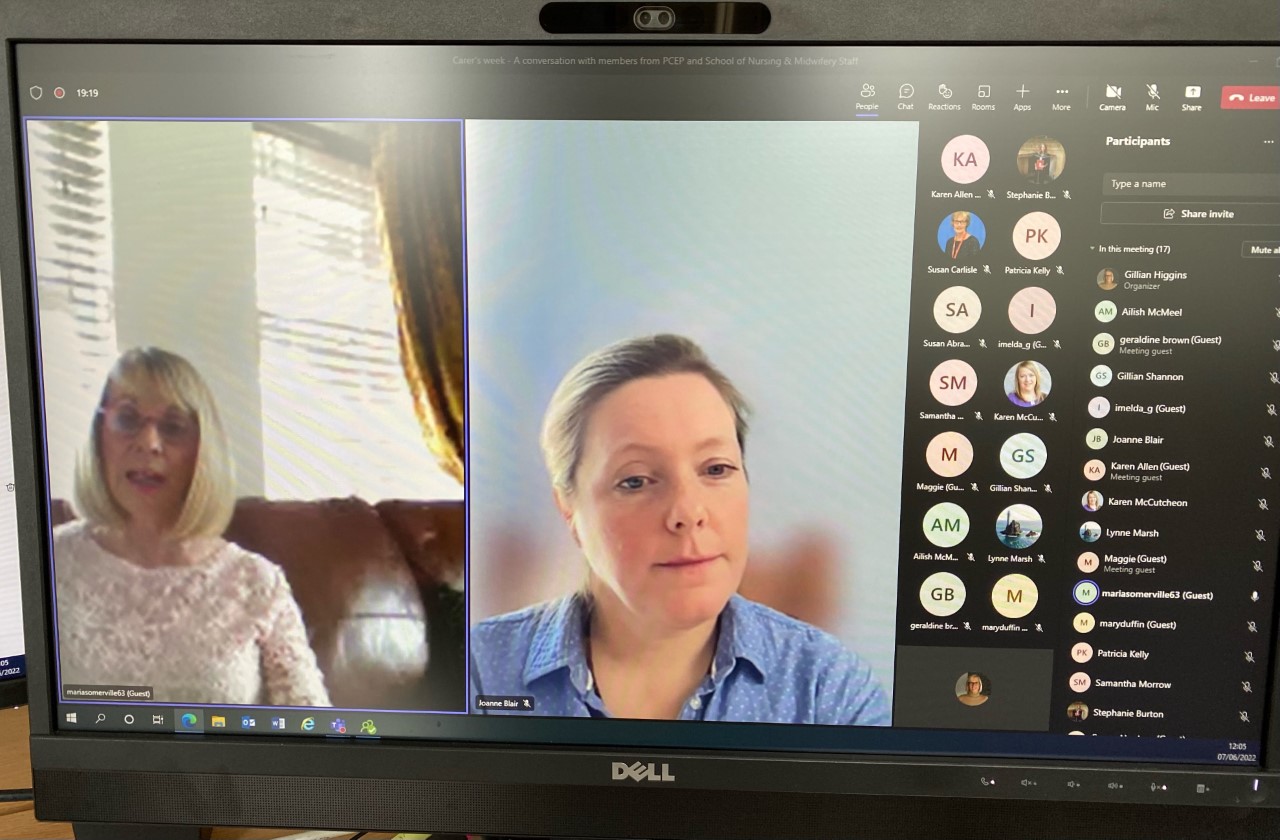 Read more
Read less
---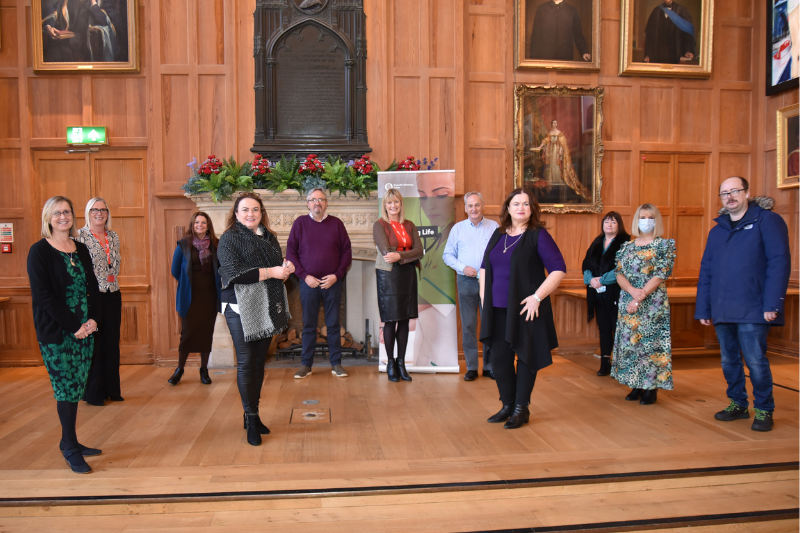 Patient and Carer Education Partnership (PCEP) Event
PCEP Launch Event
On Wednesday 24th November 2021 the PCEP Forum held an event in the Great Hall, QUB with members of Staff and Students from the School of Nursing & Midwifery to launch the new name for the forum and to discuss plans moving forward.
PCEP held its first event in the Great Hall, QUB on Wednesday 24th November 2021 to reflect on the early formation and collaborative work of the group to date and plan the way forward in terms of consolidating that work along with further strategic development. Despite covid restrictions, the event was attended by 40 forum members, staff and students from Nursing and Midwifery and provided a really positive opportunity to meet together as one team and thank everyone for all their hard work.
This was highly valued and enjoyed by all as it was the first face to face meeting since the start of covid. Following updates from key staff members within the School, several forum members representing both patients and carers spoke of their personal experiences and their input as regards the forum. These were very meaningful sessions that reemphasised the importance of involving patients and carers in everything that we do within the School. The event finished with the launch of the website and some discussion around plans moving forward followed by a very welcome lunch. Overall a very successful morning!
Read more
Read less
---