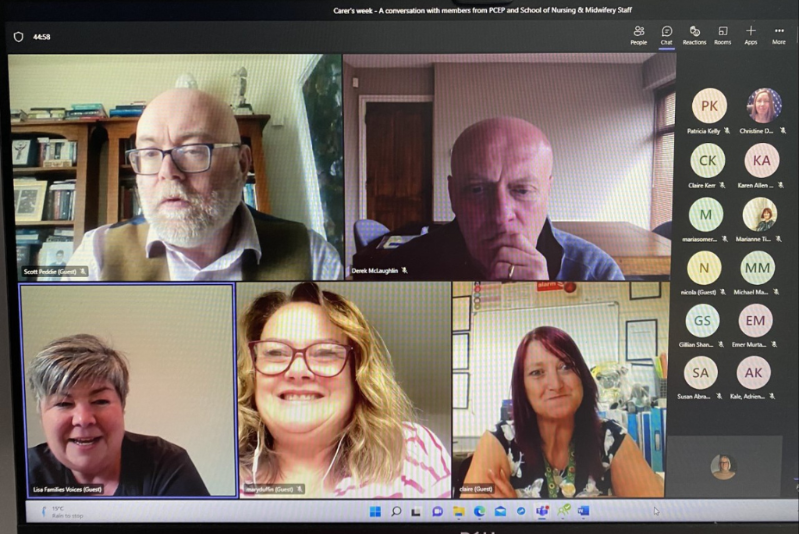 Celebrating Carers' Week - 6th - 10th June 2022
'Make caring visible, valued and supported' and the values of 'real listening'
To mark Carers' week this year the Patients and Carers Education Partnership Forum organised daily virtual lunchtime chats which were very well supported by Staff, Students and our Trust Partners.
Each day followed a different theme for all the fields of Nursing & Midwifery. The session began with an informal chat between staff and PCEP member which gave the audience a true insight into what it is like for carers, families and service users on a daily basis.
The main take away message from these sessions was the importance of "Real Listening".
Members of our School Research team provided detail on all the excellent research projects that are ongoing which involve service users and carers, linking all aspects of the involvement of service users and carers across the school.
some of the lovely chat messages received throughout the week:-
"Thank you so much to all of you guys who presented today. I wish we had had the whole country on here today to have heard you all. We need everyone behind this emotive area which affects way too many of us. Thank you just doesn't seem enough"
"The power of the lived experience voice - it is vital we all hear this and actively listen. Thank you all for sharing."
"Susan…..just wonderful to have heard your story. You have re-enforced my reason for being proud to be a nurse. Such a humbling privilege to be part of our patient's journeys. Keep well and thank you again"
"Thanks Emma for your contribution to carer's week so important to hear your experiences and the part you have played in improving and developing midwifery care and education"
"Maria you have really made me stop and think about that dual role of mother and carer thank you for sharing your story"
"Thank you for sharing your story. I'm not a mum, but from working in ED one thing I know for sure is never doubt a mother because they are the true experts of their children! I feel saddened that you had to fight to be heard. I hope we can all work together to empower healthcare professionals to stay strong and advocate for parents, families and the disabled community"
"Thank you so much for sharing your story Susan, your determination is truly inspiring Olinda thank you for all the work you do. I'm so proud to be a nurse that trained at Queen's."
Photo from our Midwifery themed session:-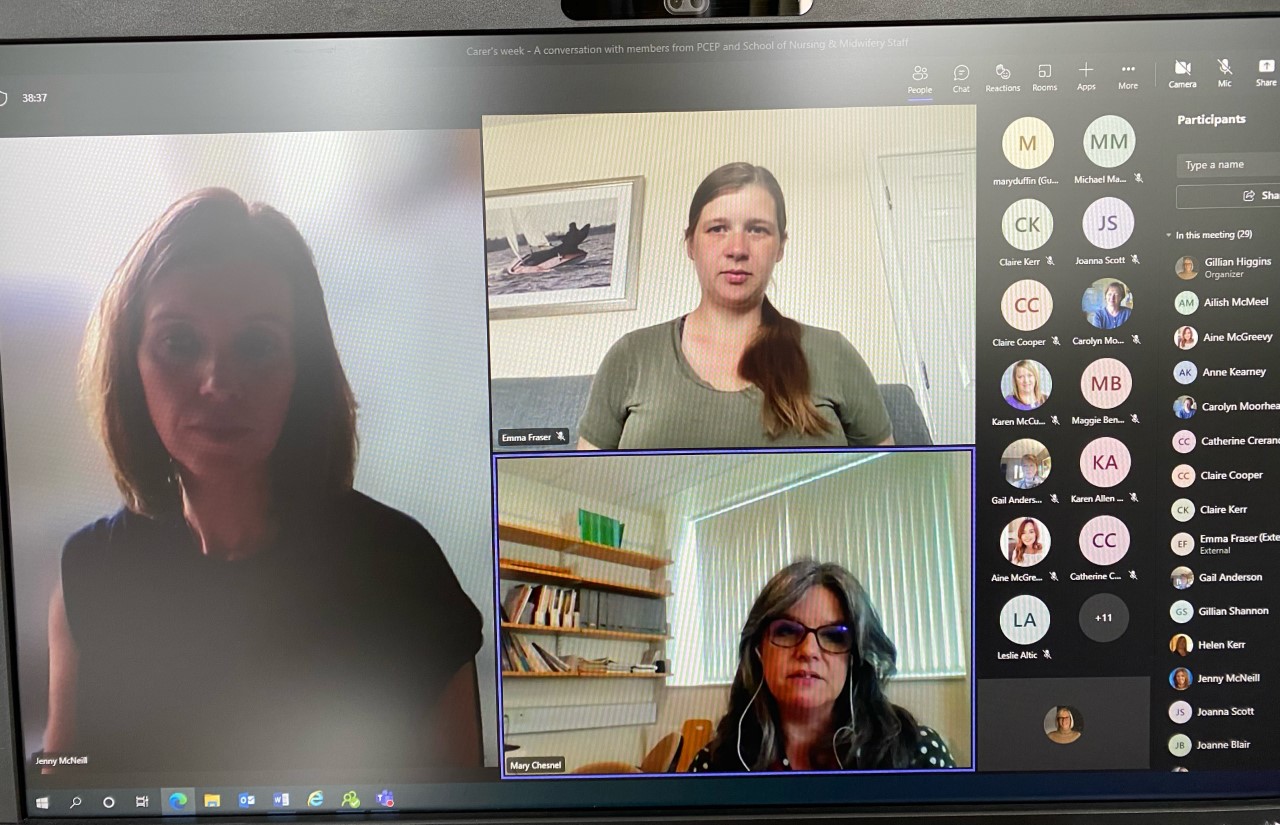 Photo from our Learning Disability themed session:-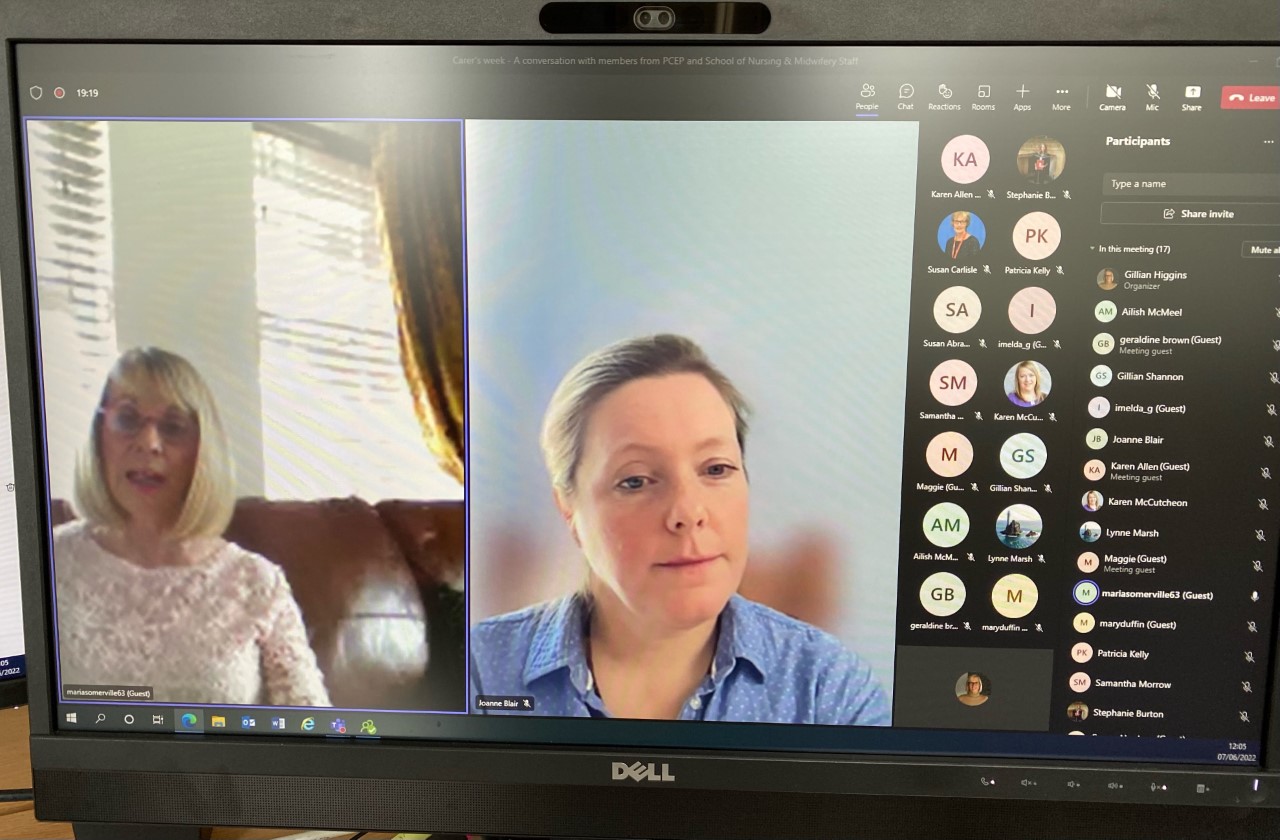 Read more
Read less
---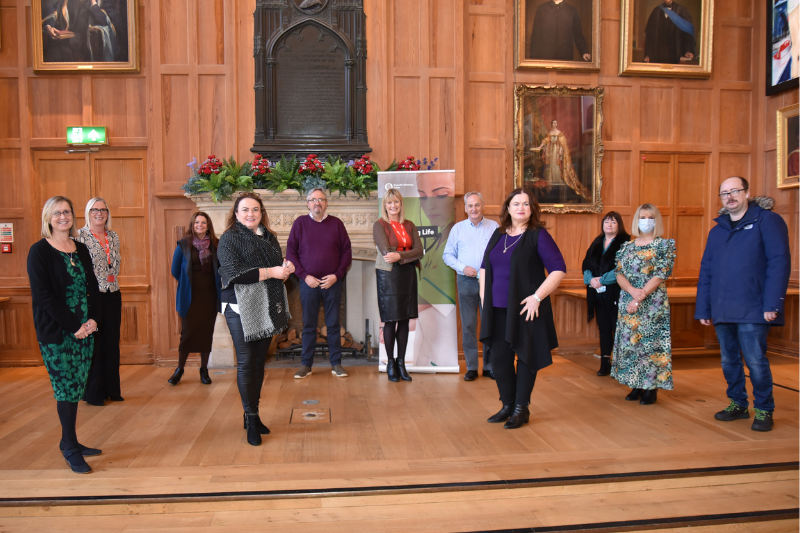 Patient and Carer Education Partnership (PCEP) Event
PCEP Launch Event
On Wednesday 24th November 2021 the PCEP Forum held an event in the Great Hall, QUB with members of Staff and Students from the School of Nursing & Midwifery to launch the new name for the forum and to discuss plans moving forward.
PCEP held its first event in the Great Hall, QUB on Wednesday 24th November 2021 to reflect on the early formation and collaborative work of the group to date and plan the way forward in terms of consolidating that work along with further strategic development. Despite covid restrictions, the event was attended by 40 forum members, staff and students from Nursing and Midwifery and provided a really positive opportunity to meet together as one team and thank everyone for all their hard work.
This was highly valued and enjoyed by all as it was the first face to face meeting since the start of covid. Following updates from key staff members within the School, several forum members representing both patients and carers spoke of their personal experiences and their input as regards the forum. These were very meaningful sessions that reemphasised the importance of involving patients and carers in everything that we do within the School. The event finished with the launch of the website and some discussion around plans moving forward followed by a very welcome lunch. Overall a very successful morning!
Read more
Read less
---