Dara Devaney as Frank Ryan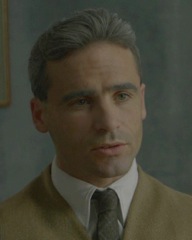 Dara has worked extensively playing leading roles in Film, Television and Theatre, both in Ireland and Internationally.
Dara won the Best Actor award at the Gala Irish Language Media Awards 2010.
"An actor like Dara Devaney who walked in and gave a brilliant interpretation of the role. Word perfect,we didn't look for anyone else. I think this young actor has a tremendous talent, and a big future." - Lynda La Plante on casting Dara Devaney in Above Suspicion.
Barry Barnes as Hans Hartman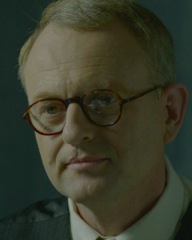 Barry Barnes attended the Gaiety School of Acting and went on to tread the boards in numerous productions at the Abbey Theatre, the Royal Court and on tour with Druid Theatre Co. and Rough Magic theatre among others. Most recently he appeared in Gúa Nua's productionof Chicane.
Barry also has a wealth of experience in film and television. He has appeared as Sean in No Tears for RTE; as Graham in Joel Schumacher's Veronica Guerin; Larry in Thaddeus O'Sullivan's Ordinary Decent Criminal and Mairtín in Tom Collins' Kings which was the first Irish-language feature to be nominated in the 'Best Foreign Language Film' category at the Academy Awards. Most recently Barry has worked on the forthcoming TV series Titanic: Blood & Steel, as well as The Enigma of Frank Ryan, Corp agus Anam and Single Handed.
Mia Gallagher as Rosamund Jacob
Mia Gallagher is based in Dublin. She has performed with many theatre companies in Ireland and abroad, primarily Carpet Theatre with whom she has regularly devised work since 2002. Productions include Ferry Tales, Wheel, Spellbound, and Hyde & Jekyll. She also writes fiction and plays and has won awards for her writing, including Irish Tatler Literature Award 2007; START Chapbook prize 2005; Arts Council bursaries (2006-2011); and was shortlisted for the Fish Prize, the New Irish Writing Prize and the William Trevor/Elizabeth Bowen Award. Her debut novel HellFire was published by Penguin Ireland in 2006.
Frankie McCafferty as Sean Russell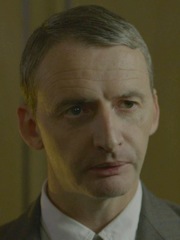 Frankie most recently appeared in The Crucible directed by Conall Morrisson as the first production in the newly re-opened Lyric Theatre in Belfast. He alos recently appeared as Uncle Peter at The Plough And The Stars at The Abbey Theatre. He studied at University College Galway and the Conservatoire National Superieur d'Art Dramatique, Paris. He appeared inMuch Ado about Nothing directed by Rachel O Riordan at the Lyric, Belfast. Frankie performed his one-man show Tintype at Kilkenny Arts Festival to five star reviews. Other theatre includes Mark Doherty's Trad produced by Galway Arts Festival (Edinburgh Fringe First and Adelaide Fringe awards, transferred to Bush Theatre, London in 2007, and to Perth Festival, Australia in 2008), Endgame for Prime Cut Productions at the Waterfront Studio, the world premiere of Daragh Carville's Family Plot for Tinderbox Theatre Company and Conal Creedon's Second City Trilogy at the Half Moon Theatre, Cork, Conversations on a Homecoming and Observe the Sons of Ulster Marching towards the Somme (Irish Times Best Supporting Actor award) at the Lyric, and many productions for Druid Theatre Company, Galway, including Sharon's Grave, and At the Black Pig's Dyke, and A Midsummer Night's Dream for Barabbas. TV includes roles in The Return (ITV), Pulling Moves, Any Time Now, Murder in Eden, Children of the North, and as Donal in the long running Ballykissangel (BBC). Recent film roles includeMiddeltown, Puckoon, Omagh, In the Name of the Father, Sweety Barrett, Fools of Fortune, Angela's Ashes, Guiltrip, Sweeney Todd and The Birth of Frank Pop. He appeared in City of Embers (Universal) and in Fifty Dead Men Walking(Brightlight Pictures) , both released in 2008. Frankie appeared inZonad a new feature film written and directed by John Carney for Element Films, The Galway Races directed by Robert Quinn for Great Western Films/TG4 and on Wide Open Spaces written by Arthur Mathews and directed by Tom Hall for Grand Pictures.
Arthur Riordan as Eamonn De Valera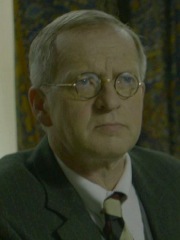 Arthur Riordan is a playwright and actor. As an actor he has worked extensively with Rough Magic (most recently in Peer Gynt,The Importance of Being Earnest andSolemn Mass for a Full Moon In Summer), as well as many other leading Irish theatre companies, including Druid, the Abbey and Peacock, Bedrock, Fishamble, Red Kettle and Pan Pan.
Arthur has also made numerous television and film appearances, includingKillinaskully, The Tudors, Fair City, Trouble in Paradise, The Clinic, The Baker Street Irregulars, The Chosen, Borstal Boy, Rat, The Last September, Pitch 'n' Putt with Beckett 'n' Joyce, and My Dinner With Oswald.
Arthur's plays include a recent adaptation of Ibsen's Peer Gynt (for Rough Magic), a stage adaptation of Flann O'Brien's Slattery's Sago Saga (for The Performance Corporation), the multi-award-winning hit musical Improbable Frequency, and a one-man show, The Emergency Session (both for Rough Magic); as well as Love Me?! (for The Corn Exchange), and two collaborations with Des Bishop - Rap Éire(for Bickerstaffe), and Shooting Gallery (for Bedrock Productions).
Christos Lawton - Gestapo Officer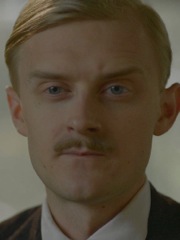 A screen and stage actor Christos' credits include Martin Scorese's Hugo, Mercutio in Romeo & Juliet (Leicester Square Theatre) and the Title role in A Picture of Dorian Gray (European Tour).
He also won Best Supporting Actor at The Los Angeles New Wave International Film Festival 2011 for the short film Love After Sunrise.