Open Day questions you'll ask versus what your parents will ask
This is why it pays to bring mum or dad with you when you visit Queen's campus.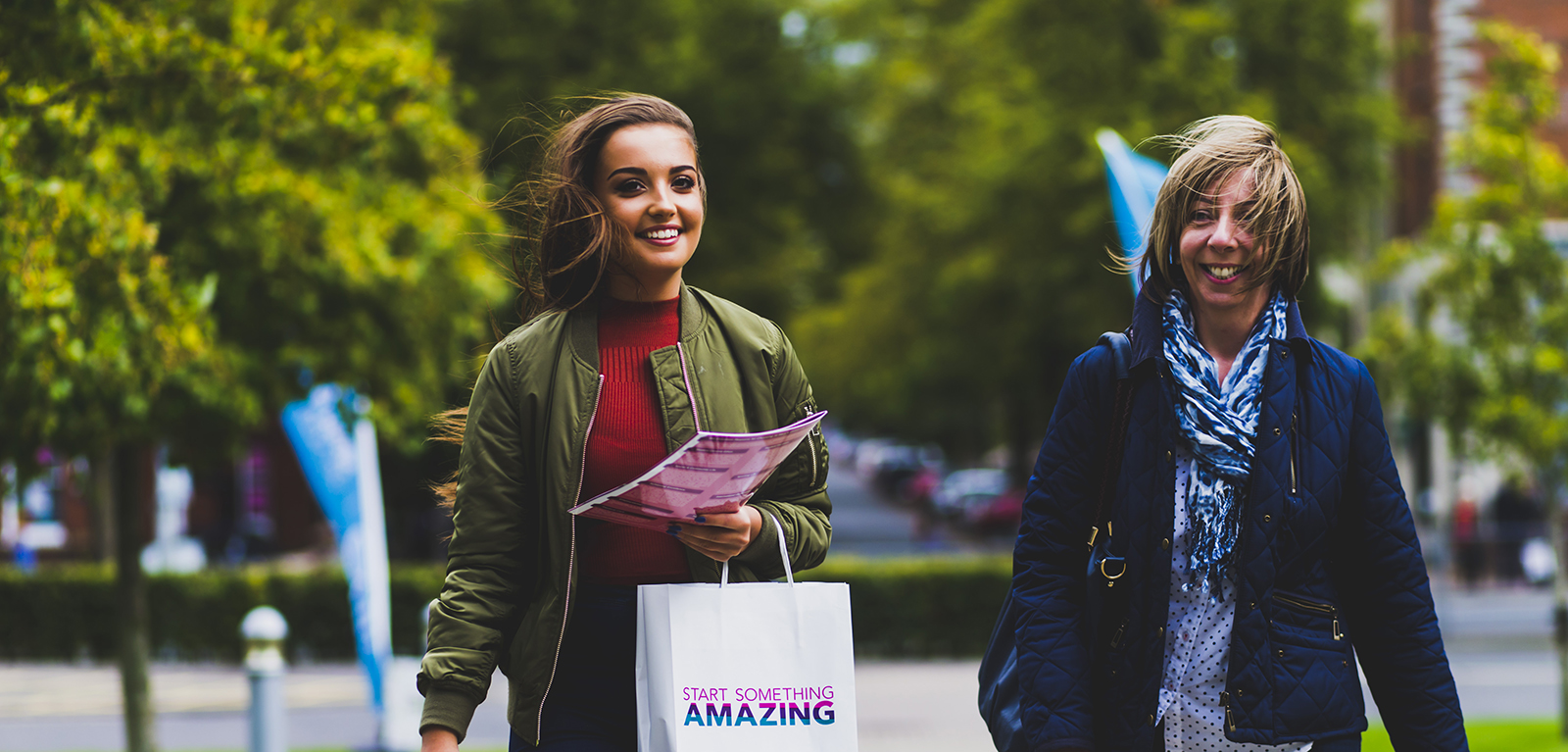 We'll preface this by saying, when it comes to Open Day, there is no such thing as a silly question. Open Day is your chance to ask us anything about life at Queens, your course and our accommodation. If you've got a burning question, there will be someone here who can help you.
But while you might be dying to hear all about the clubs and societies that you can sign up for, your mum will be finding out where the nearest doctor is to campus. Mums are practical like that. That's why it pays to take mum and/or dad with you.
Both sets of questions are equally valid, but together you'll get a much fuller picture of what you can expect from life at Queen's. So, even if you are coming with your school on Thursday 6 September or Friday 7 September, it's worth coming back with a parent on our Family Day on Saturday 8 September – and here is why.
Accommodation
You'll ask: What will I be doing in the evenings and weekends?
It's understandable to be nervous when you are moving out of home for the first time, but rest assured that Queen's accommodation team organise heaps of fun events and activities throughout the semester. Find out all about the Residential Life team at our Accommodation mini-talk or take a tour of the accommodation.
Your parents will ask: What is included in the accommodation price?
It'll doubtless fall to mum and dad to kit you out for university life, so they are understandably practical when it comes to finding out what you need to bring with you. While we provide kitchen essentials like a microwave and kettle, you can ask our accommodation staff about anything you might need to buy before you move in. You can also check out this handy guide.
Fees and funding
You'll ask: How much is my course?
A degree from Queen's is an investment in your future career, and there are plenty of financial support arrangements available for students from Northern Ireland and Great Britain including a loan from the Student Loans Company (SLC). All this will be covered in our 'Fees, Funding and Managing Your Money' talk.
Your parents will ask: Are there any scholarships/grants available for you?
Here at Queen's, we believe in rewarding hard work and excellence. There is no one quite like your parents to push you to achieve your best, so you can expect mum and dad to find out all about our fantastic merit scholarships and why you deserve one. Discover more and check your eligibility here.
About the campus
You'll ask: What clubs and societies can I get involved in?
University life isn't all about studying – we want you have fun and grow as a person during your time here. Queen's has over 200 clubs and societies running the gamut from Brazilian Ju Jitsu to Dragon Slayers. Don't miss the mini-talks by Queen's Sport and Queen's Students' Union to find out more.
Your parents will ask: Where is the nearest doctor?
Sometimes mums just think of things you never would, right? Top of that list is looking after your health and well-being. Put your parents' mind at ease with a visit to Whitla Hall and the Students' Union where you can talk to our Disability and Wellbeing team, and find out about university funded, non-NHS health services for students offered at the University Health Centre. FYI, mum will sleep easy knowing there is a doctor right on campus.
Support services
You'll ask: What social events are organised?
We'll do everything we can to help you settle into life and Queen's and to help you make friends. That's where our Residential Life team come in. They organise over 350 events at our accommodation including quiz nights, movie nights and trips to the Giant's Causeway. Take a tour of our accommodation and find out more.
Your parents will ask: Who can you talk to if you have any concerns or worries?
As well as acting like your personal social secretary, our Residential Life team are always on-hand with a cup of tea and a listening ear if you're having any problems settling into university life. Your parents can get reassurance of this at our Accommodation mini-talk or by visiting our Accommodation team in the Whitla Hall.
Facilities
You'll ask: Where is the Students' Union?
Our Students' Union is being split across two new sites on Elmwood Avenue and the Lisburn Road for September 2018 (although a new Student Centre is set to open in 2021), so there is heaps to discover including social spaces, bars, shops, clubs and societies and support services. Find out more at our Students' Union mini-talk or visit the team in the Whitla Hall.
Your parents will ask: What facilities are available for your course, specifically?
Queen's has invested a whopping £350million into our facilities with the same to be invested in coming years. But what does that mean for you, specifically. Whether you're a budding law student who wants to see our Moot Court room or you're a sound engineer in the making wanting a peek at our Sonic Laboratory, it's important to check out the innovative learning spaces relevant to your subject. Don't miss your relevant subject talk for all the details.
Your course
You'll ask: What grades to do you need to get in?
As you enter upper sixth (or Year 12), your thoughts are probably very much in your immediate studies. What will you need to get in your A-Levels to get into your chosen course? Have I chosen the right subject combination for my degree subject? Attending the Admissions mini-talk will give you all this information.
Your parents will ask: How many contact hours does your course have?
Your parents will have one eye on the future, so while they support you through your A-levels, they'll want to know what is next for you. They'll also want reassurance you are getting quality teaching time in exchange for your tuition fee. Queen's ranks in the Top 100 universities in Europe for Teaching Excellence (THE), but you can find out how your contact time will be broken down at your relevant subject talk.
Assessment
You'll ask: How many exams will I have to take
Nobody loves exams, so it's likely you'll want to know how many you'll have to sit and when. Attending your subject talk will give you a clearer picture of this, along with the amount of reading and self-learning required on your course.
Your parents will ask: What percentage of my marks is exams and what percentage is coursework?
Like it or not, your parents know you extremely well. Which means they know your strengths and your weaknesses. By finding out exactly how you'll be assessed on your course, you'll get a better understanding of whether your subject will let you play to your strengths. For example, if you crumble at the mere mention of the word 'exam', it might be a relief to know that coursework makes up a large percentage of your end-of-year mark.
Discover more about Open Day