Queen's Love Stories
It's not just what you learn at Queen's that you carry with you forever, the people you meet stay with you too – as these Queen's lovebirds prove.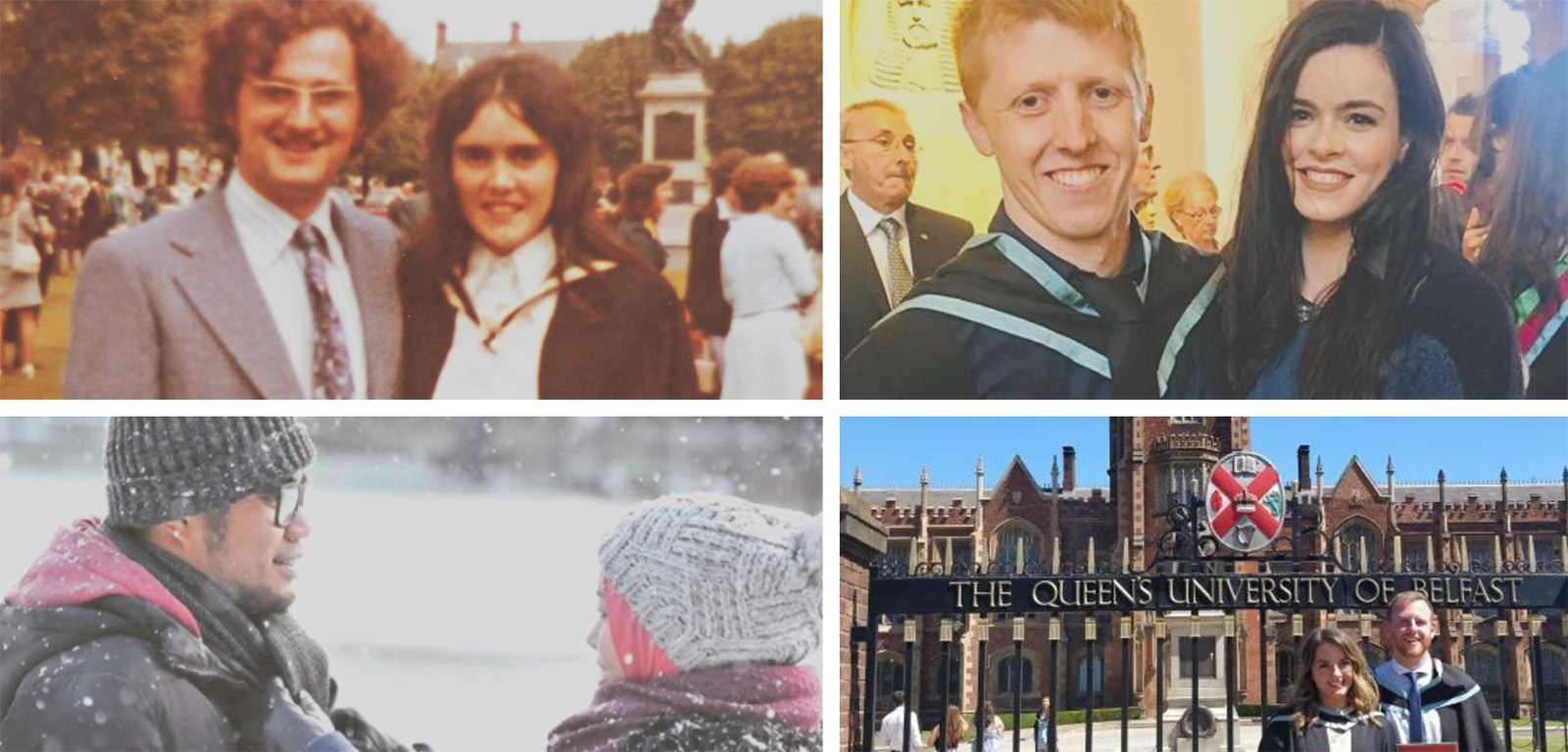 When we recently asked our social media followers to share their Queen's love stories, your responses gave us all the feels. Many of you wrote to tell us how you left Queen's with much more than a degree - you left with meaningful friendships, life-changing relationships and even marriages. Here are just a handful of the many times Queen's has played cupid over the years.
Lifelong love of learning
Take Carl and Bernie Stuart from Belfast who met in the first term back in 1971. "I was studying Applied Maths and he was studying Chemistry. We met in the old chaplaincy. In those days, it wasn't the fancy building in Elmwood Avenue which is there today but a house in Fitzwilliam Street which had a few rooms with open fires which everyone sat around."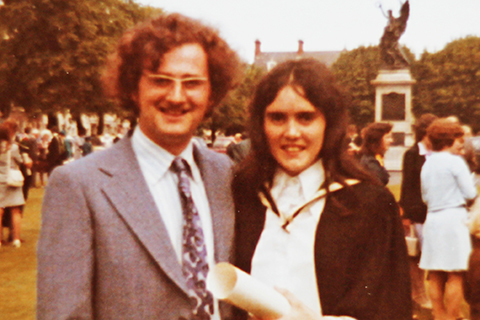 Carl with Bernie at her graduation in 1974
"Miss McAuley sold soup and sandwiches and the same crowd went every day for lunch. On our first date, we went to the ABC Cinema which was where Jury's Inn Hotel is now near the Opera House. We went to see Paint Your Wagon and then went up to Queen's Elms where there was some music on. Carl was staying in the Halls of Residence there."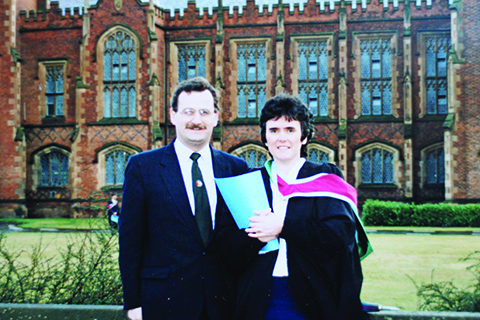 Six kids and 12 grandchildren later, Carl and Bernie's relationship has endured – as has their connection with Queen's. Both advocates of lifelong learning, Bernie returned to Queen's in 1991 for a Master's in Computer Science, followed by a PhD in 1995. She also worked as a research assistant here in the early 90s. Carl has been studying a lifelong learning programme in Spanish for several years and has also taken a history course at the university, while Bernie's lifelong learning interests run the gamut from horticulture to criminology.
Carl and Bernie went on to have six kids and 12 grandchildren
Queen's wedding and baby!
Four decades after Carl and Bernie met, cupid is still alive and well on campus. Rika Febriyanti (@rikaricareli) from Indonesia told us: "I met my husband at Queen's. We graduated together in 2017 and now we have a little baby."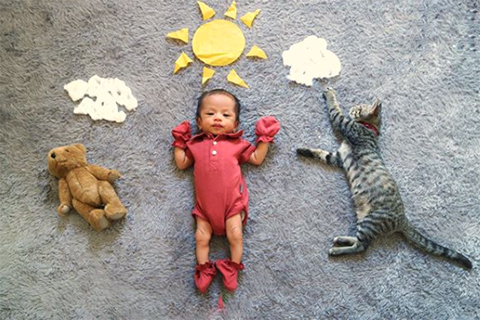 Rika's adorable Queen's baby
"Our first meeting was at the airport for our first flight to Belfast. We were enrolled at the same school at Queen's: I took a Master's in Autism Spectrum Disorders and my husband took a Master's in TESOL.
"Queen's surely is a perfect place to fall in love. The campus is stunningly beautiful and there is a romantic vibe. We were enchanted with Queen's from the first time we stepped on campus."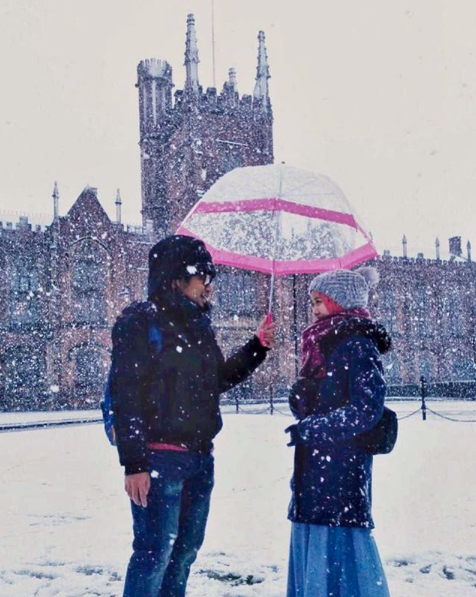 Queen's campus: A perfect place to fall in love
"We got married after finishing our studies and went back to Indonesia. Our little Queen's baby was born last December."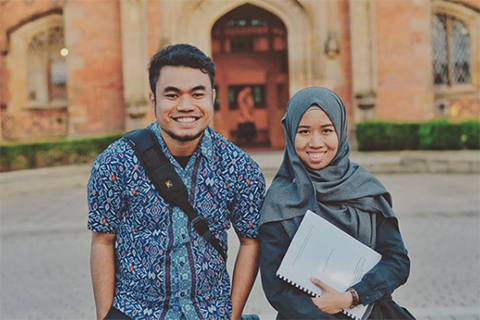 Rika (right) with her husband at Queen's
Love in the Elms
One location appeared again and again in your love stories: Queen's Elms. Ciara Cullinan told us that she met her partner on the first day at Elms Village. Seven years on, they are planning their wedding!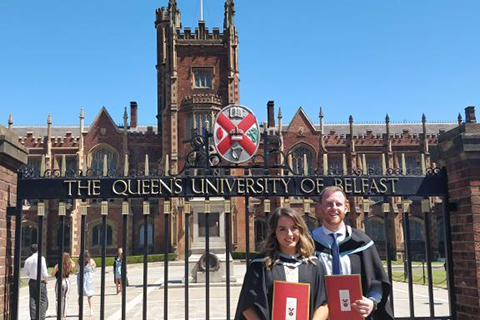 Ciara and Ryan on their graduation day
"We met on move-in day in Elms. We were on the same floor in (block) Sycamore 1," says Ciara. "We spent Fresher's pre-drinks discussing our similar interests in music. I was studying Software and he studied Mechanical Engineering so we'd walk to the Ashby Building together. Ryan poured his heart out a week later on the Mandela Hall dancefloor in the Student's Union and asked me to be his girlfriend.
"We still live in Belfast and are both working and saving for our wedding after getting engaged in Lisbon last year."
Engaged on the quad
Cara Watson also met her husband in Elms. "We lived on the same floor in Oak 5. I was studying Politics and then did my Master's in Violence, Terrorism and Security. I now work for PwC.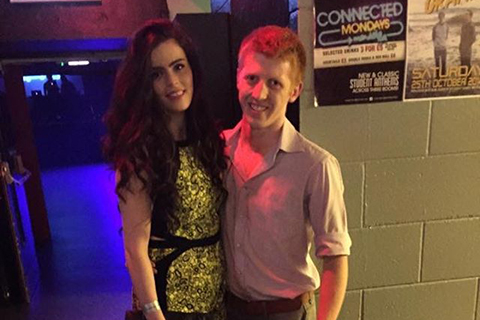 Cara and Hamish at Queen's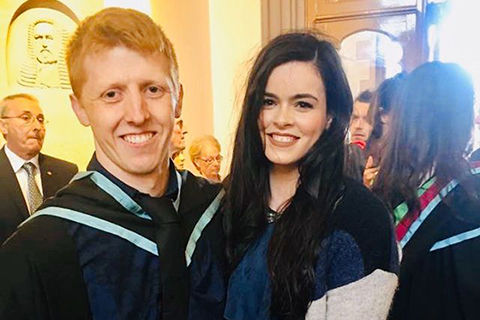 Cara and Hamish at graduation
"Hamish did Chemistry and is finishing his PhD at the moment – hopefully in time for summer graduation this year.
"Queen's brings so many different people from different walks of life together. We would never have met otherwise.
"We got engaged on the quad behind the Lanyon Building. Seven years on, we've got two undergrad degrees, two Master's and one PhD in progress. And I still coach Queen's cheerleaders!"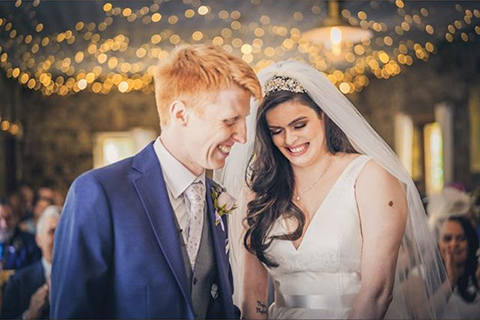 Cara and Hamish on their wedding day
Friendships that span a lifetime – and the globe
As well as meeting future spouses, many of you told us how you'd forged important life-changing friendships while at Queen's. Georgina Fegan met her two best friends while studying Nursing at Queen's. "We all moved into Elms on the same day," she says. "That was in first year and we're now in final year and still best friends."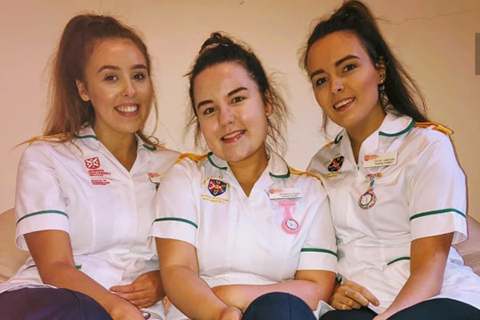 Georgina with her two best friends
Yashodhara Kundra, from India, met her BFF Maria, from New York, while they were both studying abroad at Queen's for a semester.
"We first ran into each other while walking towards campus from BT2 where we lived. We became friends and spent our semester going to cafes, studying, making new friends and even travelling to other cities in the UK; Edinburgh was a particularly memorable trip," says Yashodhara.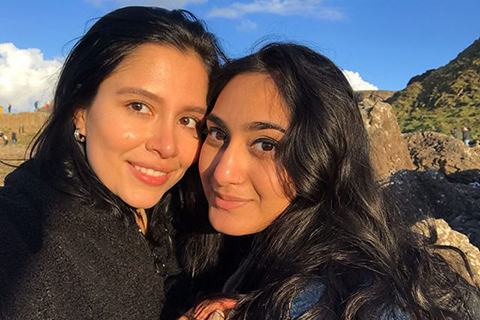 Yashodhara and Maria
"I'm originally a Psychology major and she studies Computer Science but we both also study English Literature, which we bonded over. We re-watched all the Harry Potter movies together too!
"I think Queen's is a great place to build lasting friendships because it gives us so many opportunities to do things together – we ended up becoming friends for life through doing small things like karaoke, going to the coffee bar, playing pool and winning quizzes!
"We're now back in the US finishing our degrees. We recently had a mini vacation in New York together. I want to thank Queen's for helping us get to know each other."
Want to start your own Queen's love story? Discover our courses.