Fusion Antibodies fourth KTP with Queen's to develop Bioinformatics Algorithms
Ngozi Okereke joined our industry partner, Fusion Antibodies, as their fourth KTP Associate with Queen's University Belfast, to develop a new innovative software solution for the design of antibody engineering.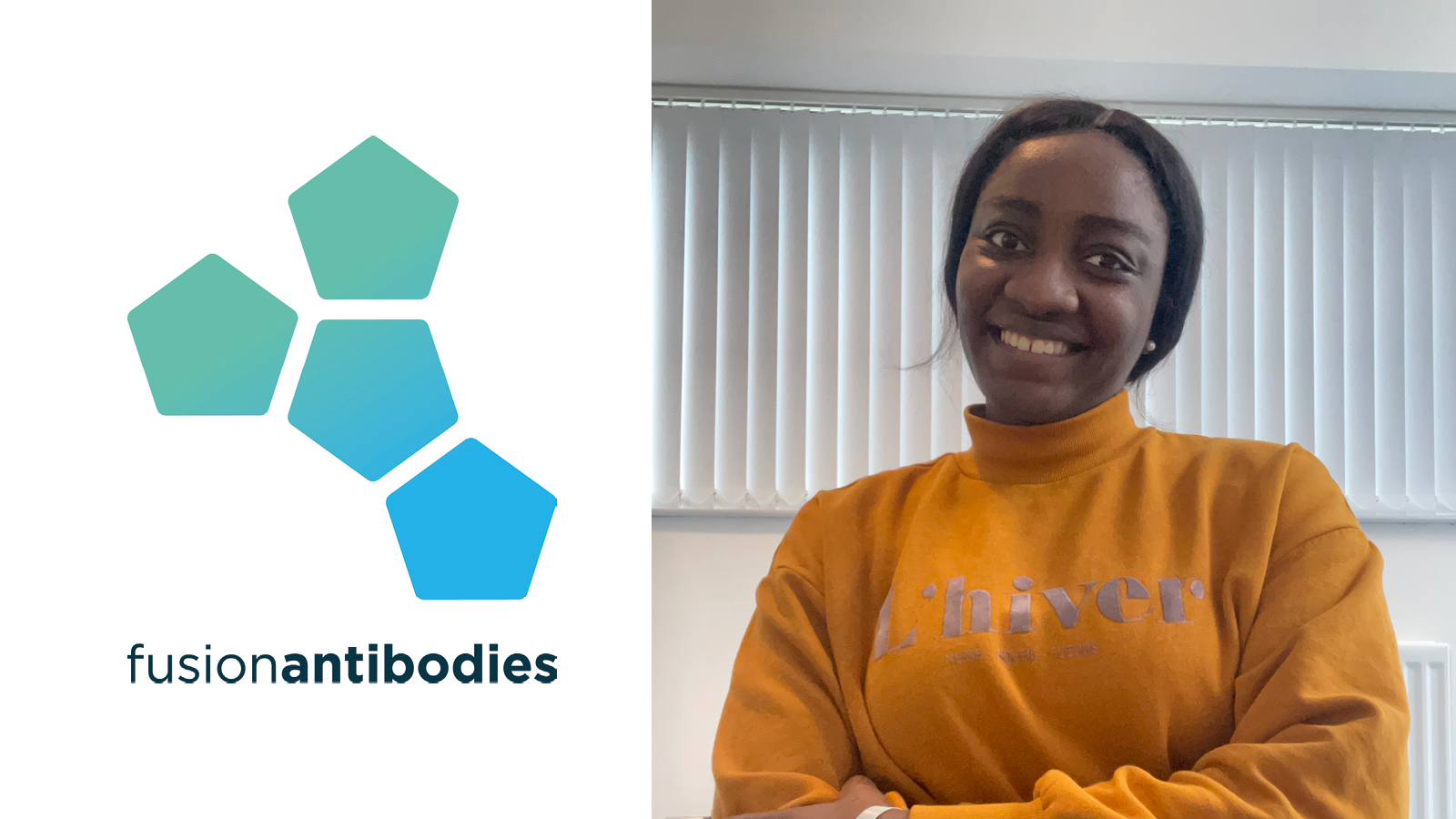 Fusion Antibodies is a world leader in its field, specialising in the development and engineering of antibodies for the biotechnology and pharmaceutical industries worldwide.
Since 2001, Fusion Antibodies has been dedicated to the discovery and early development of antibodies to help bring about a positive change in the healthcare industry. They offer a complete range of antibody- related services in Discovery, Engineering and Supply and have guided hundreds of projects through critical preclinical stages.
The business was keen to evolve their services at the cutting edge of innovation in the field of antibody engineering. Ngozi's KTP project will enhance the company's competitiveness in the marketplace for engineered antibodies.
The KTP project involves developing a new innovative software solution for the design of antibody libraries that will be integrated into the service offering provided by the company, to transform their capabilities.
After completing her undergraduate degree in Computer Science at Covenant University, Ogun State in Nigeria, Ngozi continued her academic journey at the University of Glasgow where she obtained a Master's Degree in Data Science. Ngozi believes the knowledge attained through these studies will benefit the KTP project,
"My two degrees are extremely relevant for my KTP, as they gave me the research and technical skills needed for my job. I also had the opportunity of working as a part of different teams, which gave me the adequate skills to work and communicate with other people in a team."
With guidance and support from both the academic supervisors, Professor. Chris Scott and Dr. Darragh McArt and company supervisors, Ngozi has familiarised herself with the technology and services provided by Fusion Antibodies and is examining informatic software and bespoke algorithms pertinent to enhance library design. The project will develop a bioinformatic based approach to analyse antibody protein sequences and an algorithm to interface hierarchic antibody library with structural analysis.
Not only is this KTP project accelerating Fusion Antibodies competitiveness in the marketplace by developing bioinformatics algoritms but it is also acting as a launchpad to enhance the Associates career. Ngozi explains,
"I always envisioned a career in both software development and data science. This KTP project allowed me to build a network in academia and the training and certifications that were funded and sponsored by my KTP budget, increase my skillsets and makes me desirable in the job market."
Ngozi describes this KTP project in 5 words as…
"Insightful, Knowledgeable, Self-Directed, Exciting, and Growth."

"I strongly recommend a KTP, I would advise anyone to apply for one. There are many opportunities and benefits from a KTP project, the associate's personal development and growth is always prioritized and that alone is enough reason to apply. During the lifetime of any KTP project, the associate gets to meet and network with many other associates as well as professionals in that field. The associate can also travel for conferences and gain many skills along the way. KTPs are beneficial to all the parties involved. "
Fusion Antibodies' commitment to the KTP Programme, and working with a Research Institute such as Queen's is testament to the innovation a collaboration like this can achieve for a forward thinking business.
If you have an idea for your business but do not have all the in-house expertise needed to develop it, a KTP or Management KTP may be the solution. If you would like to discuss whether a KTP could help take it forward, then contact Lorraine Marks, Head of KTP at Queen's E: l.marks@qub.ac.uk