Queen's University Belfast announce second Knowledge Transfer Partnership (KTP) with CP Cases Ltd
CP Cases and Queen's University Belfast have announced their second KTP project to develop and implement SME focused digitalisation and lean methods (including digital lean) for both internal and external integration and compatibility.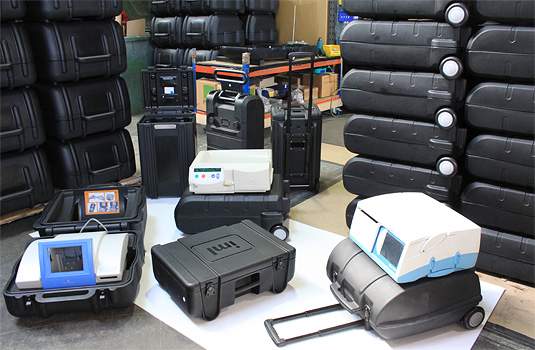 CP Cases is a vibrant, fast growing company that design and manufacture high-performance protective cases for the storage and transport of high-value equipment for the media, defence, medical and entertainment industries.
The 30 month KTP project, funded by UKRI through Innovate UK, will provide a unique opportunity for a dynamic and motivated Mechanical/Manufacturing Engineering graduate to work in CP Cases (London) on a collaborative project with the Advanced Digital Manufacturing Research Group in the School of Mechanical & Aerospace Engineering at Queen's to develop, implement and embed a range of Industry 4.0 technologies into company manufacturing processes.
Academic supervisors from Queen's University Belfast, Dr Joe Butterfield and Dr Peter Martin bring a wealth of specialist expertise to the KTP project including cyber physical systems, digital methods for production planning simulation and introducing technological change to production processes.
The aim of this KTP is to transform CP Cases into a digitally enabled, modernised manufacturing SME through manufacturing system optimisation and work practice operational improvements including digital lean, quality and supply chain management principles.
More information on the KTP Digital Manufacturing Engineer role can be found here
If your business has an innovative idea and you would like to discuss whether a KTP could help take it forward then contact us at ktp@qub.ac.uk or visit KTP for Business for more information.