Seed Fund Projects
In November 2021, we launched the first call of our Research Culture Seed Fund. The Fund aims to pump-prime innovative approaches to enhancing the environment in which research takes place at the University, and act as a 'test bed' for new ideas which could serve as best practice models to be rolled out in other parts of the University.
It turned out to be a very competitive call, with 50 applications submitted from across the three faculties, from both individuals and groups, and applicants included research fellows, readers, senior lecturers, and research and innovation professionals.
While all of the applications proposed worthwhile activities, eight were successful, based on the overall budget available, the extent to which they aligned with the priorities set out in the Research Culture Action Plan, the extent to which the proposed activities would address the research culture issues identified, and whether it was likely the proposed activities could be adapted for other parts of the University.
All of these projects were completed by the end of the 2021/22 academic year, and we asked those involved to feed back on the activities, outcomes, and next steps. You can read about the different projects and their outcomes below.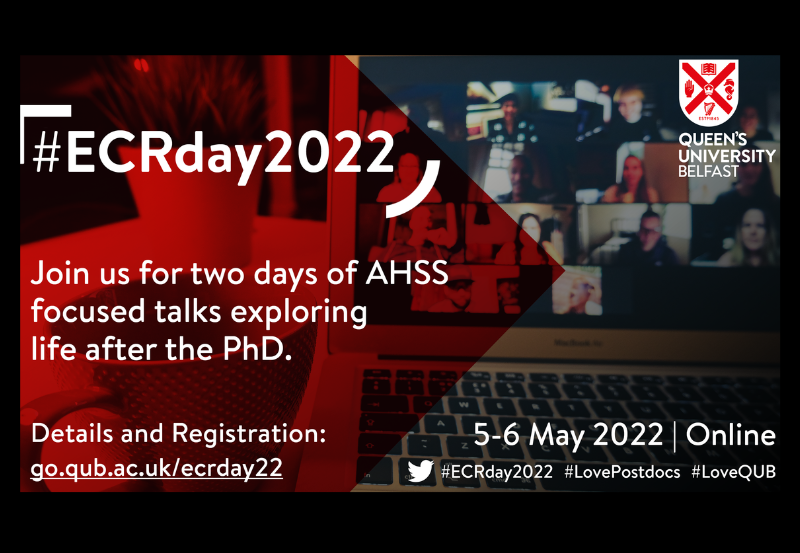 #ECR DAY 2022
#ECRday was an online programme of talks exploring opportunities after PhDs for those in the arts, humanities and social sciences.
The event showcased the exceptional and pioneering support Queen's offers ECRs at every stage.
The event was organised by Dr Alison Garden and the #ECRday2022 Team, with support from Professor Ramona Wray, Dr Alice Dubois, Erin Davidson, Jordan McCullough (PhD student in French at Queen's), and Susie Deedigan (PhD student in History at Queen's). The #ECRday2022 Team included representatives from the Graduate School, Postdoctoral Development Centre (PDC) and Fellowship Academy.
Summary of Activities
#ECRday 2022 was held on 5-6 May 2022 on Zoom and covered a variety of key issues for Early Career Researchers (ECRs) including: overviews of significant postdoctoral fellowship schemes across the UK, Ireland and EU; working with the media; careers beyond the academy; securing a permanent lecturing position and more. The programme built upon the template of #ECRday 2021, which took place in July 2021, organised by Dr Alison Garden.
The programme was promoted on a dedicated page on the Postdoctoral Development Centre website and recordings from the sessions will be made available there in due course. Sessions on the 5th May were chaired by Jordan McCullough and on the 6th May by Susie Deedigan.
Outcomes and Benefits
The event was a great success and is important in helping to deflate the unhealthy competitive culture that can exist within academia by generously fostering cross-disciplinary, inter-institutional and international exchange. The event involved 25 speakers, from Queen's and elsewhere, across eight panels. Attendees joined the sessions from Europe, the Middle East, Asia, and Northern America.
Feedback on the event was extremely positive, the average rating was 4.7/5.00, and many respondents said they would recommend the event to others. Comments included:
'I was blown away by the scope of the programme and highly commend all of you for your sensitivity to the wretched nature of the job market, to an intersectional approach to discussing the challenges facing ECRs and to combatting the discourse of competition which pits us against each other.'
'The best event of its kind'.
'I really appreciate how honest all the speakers were, especially in speaking frankly about how they learned from rejections/'failures'. It was incredibly humanising in what can often feel like a dehumanising field. I can't overstate how crucial events like these are to demystifying the academic sector for people (like myself) from groups that have been historically marginalised in academia'.
'I actually think that this is such a necessary event for early PhDs that it should be a compulsory event (training) during the first/second term of PhD year 1.'
Next Steps
Given the positive feedback received and the success of the sessions, the team hopes to run #ECRDay again in the future, perhaps as an 'ECR Day Series' over the course of several months to help avoid Zoom fatigue, and including evening sessions, which could facilitate attendance from those with caring duties.
Any future events will take on board suggestions from attendees to include a greater focus on a variety of non-academic career options after the PhD; to provide more information on publishing, especially the journey around publishing the thesis as a monograph and 'trade' publishing; and the practicalities of job applications, such as putting together CVs and cover letters, and how these might vary between disciplines.
In the meantime, the Graduate School, the PDC and the Fellowship Academy run various events all year that cater to ECRs.
Read more
Read less
---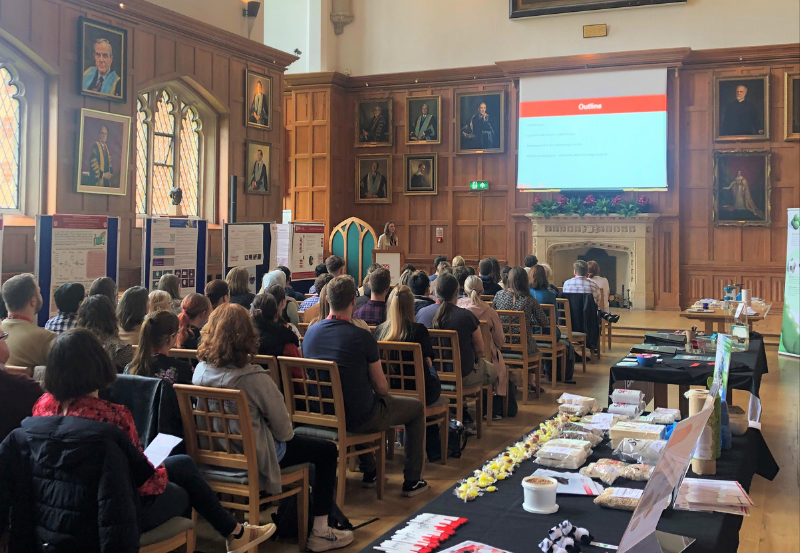 Culture of Care
Workshop promoting Culture of Care across Queen's Animal Research Community
A Workshop took place in May 2022 in Queen's to promote culture of care across the animal research community and included a series of short talks, a guest speaker and an animal research culture poster showcase. Culture of Care describes an establishment-wide commitment to improving animal welfare, scientific quality, care of staff, and transparency.
The workshop was coordinated by the Animal Welfare and Ethical Review Body Culture of Care Subgroup, including Dr Dessi Malinova, Dr Susan Clarke, and L Collins, and involved contributions from Dr Helina Marshall, Rosemary Robinson, Liz Black, Dr Rebecca Delaney and Kathryn Brown.
Summary of Activities
In line with the Queen's Research Culture Action Plan, the workshop aimed to create an inclusive and collaborative environment for researchers, technicians and new staff, and aimed to recognise and reward care initiatives. The workshop comprised of the following activities:
Short talks from animal technicians and researchers – including topics such as research into reducing and replacing animal use, and 'a day in the life of an animal technician'. The aim was to bring the scientists and animal technicians together and promote understanding and collaboration between these critical roles in animal research.
Animal research culture poster session – showcasing experimental design that Reduced, Replaced or Refined the use of animals at Queen's. Prizes were awarded recognising and rewarding best practice throughout

the animal research

community, and helped to share these practices more widely.
A guest speaker from the Institute of Animal Technology discussed some of the challenges faced by those with different responsibilities around animal research, and offered practices and initiatives from other institutions which promote staff morale and provide tangible benefits for animals, people, and science.
Outcomes and Benefits
The workshop was well attended, impactful and the feedback received was very positive. The activities promoted a number of frank discussions and collaborations, and the workshop provided a much-needed opportunity for in-person discussions, and an introduction of newer staff members to Queen's animal research community, especially following limited opportunities to meet and discuss welfare improvements due to COVID-19 lockdowns.
The organisers also introduced their Culture of Care Vision statement which sets out an establishment wide commitment to high animal welfare standards and a supportive environment for all those involved in animal research. This vision statement also sets out the commitment to maintaining clear communication channels for feedback, raising concerns and sharing knowledge. The statement will be reviewed regularly, with all staff involved in animal research given the opportunity to contribute. Posters on this vision statement, as well as those exhibited throughout the event are still available to view in the animal facility, and authors are happy to discuss their work.
Next steps
The Animal Welfare and Ethical Review Body Culture of Care Subgroup have decided to turn this workshop into an annual event addressing different aspects of Queen's animal research and the latest advances in culture of care, and including group activities to promote further engagement and networking. Further support for the event will be provided by International Product Supplies Limited, Techniplast, and LBS who specialise in animal husbandry solutions which improve both animal welfare and scientific outcomes.
A number of other resources are also being developed, including a seminar series and newsletter, aimed to improve communication and collegiality, and to recognise staff contributions to care culture; and an establishment-wide culture of care survey to evaluate the University's current understanding, strengths and weaknesses, which will provide a benchmark for future initiatives improving Culture of Care.
Read more
Read less
---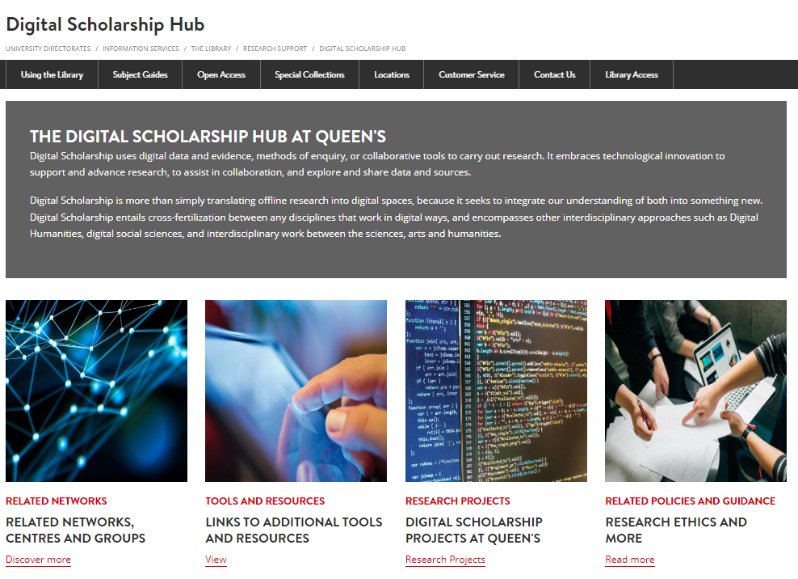 Digital Scholarship Hub
Digital Scholarship Hub at Queen's: Bringing Scholars Together
The project's overall aim was to create a Digital Scholarship Hub (DSH) to bring together academics, research students and professional support colleagues working within digital scholarship across the various disciplines at Queen's. Since the onset of the Coronavirus pandemic the need for research encompassing digital scholarship and centralised resources has increased in importance.
The DSH provides a networking platform and an essential resource for those working with digital data, methods and tools, and facilitates collaboration and interdisciplinary projects by sharing its members' contacts and research interests.
The project was coordinated by Dr Jane Lugea, Deirdre Wildly, Dr Emma Reisz, Kriss Leslie and Angela Rogan.
Summary of Activities
In order to be inclusive, to reflect the breadth of work going on at Queen's, and to connect with as many scholars as possible, the Team employed the following definition: 'Digital Scholarship uses digital data and evidence, methods of enquiry, or collaborative tools to carry out research.'
The DSH is intended to enhance the research culture at Queen's by promoting existing scholarship and identifying the emerging needs of new research in these areas. These needs were identified through consultative activities, the team distributed an online survey across the University which captured an initial understanding of what colleagues would find beneficial in a DSH. The survey results provided the basis for a pilot website to be constructed. Online consultation with colleagues followed this to gain feedback through a website preview.
The website was launched in May 2022 at https://go.qub.ac.uk/dshqub and a symposium at The McClay Library provided an opportunity for further feedback and consultation while making plans for driving the project forward.
Outcomes and Benefits
Development of the DSH has been a fruitful collaboration between Special Collections & Archives, Information Services (IS), academic colleagues, researchers and other colleagues. It has enabled new working relationships, good interdisciplinary communications, and better understanding of the context in which researchers and professional services work.
The DSH provides an easily accessible hub for digital scholarship across the University, and supports networking amongst scholars through a Digital Scholars Directory to promote collaboration and further interdisciplinary projects. The networking potential is enhanced by promoting related research groups and encouraging colleagues to provide information on their current or upcoming research projects.
Furthermore, it enables colleagues to find training resources and digital tools through an interactive section on the website. Colleagues can publicise or take part in upcoming events. The DSH provides an alphabetised list of available research tools and software accompanied by a short description. This allows scholars to access resources easily and includes information on current and emerging research tools.
While providing central support and training to encompass the needs of all the different disciplines was beyond what this particular project could accomplish, in addition there are challenges around the availability of digital tools and the licensing of software, the DSH can take an active role in disseminating information, advocating for shared resources, and developing training in the future.
Next Steps
Digital scholarship is a dynamic field in a fast-paced research environment. For the DSH to remain valuable, it needs to be kept current and updated. It is also important to make sure that the ever-changing research community at Queen's has access to the DSH and can join the directory. To support this, the DSH Project Implementation Group have created a public Digital Scholarship Hub channel on MS Teams, open to all digital scholars at Queen's – academics, students and support staff. A Digital Scholarship steering group has also been established to drive forward the DSH. The first meeting on the MS Teams channel took place shortly after the launch event in May, and included suggestions such as building a community of digital scholars, with current members reaching out to their colleagues working within the area of digital scholarship to promote the DSH. Furthermore, adding content to the website and approaching related centres and research networks across the University will bolster the information available on the DSH and involve new members. Further plans include hosting and collaborating with forthcoming events, support for project development and grant applications, and providing information on funding opportunities.
2022/23 will be an opportunity to build on the successful outcomes of the grant funding used to establish DSH, and matched funding from IS will contribute to administration support costs for the next academic year. The DSH Project Implementation Group hopes that the potential for deeper and easier collaborations with and between the DSH and other groups at Queen's e.g. Media Lab will be realised. A full report is forthcoming regarding the team's activities in implementing the DSH.
Read more
Read less
---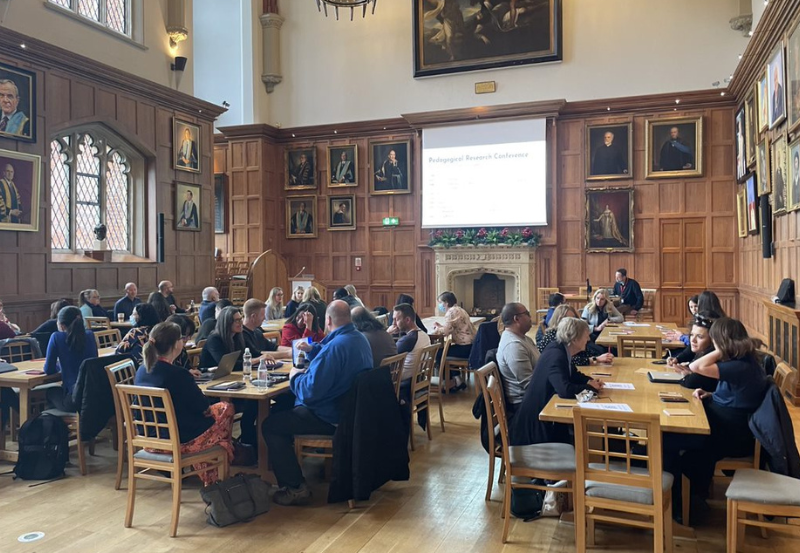 Pedagogical Research Culture
Creating a Pedagogical Research Culture - Conference
Staff on the Education pathway at Queen's, like other universities, are required to regularly publish "pedagogical research" or "scholarship of teaching and learning". However, this can be difficult to accomplish in certain disciplines, for example a biologist also needs to be familiar with the educational and social sciences methods required to fully study the pedagogical environment. It can also be challenging alongside intensive workloads of teaching and supporting students, and fear of seeming like an "imposter".
This conference, which was the amalgamation of two seed fund applications, was coordinated by Dr Kieran Higgins, Dr Laura Michael, Dr John McKinley, Dr Martin Regan and Dr Andrew Godden and was designed to provide accessible training, knowledge sharing, networking, and social support, so that Education staff can come together formally and informally to share their pedagogical research expertise and ideas.
Summary of Activities
The event aimed to facilitate collegiality, collaboration, and creativity, by not only bringing people together, but also by providing the underlying methodological knowledge required to push boundaries in this area.
Over 40 staff from across all three Faculties, and from almost every School, attended the conference. Discussion sessions aligned staff with similar pedagogical research interests into hubs and working groups, which has since developed into several collaborative research projects.
The event was supported and attended by Professor David Jones, who provides an ongoing commitment to Education Pathway staff.
External guest speakers, Professors of Education, and Centre for Educational Development (CED) staff also contributed their stellar expertise to the day which led to a rich, peer-led discussion.
Outcomes and Benefits
An Education Pathway Forum was established following the event, bringing together staff from across all three Faculties of the University, both online and face-to-face. The Forum has been successful in maximising knowledge sharing, peer-support and advocacy.
All in all, the project has been a significant sea change in the culture for Education pathway staff across the University.
If you are an Academic on the Education pathway and would like to join the Education Pathway Forum, please get in with Dr Kieran Higgins or any of the other organisers.
Next Steps
The momentum from the event will be fostered through monthly Common Room events. There are also plans to undertake a further two events in the Autumn, facilitated through additional Research Culture Seed funding.
The first will be a scholarship training day, which will train participants in designing scholarship projects, and the second is a scholarship sandpit, to engineer further collaboration cross Schools and Faculties. Education Pathway staff are in eager anticipation to continue to build on the positive work thus far.
An organising committee has also been set up to ensure that news and ongoing opportunities are well-circulated across all three Faculties going forward.
Read more
Read less
---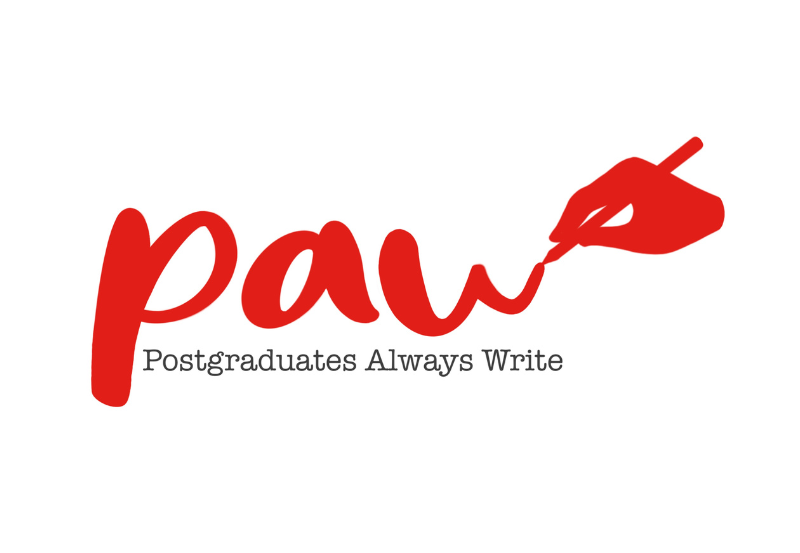 PAW! - Postgraduates Always Write
A programme to support postgraduate students in academic writing
The PAW! programme aimed to consolidate the research culture of collegiality and collaboration amongst the research community for postgraduate students across the Faculty of Medicine, Health and Life Sciences (MHLS).
The programme involved a student-led scoping exercise, a co-designed workshop and a survey, all to support postgraduate students in academic writing.
The programme was coordinated by Dr Amy Wong, Gemma Caughers, Azam Saifullah, Claire Cooper, Martina Galeotti, Bridie Kemp, Michael Matthews and Professor Christine Brown Wilson.
Summary of Activities
Academic writing is an essential skill but is often perceived as a stress-provoking component in a student's journey. PAW! originated as an innovative programme aimed at strengthening peer support among international and home doctoral students, enhancing their academic writing skills and building confidence in undertaking research in a collaborative environment. The PAW! sessions were piloted in the School of Nursing and Midwifery and received very positive feedback.
This new programme is aimed at postgraduate students across the Faculty of Medicine, Health and Life Sciences (MHLS). A student-led scoping review on the best practices to support postgraduate students in academic writing was conducted by 6 PhD students. The review informed the development of a co-design workshop conducted in May 2022 with 12 postgraduate students across the MHLS Faculty to create resources applicable to all disciplines for future PAW! sessions. Findings from the co-design workshop were further consolidated by a survey completed by 17 postgraduate students across the MHLS Faculty. This has resulted in a programme of PAW! sessions for 2022/23, which have been designed based upon the collected data.
Outcomes and Benefits
The student-led scoping review facilitated the sharing of roles and responsibilities among each PhD student in the team to promote collegiality, and provided the students with an opportunity to lead a specific component in the review process.
This experience has strengthened the research culture of student research leadership within their peer networks, enabling students to support each other to achieve shared research ambitions. The students submitted an abstract based on the preliminary findings of the scoping review to the Ulster University/QUB Doctoral Collaborative Conference in May 2022 and won the best poster award.
The co-design workshop facilitated an open conversation among postgraduate students across different Schools within the MHLS Faculty. Co-designing is an inclusive and innovative strategy to engage students to create fit-for-purpose materials for 'PAW!'. Encouraging international and home students to work together in co-designing materials directly aligns with the strategic priority of cultivating an inclusive and compassionate culture. Students developed a deeper understanding of the challenges encountered by their peers from different cultural and academic backgrounds. Data from the co-design workshop and the survey informed the development of resources focusing on writing rather than being discipline-specific which will further contribute to the broader research culture at Queen's.
While there were initially challenges around recruiting students to participate, international students were well represented, indicating that they are eager to be involved as part of the research community. It is important that the co-designed resources are socially and culturally inclusive to enable all students to maximise their potential in academic writing and develop confidence in engaging in academic communities.
Next Steps
A paper on the scoping review will be submitted to an education journal, and all PhD students in the review team will be co-authors acknowledging their contributions.
A Head Start for Semester 1, 2022-23 PAW! session was held in August 2022 based on the findings of the co-design workshop and survey.
The monthly PAW! sessions have been planned for Autumn and all postgraduate students across the MHLS Faculty will be invited to join. The education topics for discussion at the beginning of each PAW! session are aligned with the student feedback.
Within the School of Nursing and Midwifery, the PAW! team will be introduced to the new PhD students during their induction, the PAW! sessions will be integrated as the core part of the PhD student academic development programme.
There are also plans to develop a digital hub as a resource and communication platform for all postgraduate students across the MHLS Faculty to collaborate and access the writing support resources.
Read more
Read less
---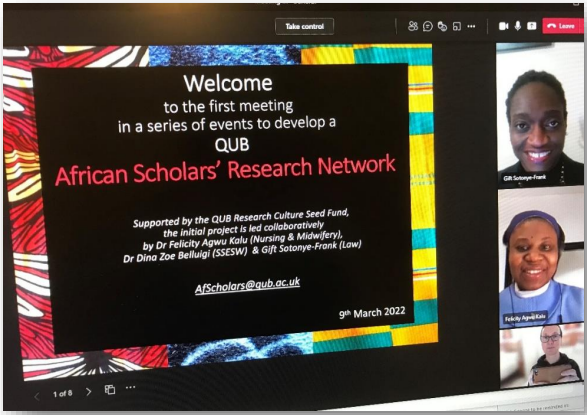 Developing an African Scholars Research Network
This project focused on creating a sustainable supportive culture within Queen's for research-active African scholars
This project was inspired by the work of African Scholars Association Ireland (AfSAI) and other networks, and aimed to put into place activities to connect African researchers from across Queen's and to help create a supportive culture for research. Activities included meetings, open calls, and a research retreat, designed to establish a cross-campus, cross-disciplinary, democratically formed research development group.
This project was coordinated by three African scholars of different academic disciplines at Queen's, Dr Felicity Agwu Kalu (School of Nursing) Dr Dina Zoe Belluigia (School of Social Sciences, Education and Social Work) and Dr Gift Sotonye-Frank (School of Law), all of whom are members of AfSAI.
Summary of Activities
The project aimed to address the lack of any African professional membership associations for researchers or academics in Northern Ireland, for example the University and College Union (UCU) in Norther Ireland has no Black Standing Committee, unlike the other devolved nations of the UK. The leads had also noted the recent reports of funding discrimination within the UK (UKRI 2021), and other barriers to the flourishing of academics Africa-born and of African descent, such as lack of funding, lack of recognition, slow career progression in academia, and also felt and recognised the isolation often experienced by African scholars in particular.
An open call with information about the initiative was circulated across Queen's and via social media platforms in early 2022, for those research-active within the University who identify as Africa-born or of African descent to register their interest.
Meetings took place in March and April 2022 on Microsoft Teams for those who had registered in order to share information about the initiative, provide opportunity for questions, encourage introductions as the first steps to creating a community, and to discuss the criteria for inclusion in the retreat. A meeting also took place with key Queen's leadership, who expressed support for the initiative.
There was an open call with transparent criteria for selection to the retreat during April and the retreat itself took place in June 2022 in the Mourne Mountains. The retreat allowed for a range of activities, including time for researchers to get to know each other, to socialise and go walking; and to work directly on their own projects and to work collectively. There was also a session on 'Introduction to network mapping' and opportunities for information and knowledge gathering, including a talk by invited speaker Dr David Nyaluke (African scholar and Lecturer, Business & Sustainable Development, University College Dublin)
Outcomes and Benefits
The retreat provided a number of benefits, including:
An opportunity to get to know other African Scholars at Queen's and to hear about their research
Wellbeing and work-life balance, given the impact Covid 19 has had on the world and particularly in the academic community, the research retreat was a refreshing and welcome activity
Building a supportive network, the retreat provided opportunities for sharing information and engaging on set concerns; and the network mapping session provided an opportunity for the participants to connect at an intellectual level, to better understand, and discuss opportunities for collaborative work, support, and possible research outputs.
David Nyaluke's story and experience, along with stories of some of the participants' prior experiences of building networks, provided valuable information about how this initiative can develop into a thriving network.
Next Steps
This project laid the foundations and brought together many African scholars, both staff and students, within Queen's to form connections and a network. The next steps include formalising the structure and initialising events and interactions of benefit to the members. From this, the hope is to extend the network across NI, to ROI, UK and beyond, to the many strong and vibrant African networks for research.
While there are a number of challenges around visibility and adequate operational and administrative support for the network, at the end of this phase of the project, all the participants agreed that developing and establishing a cross-campus African Scholars Research Network at Queen's was crucial. It was seen as vital as a support network for the flourishing of the African scholars at the University.
Narrative summaries, visual documentation, reflections, and participant information are included in this report. Participants' feedback on the project can be viewed here.
Read more
Read less
---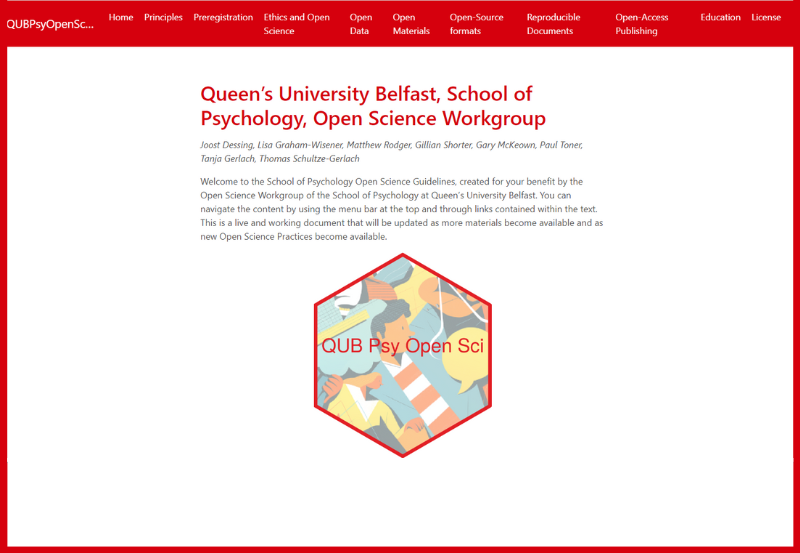 Committed to Open Science
The School of Psychology Open Science Guidelines
Open Science emphasises transparency and integrity in accurate and truthful reporting of science. Being open and transparent at all stages and all levels of the scientific process improves all scientific fields. The principles and proposed practices of Open Science serve to expand the accessibility and inclusivity of research and the knowledge it creates.
This project focused on the completion and launch of Open Science Guidelines, created by the Open Science Workgroup within the School of Psychology at Queen's, to provide Psychology staff with a single point of call when it comes to Open Science and to provide a reference guide for their engagement.
The project was coordinated by Dr Joost Dessing, Dr Lisa Graham-Wisener, Dr Matthew Rodger, Dr Gillian Shorter, Dr Gary McKeown, Dr Paul Toner, Dr Tanja Gerlach and Dr Thomas Schultze-Gerlach
Summary of Activities
Statistics is an important component of research in many fields, but it has become clear that a large portion of the published literature reflects decisions concerning statistics that are suboptimal and thus affects the quality of the scientific record. A direct result of this is that many published findings fail to replicate, which is problematic because ideas and theories are formed based on those findings. The practices aimed at solving the replication crisis have become known as Open Science, and the field of Psychology has been instrumental in identifying the problems and possible solutions.
The School of Psychology Open Science Workgroup in Queen's was formed to promote engagement with Open Science, and on 29 June 2022 it launched its Open Science Guidelines. The guidelines provide descriptions and practical advice on key Open Science practices to help embed them within the research culture of the School of Psychology
Benefits and Outcomes
The guidelines support staff of the School of Psychology in their efforts to engage in Open Science practices and provide descriptions and practical advice on key Open Science practices to help embed them within the research culture of the School of Psychology.
As Open Science is continually changing, these guidelines will be dynamic and updated based on the latest developments, and will continue to evolve - becoming more fit for purpose - based on staff input and feedback. Staff will be informed about updates to the Guidelines, which will all be made transparent though version control.
Next Steps
In October the School will have an away day focused on Research Culture, and the Open Science Guidelines will form a starting point for discussions about the School-wide engagement with Open Science. Besides addressing basic questions, key aims of the event will include addressing any concerns about the engagement with Open Science, aspirations for staff members to guide their research, and how the School will embed Open Science practices into degree programmes. Students will greatly benefit from Open Science skills, which reach well beyond academia. A stronger emphasis on transparency and robustness, through Open Science practices, will help to futureproof science training.
There are also hopes to engage the wider Queen's community with Open Science in the future, perhaps with a central Queen's event focused on Open Science.
Read more
Read less
---