Personal Response Systems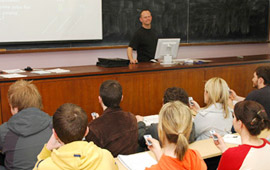 PRS being used in a lecture
Personal Response Systems (PRS) incorporate electronic voting that allow the lecturer to ask students questions and then get instant feedback on their answers. Questions are typically multiple-choice and through the use of handheld devices the students can select an answer. Responses are then compiled using the computer software and displayed on a large screen via a projector.
The software required works in conjunction with PowerPoint which allows for easy creation of questions and automatically converts them into the format needed for the PRS. Handsets and training in the use of the system are available from Information Services.
Guidance for use of Personal Response Systems
It takes time to develop appropriate questions but it is easy to incorporate them as slides into existing PowerPoint presentations. There are no rules regarding how many questions to ask but it considered most effective if they are interspersed throughout a lecture and not used in a block at the beginning or end. Observation or discussion with others who already have experience of incorporating the technology is seen as a beneficial way to assess the potential value.
Why use PRS in Lectures?

Electronic voting systems are more interactive as they instantly quantify and weight the responses and this is viewed by all. Traditional voting methods with cards or a show of hands are merely useful to the lecturer at the front.

Participation is lower risk as answers are not identified with individuals, but its use has been seen to encourage greater verbal responses from students and initiate peer-to-peer discussion and debate.

The reported advantages of using PRS are:

Engage students in active learning.
Gives the lecturer an insight to the students' understanding of key concepts.
Provide lecturers and students with instant feedback related to learning and understanding.
Provide lecturers with the ability to analyse student responses and use as the basis for class discussion.
Can help to meet the needs of different learning styles.
Checks students have noted the main points in prior readings.
Ensure student have a clear understanding of tasks and assignments.

Links to Related Articles

Derek Bruff's extensive bibliography Vanderbilt Center for Teaching is recognised as the key resource for finding subject specific examples of use across the sector.