Special Collections holds three core map collections and a number of other maps and atlases, details of which can be found below. Access to maps must be arranged in advance and is restricted in the evenings and weekends. If you are a non QUB card holder you must also register to visit the McClay Library.
Ewart Map Collection
This collection contains approximately 150 original maps and facsimiles of printed and manuscript maps of Ireland; provinces and counties of Ireland; and individual places in Ireland, ca 1567-1900. About 50 of the maps are of Belfast or parts of Belfast, ca. 1570-1900. The collection also contains town plans, maritime surveys, ordnance survey maps (6 inch), and various railway, canal and road plans.
The collection was originally assembled by the Belfast collector and linen merchant, Lavens M. Ewart J. P. (1845-1898). It was formally presented to Queen's University in 1954 by Ewart's grandchildren, Dr. Vivian Lutwyche, Dr. Violet Lutwyche and Miss Lenore Dawson.
Hibernia Regnum
(Known as the Down Survey of the Baronies of Ireland, 1655-58)
The Down Survey of Ireland is the first detailed land survey on a national scale anywhere in the world. The copies here are published by the Ordnance Survey Office, Southampton, 1908. This collection includes map of Baronies within Ulster, Munster, Leinster and Connaught.
Maps of the Escheated Counties of Ireland
The Maps of the Escheated Counties of Ireland is a collection of 31 facsimiles of ancient maps of Ireland. They were copied at the Ordnance Survey Office in Southampton and published by Colonel Sir Henry James, R.E., in 1861. 28 of these maps are the result of a survey directed by Sir Josias Bodley in 1609. The maps entitled "A generalle description of Ulster, "Tyrone & c.", "Tyrconnell &c. " are earlier and have been attributed to cartographer Richard Barthelet.
The Lopez Atlas
Catalogue entry: Atlas geofráfico de España, que comprehende el mapa general del reyno, y los particulares de sus provincias
This was taken during the Peninsular War, routes taken by Massena and Marmont are marked by red and yellow lines. The atlas is believed to have been retrieved by Major James Walker, a captain in the 42nd regiment at Vitoria, included are Major Walker's notes of British positions marked in the map of Alava. The maps arranged in this volume have not been bound in sequence. Further detail may be found in English Historical Review, 16, 1901, p. 472.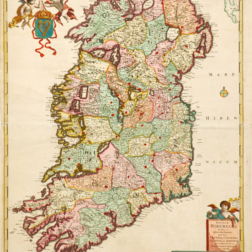 Ewart A 1680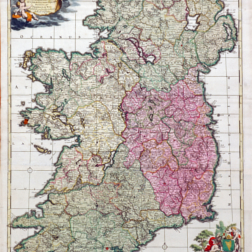 Ewart A 1700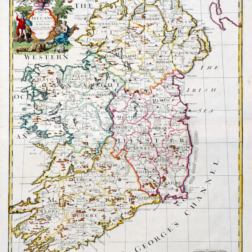 QUB30496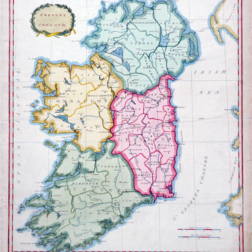 Ewart A 1800