Safe and Heathy Relationships Advocates
Queen's University is committed to providing a safe environment conducive to the academic, social and personal development of all members of the University. As part of the Changing the Culture Action Plan, the Student Wellbeing Service has recruited a team of Safe and Healthy Relationship Advocates to support the work of the Safe and Healthy Relationships Wellbeing Adviser.
Who are the Advocates?
The SHR Advocates are small representative group consisting of staff from across the University. Their primary focus is to support both reporting and responding students on a 1-1 basis who have been affected by either bullying, harassment, sexual misconduct or hate crime. This includes meeting with students and listening to their issues, providing short-term support, and signposting the student to the most appropriate specialist service. On average, students will have two to three meetings, however, the level of support is dependent on the individual circumstances of each case.
What training do Advocates receive?
SHR Advocates receive ongoing specialist training from the Police, Nexus, Victim Support and the Rowan (Sexual Assault Referral Centre) on the impact of series misconduct, the external supports available and how to support students effectively. The Advocates also receive ongoing support from the University's SHR Wellbeing Adviser and contribute to regular peer de-briefing sessions.
What do the Advocates do?
Listen non-judgmentally and empathically to students who have been affected by misconduct.
Support students on a 1-1 basis, to make informed choices about their options.
Explain the informal and formal procedures under the various policies and regulations of the University.
Signpost to appropriate sources of support both internally and externally.
Assess risk regarding student and consult with SHR Wellbeing Adviser
Record brief notes of sessions and actions taken.
Be available to undertake ongoing training pertinent to the role.
Have an understanding of confidentiality and the limitations associated with this.
Update the Safe & Healthy Relationship Wellbeing Advisor on current cases.
Liaise with the Safe & Healthy Relationship Wellbeing Advisor for support and guidance in relation to cases.
Act as a champion for safe and healthy relationship across the University.
Contribute to the overall monitoring and evaluation of the service.
The Process
Step 1
The student discloses the issue via Report & Support.
Step 2
The Safe & Healthy Relationships Wellbeing Adviser allocates the case to an Advocate.
Step 3
The SHR Advocate contacts the student to organise a meeting and to provide ongoing support.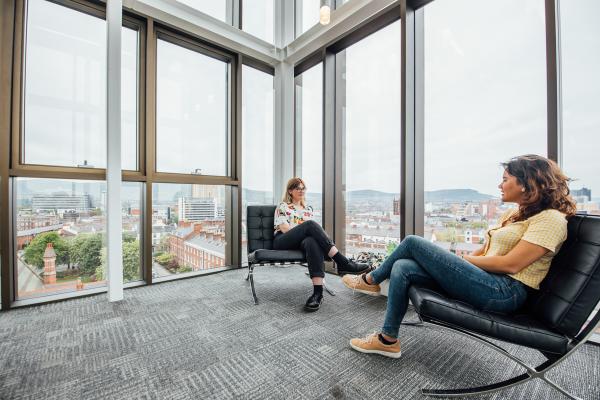 I love working with students on a one-to-one basis, so to have another opportunity to help and support students in this capacity is amazing. The Wellbeing Team are very supportive in this work and I think it's a great development opportunity for staff members. Safe and Healthy Relationships Advocate
Academic and Student Affairs Directorate