Roman Civil Wars in the Empire: Provincial Experiences of Conflict and State Formation in the First Century BC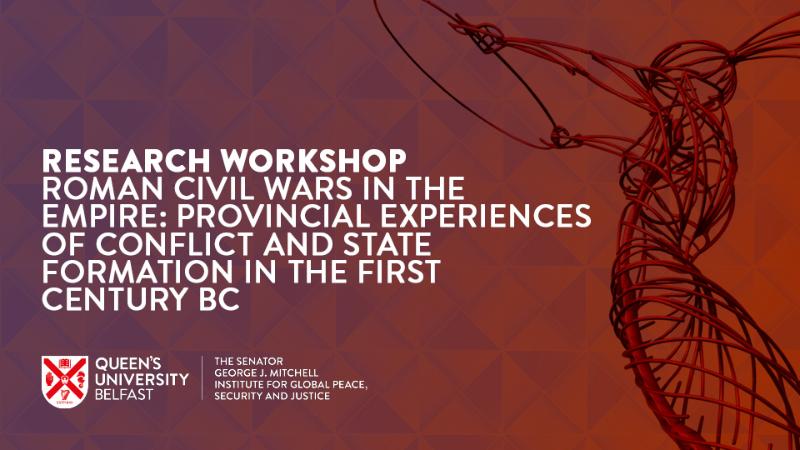 Fellows Room, Mitchell Institute, 18 University Square
---
In this Research Workshop with Mitchell Institute Sabbatical Fellow Dr Laura Pfuntner participants will explore the main themes emerging from my research for the book Roman Civil Wars in the Empire: Provincial Experiences of Conflict and State Formation in the First Century BC. This book examines the Roman civil wars of the first century BC from a 'centrifugal', provincial perspective. The scope of these wars extended from Syria westwards to Spain, and from the Maghreb as far north as the Rhine and Danube. Most of their great battles took place in provinces that were under some degree of Roman control, but not fully incorporated into the Roman state. Significantly, most of the inhabitants were not Roman citizens, and so did not possess the same political rights, privileges, and obligations – in other words, the same claim to membership of the Roman state – as the Roman armies that fought over their territory. The book takes these inhabitants of Rome's provinces as its focus and examines the impact of civil warfare on their communities.
Laura will present a selection of case studies of individual and collective experiences of civil warfare in the central and western provinces of the Roman Empire (Sicily, the Iberian peninsula, Africa, southern Gaul, and the northern and western Balkans).
These cases demonstrate vividly how civil warfare intersected with more localized conflicts within and between provincial communities, and how these intersections affected the choices made by communities (or factions within them) about which Roman side to support.
They also show how Roman military campaigns in the provinces required continued collaboration with local powerbrokers. This collaboration came with obvious risks, but if navigated successfully, could also provide a path to social advancement for provincial individuals and families in the aftermath of conflict. In many parts of the empire, moreover, conflict resolution was a decades-long process that met with as much failure as success. It involved negotiations between Roman authorities and a range of provincial stakeholders, including new Roman colonists, descendants of earlier Roman and Italian diasporas, and indigenous elites. Consequently, the individual and group identities that emerged out of the civil war period and into the Principate of Augustus were far more complex than the traditional concept of 'Romanization' (i.e., the political and cultural process of 'becoming Roman') can accommodate.
Department

School of History, Anthropology, Philosophy and Politics

The Senator George J Mitchell Institute for Global Peace, Security and Justice