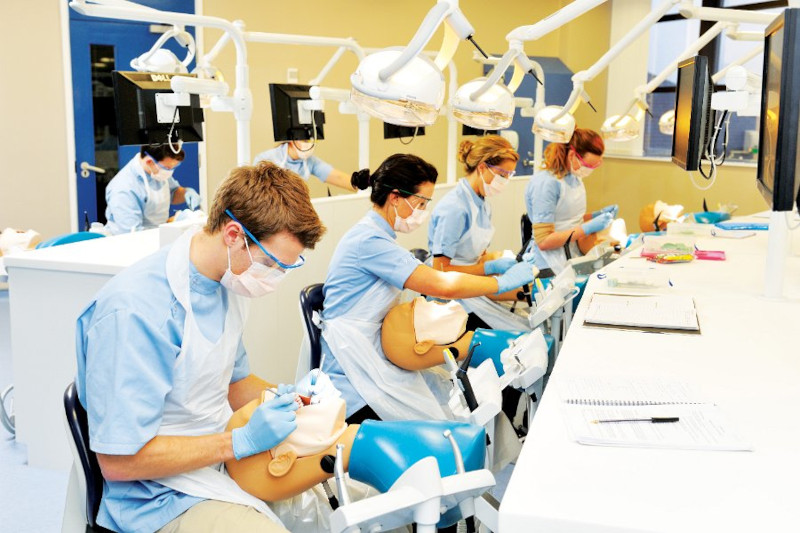 Centre For
Dentistry
The vision of the Centre for Dentistry is to be a world-class Dental School where excellent specialist dental care and undergraduate education are underpinned by the rich culture of high quality research within the School of Medicine, Dentistry and Biomedical Sciences.
About Us
The Centre for Dentistry is responsible for the development, management and delivery of the undergraduate dental programme working in partnership with the Centres for Medical and Biomedical Sciences Education.
The Centre for Dentistry has accomplished significant successes and has continued to maintain its position as one of the highest ranked in the UK. Recent National Student Surveys have consistently seen the Queen's dental programme rated as one of the best in the UK particularly for its teaching, assessment and feedback. In the 2020 National Student Survey, the course achieved an overall satisfaction rate of 98%, maintaining a strong position across all categories as one of the highest rated dental schools in the UK.
Degree Programme
The five year Bachelor of Dental Surgery (BDS) degree programme is one of the most dynamic and progressive in the UK and has always been recognised for its high quality teaching and exceptional student experience. Students from our Dental School have made a marked impact on dentistry both nationally and internationally. We have an intake of approximately 60 students per year (including fifteen places for international students) and this provides small group sizes and excellent opportunity for high quality clinical supervision. This is seen by our students as one of the great strengths of the Queen's programme.
Future Plans
The Centre for Dentistry plans to realise its vision by enhancing sustainability through high quality staff recruitment and enriching the student experience through innovation and development of the learning environment.