Patrick G Johnston Centre for Cancer Research (PGJCCR)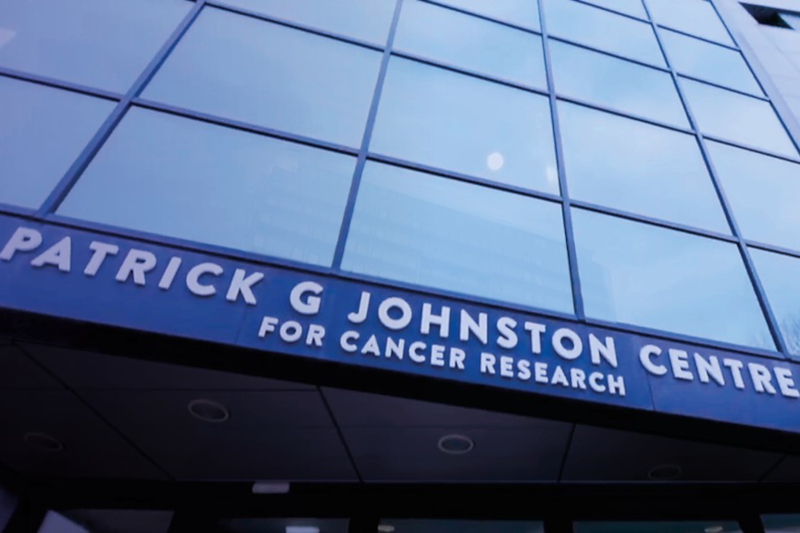 Patrick G Johnston
Centre for Cancer Research
PGJCCR's mission is to be an internationally recognised research leader in the global challenge of relieving human suffering from cancer, whilst delivering excellence in education and training of clinicians and scientists.
Recent work and achievements of Patrick G Johnston Centre for Cancer Research have been in the following areas:
Clinical Trials and Experimental Medicine
Development of our clinical trials and radiation research programmes are coordinated in partnership with the NI Cancer Centre. Success in programme grants and publications have dovetailed with improvements in patient care through locally developed and led clinical research, particularly in colorectal and prostate cancers. CRUK ECMC programmatic funding was renewed in 2017. We are one of 18 adult cancer-focussed ECMCs in the UK and membership of the ECMC network provides the major opportunity to network trials with other ECMCs in order to accelerate trial delivery.
The ECMC is complemented with Trials Acceleration Programme (TAP) renewal from Cure Leukaemia in 2019 and the Movember FASTMAN consortium with University of Manchester to exploit biomarker-led precision radiation innovations in prostate cancer.
Basic Biology
We have developed an internationally recognised programme exploring mechanisms of cell death induced in response to anti-cancer therapies. We have internationally recognised expertise in DNA damage signalling and a strong track record in profiling the activity of proteasome inhibitors in haematological disorders, particularly in multiple myeloma, and in the understanding of lysosomal proteases in cancer progression.
Chromatin remodelling and epigenetics research groups are investigating how chromatin accessibility allows transcription factors or other binding proteins to control gene expression, developing insights which may lead to clinical trials within the Experimental Cancer Medicine programme.
Precision Medicine
The Precision Medicine Programme is strategically aligned with the Northern Ireland Biobank (NIB) to deliver biomarker research using high quality biosamples. Central to the programme is the Precision Medicine Centre of Excellence which was established to drive clinical adoption of research innovations, bridging the academic-industry interface to facilitate rapid translation of research into clinical practice.
Digital Health
This is one of the fastest developing and internationally competitive research domains in PGJCCR and we are one of the six UK sites for HDR-UK (partnership with Swansea University). Investment in bioinformatic capabilities has transformed the translational impact of our research, including: genetic algorithms for search optimisation; deep learning to identify new prognostic signatures and map tumour evolution and heterogeneity; and natural language processing to enhance user/software interfaces.
Molecular Epidemiology
Tumour Epidemiology research, conducted in close collaboration with colleagues from the Centre for Public Health (CPH) and the NI Cancer Registry, is strategically positioned for disease prevention and early diagnosis/detection, enabling the identification of individuals at different levels of risk within the population for stratified interventions such as chemoprevention or enhanced surveillance. We have particular expertise in the genetic epidemiology of prostate, breast and colorectal cancers.
Global Contribution
PGJCCR's contribution to Global Cancer Health Perspectives included being a leader in developing the European Cancer Patient's Bill of Rights, which was adopted in over 25 European Countries and won the prestigious 2018 European Health Award.
Future Plans
The future vision of the PGJCCR is to promote our approach of clinically-informed oncology research using precision medicine approaches; developing mechanistic understanding of cancers that can be translated back to the clinic to enhance outcomes for patients in parallel with delivering excellence in training the next generation of oncology scientists and clinicians.