Profiles: Women in STEM at Queen's University Belfast
Dr Nidhi Simmons
Royal Academy of Engineering Research Fellow, Institute of Electronics, Communication and Information Technology
Leading the way, Dr Nidhi Simmons is at the forefront of research in the area of ultra-reliable low-latency communications (URLLC) research at Queen's University. Nidhi is a research fellow from the Centre for Wireless Innovation, within the Institute of Electronics, Communications and Information Technology at Queen's University. She leads the programme that is working to help to deliver URLLC within 5G and 5G+ networks. Nidhi's work places her in the midst of a network of leading experts in artificial intelligence, wireless communications and low-latency communications from across the globe as she seeks to deliver on her vision of near zero-latency wireless communications. Dr Simmons said of her research: "During this Covid-19 pandemic, it is our communications infrastructure that has been instrumental in keeping us all connected. Nonetheless, while interacting on social media platforms, we have all experienced broken video calls and delays in our conversations.
Through this research, it is my goal to make delays a thing of the past and enable truly instantaneous communications. Reducing the delay or response time of cellular networks will have many economic and societal benefits. For example, it will make autonomous driving a reality, reducing accidents, improving road utilisation and eliminating traffic jams. It will also reignite our economy post Covid-19 by enabling factory automation, made possible by safe human-to-machine communication and machine-to-machine communication. Remote surgery will also become possible, where surgeons will have the ability to perform operations over a 5G/5G+ network, effectively enabling the same healthcare access for all citizens in the UK."
Nidhi is also deeply committed to the promotion of Women in Engineering and STEM. She regularly attends at open days and other events at QUB where she actively encourages young women to take-up engineering. Through the ECIT institute, she has delivered talks to female school aged pupils as they consider their choices for GCSE. At these events she discusses her own experiences, tells them of her motivation, and the challenges she has overcome and actively encourages her audience to seriously contemplate studying STEM subjects. Nidhi inspires and motivates young women through her passion for education and equality and sponsors a young girl in Nepal to ensure that she too can benefit from the increase in opportunity and life chances that having an education can provide. Nidhi is a genuine role model for young women everywhere and, here at QUB, we are proud to have her and many others like her amongst us.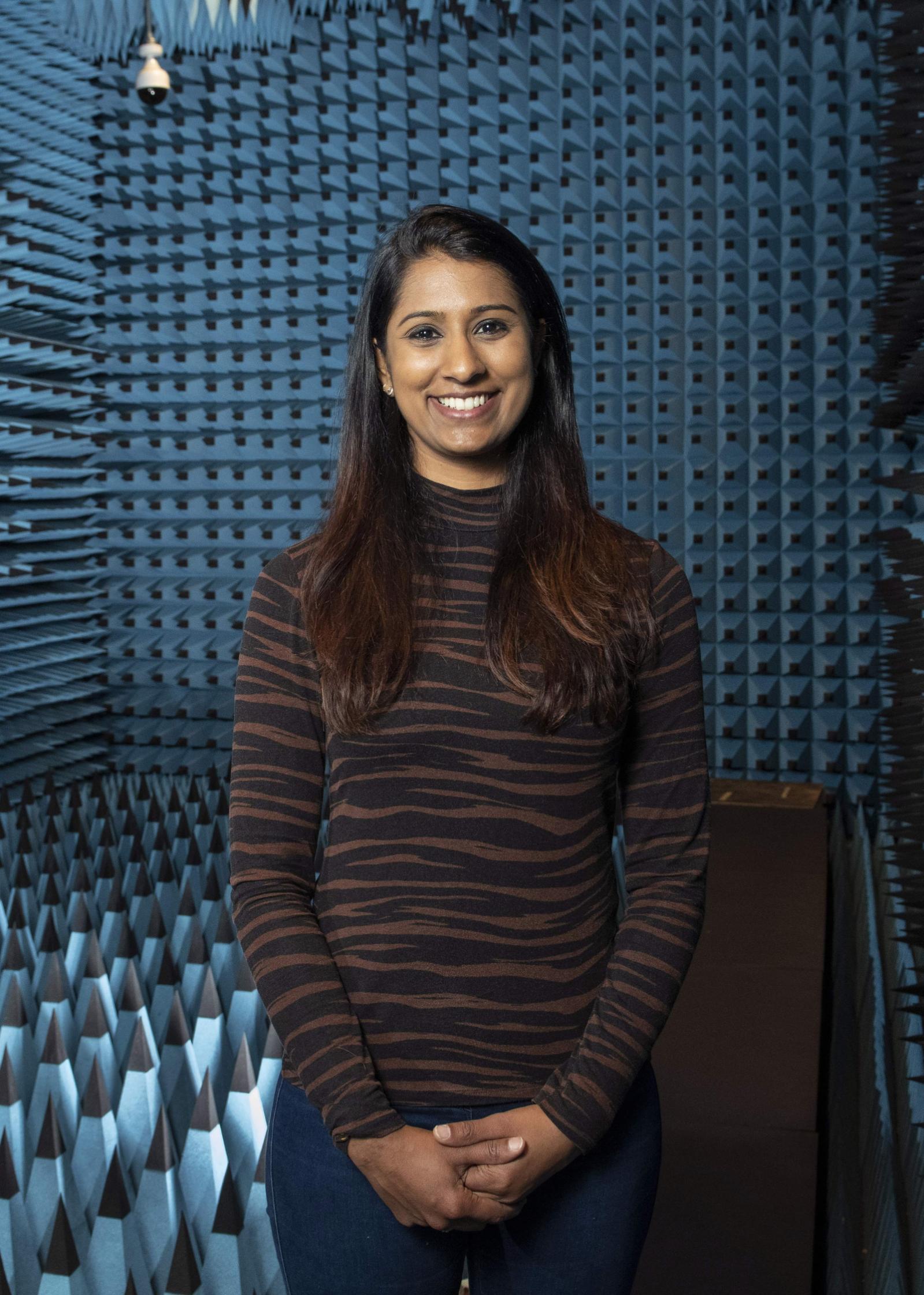 Dr Sarah Lappin
Head of Architecture, School of Natural Built Environment
Architect Dr Sarah Lappin, RIBA is the first woman to be appointed as Head of Architecture in Queen's University's 55-year history. Sarah trained at Columbia University in New York City and Princeton University, teaches history and theory, design and professional skills at Queen's as well as being an active researcher.
Dr Lappin is co-founder of the All-Ireland Architectural Research Group and is the outgoing Chair of the Steering Group of the Architectural Humanities Research Association. From 2016-2019, Dr Lappin acted as the School of Natural and Built Environment's Director of Post-graduate Education. She has won two Queen's University Teaching Awards and is currently External Examiner at Manchester School of Architecture.
Dr. Lappin's research examines two veins of architecture: history of architecture particularly on the island of Ireland in the 20th century and how sound and architecture operate together. Her research outputs include the book Full Irish: New Architecture in Ireland and input into the Irish pavilion at the 2014 Venice Biennale for Architecture, published in InfraEireann: Infrastructure and the Architectures of Modernity in Ireland 1916-2016. Her many other outputs on Irish and Northern Irish architectural history, (often published with Dr Una Walker, artist and art historian,) include an examination of the work in Northern Ireland of Portmeirion architect Clough Williams-Ellis; an analysis of the Festival of Britain in Belfast in 1951, and a history of Ulster '71 and its political and cultural context at the outset of the Troubles.
Along with Prof. Gacia Ouzounian, Oxford University, Dr Lappin is co-director of the Recomposing the City project, which examines how sound and public space might be better considered by both designers and policy makers. They were awarded an Arts and Humanities Research Council grant and have published multiple publications. Their advice notes, The Sound Considered City, can be downloaded from their website www.recomposingthecity.org.
Liza Colhoun
Senior Technician, School of Medicine, Dentistry and Biomedical Sciences
"I have been a technician at Queen's University for 13 years and during this time, I have had the opportunity to work with many dedicated technical colleagues across the University. Currently, I am located in The Wellcome-Wolfson Institute for Experimental Medicine (WWIEM), in the School of Medicine, Dentistry and Biomedical Sciences. It is a newly built specialised research facility opened by Sir Paul Nurse in September 2018. The current WWIEM core technical team consists of three women and eight men and we provide technical support for up to 300 researchers across a broad range of disciplines including immunology and microbial research, respiratory medicine, vision and vascular biology.
The Institute is composed of academic staff, post-docs, research fellows, research technicians, under-and post-graduate students, as well as visiting researchers linked to our international collaborators. Within the Institute, my role as technician/level three floor manager involves overseeing laboratory operations and providing technical support for researchers to assist them in delivering their research objectives. This includes overseeing all aspects of lab safety and as a member of the WWIEM Health and Safety Committee helping researchers comply with CoSHH, HSE, HTA, A(SP)A regulations and QUB safety guidelines. This role broadens to supporting the Committee with practical measures and preparing safety documentation for audits and inspections by various regulatory bodies. In addition to managing the level three labs, my role includes supervising particular research resources within the Institute. Firstly, I oversee all aspects of the Histology Unit and support the microscopy systems in WWIEM. I enjoy training researchers to use specialist histology equipment and teaching them to process, embed, section and stain biological tissues. It is rewarding to help with the examination of their specimens using a variety of microscopes and to provide advice when preparing microscopy images for publication or their thesis.
Secondly, I oversee the day-to-day running of the WWIEM Bio-Imaging Unit, which accommodates specialist instruments for imaging eyes and examining retinal function. Managing the service, maintenance and repair of the instruments in both facilities alongside experimental targets to minimise equipment down time can be demanding. This year, COVID-19 brought unforeseen demands for all the WWIEM technical team. While the majority of University staff and students remained at home in accordance with national lockdown rules, in Spring, the WWIEM technical team were deemed essential personnel and remained on-site to carry out crucial work. We were here to support a number of new rapidly developing WWIEM COVID-19 research projects, manage deliveries of temperature sensitive consumables, stock and deploy COVID-19 related PPE, to conduct necessary routine lab checks, monitor freezers, deal with buildings and estates related issues, and maintain liquid nitrogen cells banks. Working with my fellow technicians, we ensured all vital tasks were completed on time and in accordance with COVID-19 safety rules.
Balancing work, childcare and caring for shielding family members during lockdown was a challenge and it was difficult to explain to my ten year old why I was going into work when everyone we knew was at home to stay safe. When lockdown began to ease in June, it became vital to start operating our research labs again as safely and quickly as possible. The technical team faced completely new unprecedented challenges as we began to prepare for WWIEM's re-opening. This involved reorganising the Institute with one-way systems, signage and clear instructions in compliance with new social distancing rules, creating sanitising stations and deploying PPE whilst measuring and re-mapping lab workstations for COVID-19 safe working. Furthermore, WWIEM would initially open with a 2-shift work pattern for all researchers.
To explain these new guidelines, I participated in delivering a COVID-19 Return to Work Safety Induction programme for those returning on-site for the first time since lockdown. Everyone returning was clearly informed of the changes in the work place, shift patterns, new lab workstation allocations and PPE requirements (including mandatory facemasks and visors). The induction also gave everyone an opportunity to ask questions about our COVID-19 control measures. Over the course of a number of weeks, we successfully welcomed our researchers and PhD students back into the labs and their research projects got underway again. The University academic year has just begun and our new intake of Masters and PhD students have joined WWIEM. I am looking forward to meeting them and although we do not know what COVID-19 changes may come, I am confident the WWIEM technical team and all my technical colleagues in QUB will continue to play their vital roles within the University."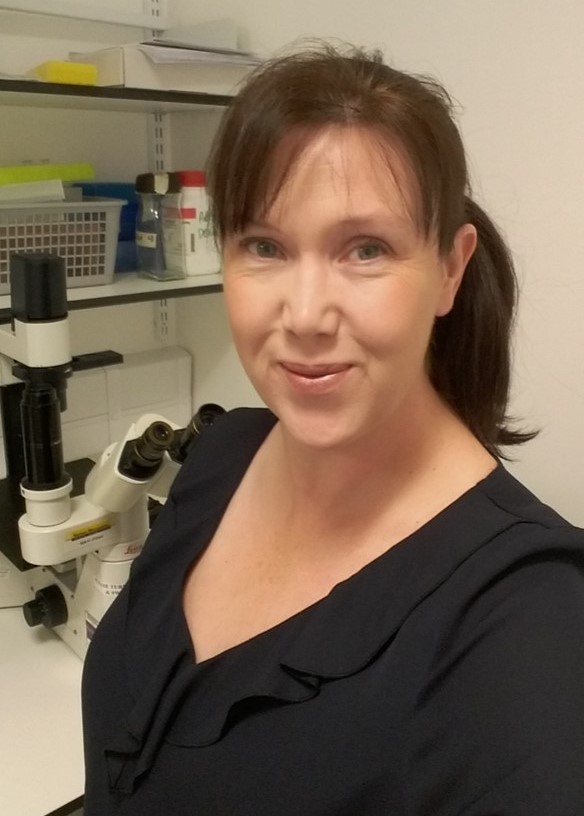 Dr Myra Lydon
Royal Academy of Engineering Research Fellow, School of Natural Built Environment
Dr Myra Lydon is a Royal Academy of Engineering (RAEng) Research Fellow at Queens University Belfast (QUB). She was awarded her PhD in Civil Engineering in 2016 from QUB whilst working on an £1.2M international research project with Centres of Excellence in the USA and Ireland.
Her research led the development of the world's first fibre optic bridge weigh in motion system: the sensor system is attached to the underside of a bridge and can provide accurate classification and weight information on the traffic as it passes over the bridge. The research subsequently led to follow-on funding for the development of computer vision-based techniques for bridge monitoring and resilience of civil infrastructure, the findings of which have been published in four high impact journals and presented at six international conferences.
Her growing international research profile has been is evidenced through her instrumental position invitation to lead in the organisation of the 6th ISHMII International Civil Structural Health Monitoring workshop at QUB in 2016. Myra has a strong track record for providing Structural Health Monitoring (SHM) assessments and solutions to key infrastructure elements including The Titanic Dry Dock, Thames Tideway Tunnel, The Iconic Peace bridge and numerous motorway bridges. She is responsible for transferring emerging research technologies to industry and government partners including The Department for Infrastructure and Translink. Her research work has evolved independently and is now introducing new strands of research into her School in the integration of network-wide asset management systems and data analytics.
Her passion for research in bridge engineering has been publicly demonstrated via her feature on the TV series "Ulster Giants" and her selection as the 2018 Institution of Civil Engineers (ICE) Invisible superhero Dr Sensora (Figure 1).
She is currently Northern Irelands STEM ambassador and is co-creator of Maths QUBe, which is a free program of daily maths activities for primary school children developed to support home schooling during the COVID-19 Lockdown. The program of 34 videos was delivered though a YouTube channel, which received 5.5k views. She has organised over 50 engineering activities to groups of primary school children, including bridges to schools, marshmallow towers, greener planet and kid's climate action camps.