BLOG: How Queen's Reading Together Programme improves the reading skills of children in foster care
"The Queen's Student Mentors over the last few years have been brilliant and I am so grateful for all of their hard work."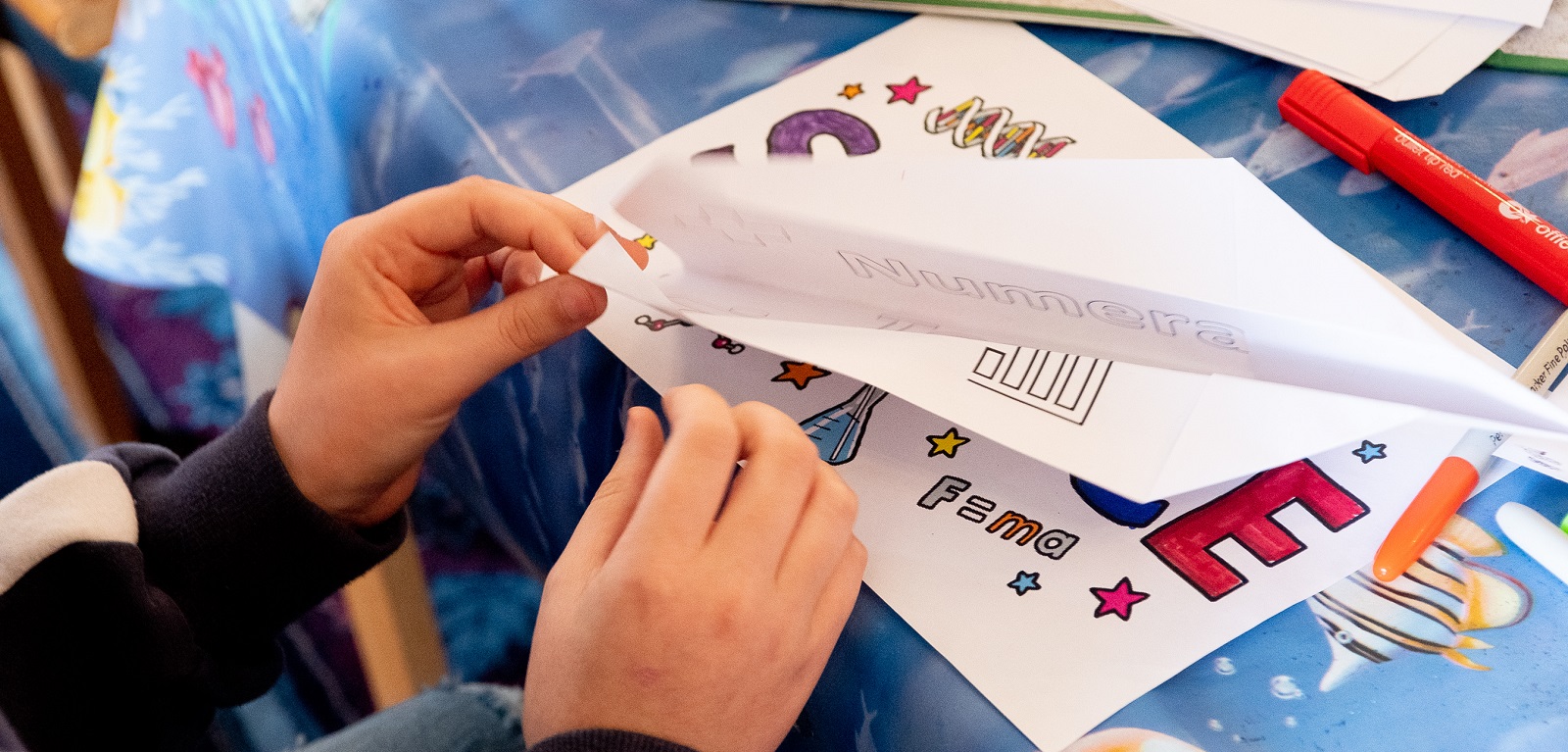 A blog by Julie-Ann Hamilton, Outreach Officer, Widening Participation Unit.
I joined the Widening Participation Team in November 2019 and was extremely lucky to inherit the Reading Together programme from my predecessor Deirdre Lynskey. The Reading Together programme aims to raise the literacy standards of Looked After Children by providing one-to-one support from a Queen's Student Mentor, focusing on reading, improving self-confidence while also raising awareness and aspirations of higher education by highlighting the opportunities that university can bring. The programme been developed for children aged 9-11 in foster care and aims to help improve their reading skills and attitudes towards reading.
The programme provides Looked After Children with a Queen's Student Mentor, who they meet weekly for online paired reading. These regular interactions support children as they forge connections with university students, building a bank of memories from which they can draw in future years when making decisions about their own education, and impressing on them that higher education is not only accessible but also a realistic option for them.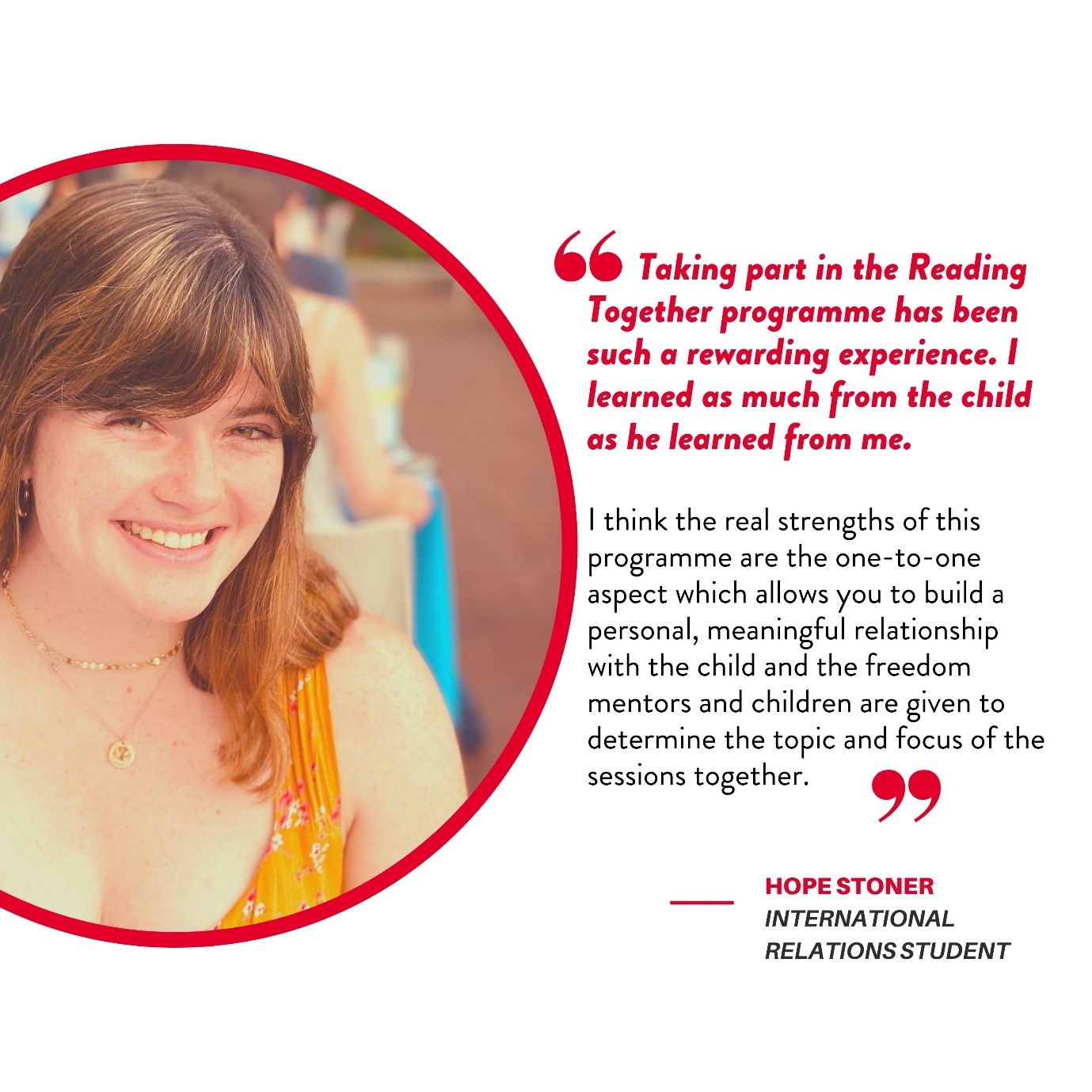 As Outreach Officer, I manage the programme, from recruiting and training Queen's students, matching Looked After Children with Queen's Student Mentors and providing ongoing support to all participants. I arrange pre- and post-programme evaluations, which are completed for each child participating in the programme to ensure the programme is fulfilling its objective of improving children's literacy skills. It's an absolute pleasure managing this programme, and is one of the most enjoyable experiences I have had from working in the University. Not only do I get to see the progress in children's literacy and their confidence and love for reading grow, I also see the enjoyment and satisfaction the student mentors get from their sessions with the children.
Before the Covid-19 pandemic, the one-to-one reading sessions between the Queen's Student Mentors and the children took place in the child's school, normally after school hours. In 2020-2021, despite the challenges caused by the pandemic - which had profound impacts on foster carers, children in foster care and on the teaching and learning experience of student mentors - we decided, against the odds, to redouble our efforts and continue to deliver Reading Together. However, we moved delivery to an online programme.
We recruited student mentors to deliver an online version of the Reading Together programme to primary school. Looked After Children. Having been recruited and receiving full training, the mentors then met weekly with Looked After Children on a monitored on-line platform. The student mentors received support from WPU and two academic staff from School of Social Sciences, Education and Social Work. Initially, I worried that online delivery may not work; however, we were delighted to discover that the children involved responded incredibly well to online delivery, thoroughly enjoying their weekly contact, and, indeed, there were some children and their carers who pleaded for the programme to continue, resulting in a summer reading programme with their mentor.
Of course, there were many obstacles in the initial days of the online pilot: from children not having suitable IT to software issues, poor internet connections and poor IT skills. But as the weeks went on, the programme began to run smoothly. End of programme assessments highlighted the success of the intervention with all of the children's literacy scores improving.
Additionally, through transport costs saved as a result of online delivery, we have been able to increase the number of Looked After Children completing the programme, and in 2020 welcomed Foster Care Associates onboard.
Our student mentors were at the heart of the success of online delivery. They were able to manage online sessions extremely well, even in challenging circumstances during a global pandemic, ensuring that the children were engaging and enjoying their sessions. It wasn't long into the pilot that mentors began coming up with their own ideas and suggestions on how delivery could be improved and elements of the online programme that needed tweaking. The hard work, dedication and commitment from the mentors was recognised at end of 2020-2021 when they were awarded joint winners in the 'We Are All Stars Here' Students' Union Awards. The Queen's Student Mentors over the last few years have been brilliant and I am so grateful for all of their hard work.
It has been a privilege to see so many Looked After Children take part in our online Reading Together Programme. Over the four years the programme has been running, pre- and post-test evaluations for accuracy and comprehension have been recorded. They show that the majority of children improved their standardised scores over the course of the Reading Together programme.
Due to the success of Reading Together, we piloted a numeracy together programme in 2021-2022 for Looked After Children - thanks to the great work from Dr Jennifer Roberts, a Lecturer in the School of Social Sciences, Education and Social Work and a team of PGCE students. The Numeracy Together evaluation is currently under way and, when completed, we can then look to planning a programme for 2022-2023. I am looking forward to recruiting more mentors in September to assist in the delivery of our 2022-2023 programmes.
Finally, a special thank you to Professor Karen Winter and Dr Jennifer Roberts, School of Social Sciences, Education and Social Work who continue to support the programme and provide valuable input each year. Their expertise and guidance ensures that the programme is delivered successfully each year through provision of excellent training and regular support adivce and guidance in sessions with our Queen's Student Mentors. I have enjoyed working in collaboration with them, and look forward to continuing to work together in the future.
Julie-Ann Hamilton, Outreach Officer
Widening Participation Unit