BLOG: Queen's University and its Green Space: The Evolution of our Gardens and Grounds
"It is great to be part of an organisation that values outdoor space and is committed to ensuring it provides for staff, students, the local community and, importantly, our local wildlife."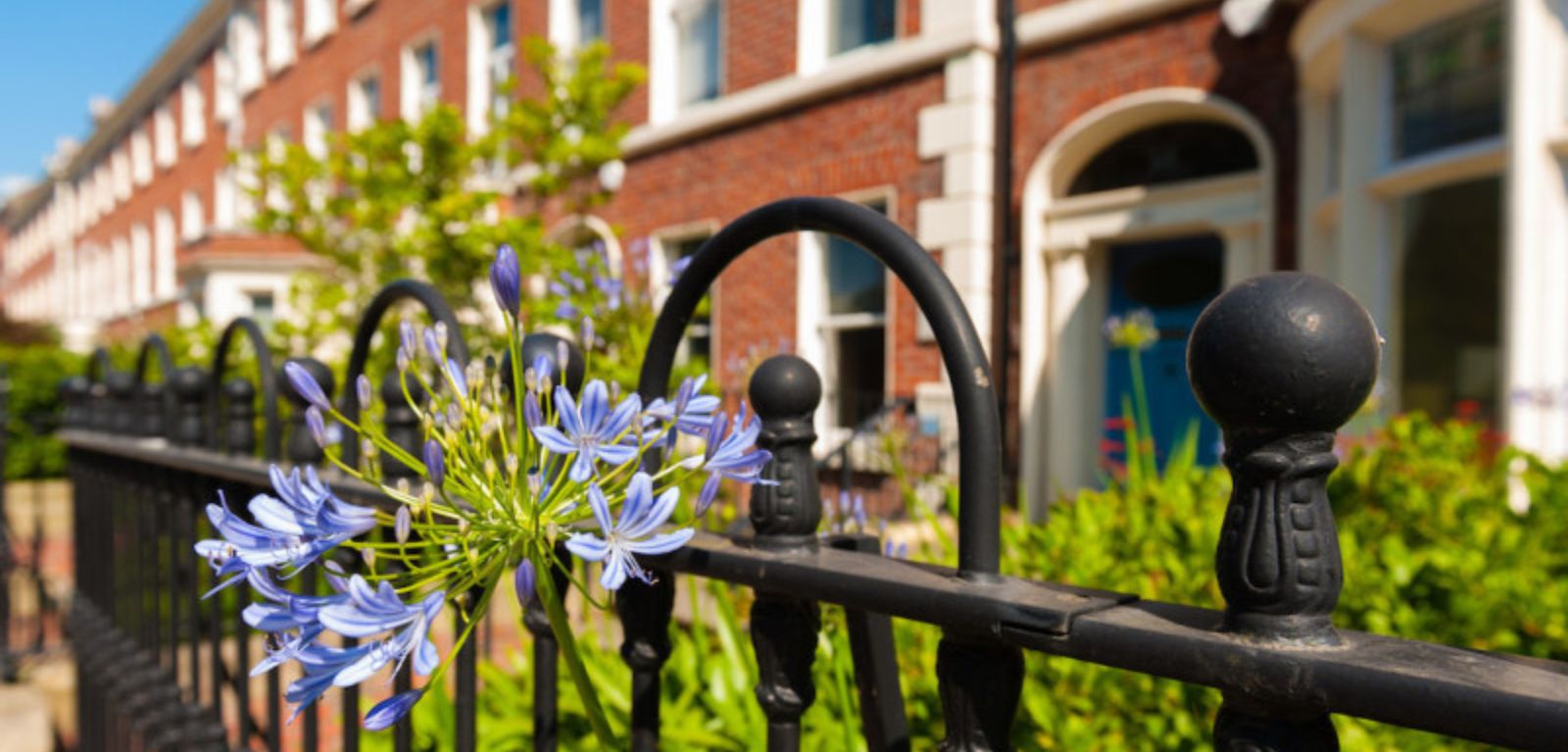 A blog by Paul Wallace, Head Gardener, Gardens and Grounds Service, Estates Directorate.
I joined Queen's Gardening Team 38 years ago in June 1984, soon becoming Acting Head Gardener and, eventually, Head Gardener ten years after my appointment (which means I have been at Queen's longer than a lot of our trees!).
When I joined, there was a team of 23 full time-gardeners; however, due to advances in mechanical technology, that number has now decreased to six full-time and one part-time gardener.
It is great to be part of an organisation that values outdoor space and is committed to ensuring it provides for staff, students, the local community and, importantly, our local wildlife. This commitment is reflected within our staff, who actively enjoy the grounds and communicate this regularly with the Gardening Team.
Since I started working at Queen's, there has been a continual change in the mind-set and dynamic of how the gardening team completes their work. There has been a change in how projects are designed and how the campus is maintained to ensure Queen's green spaces are being created and managed to tackle key challenges that are becoming increasingly prominent (climate change, biodiversity decline, habitat loss, poor mental health).
Since joining the University, another change I have overseen has been the enhancing of Queen's tree stock by planting a mixture of species and by ensuring there is a variety of tree ages present on site. Key species that are found onsite which are beneficial to pollinators include willow and Oak trees (both host a vast range of species). Part of the Head Gardener's role is to invest in Queen's biodiversity for the future - this includes planting trees which will start impacting and benefiting future generations in 20 to 50 years. The Gardening Team ensure current stock is well maintained and protected. If the opportunity arises, trees are moved and re-homed elsewhere – for example, Riddel Hall and Students' Union trees were moved to Malone Playing Fields.
My favourite trees on campus are the Chestnut and Magnolia trees found within the Quad.
Another improvement over the years has been the development of the University Square gardens. The project aimed to reflect how the street would have looked in the past. Each house was planted as though it were owned individually– giving the impression that the street was residential. Some 20 Magnolias were planted and now flower proudly as they would have done some 100 years ago.
Another programme of planting was undertaken to decrease the number of shrubs whilst increasing the number of flowering pollinator species present within the campus. This has resulted in key pollinator beds being created within the main site (situated at the Senate room and the Graduate centre). The key outcome is to ensure Queen's is part of Belfast's wider wildlife corridor.
We also set aside key 'No Mow' areas as part of the All-Ireland Pollinator Plan – at Riddel Hall, Ashby Hill, MPF and DKB Quad.
In July of this year, Queen's University's Gardening Team received recognition in the global Green Flag Awards for the fourth year running. It has been a particularly special year for the Grounds and Gardens Service, having already gained a commendation via the inaugural Pollinator Awards.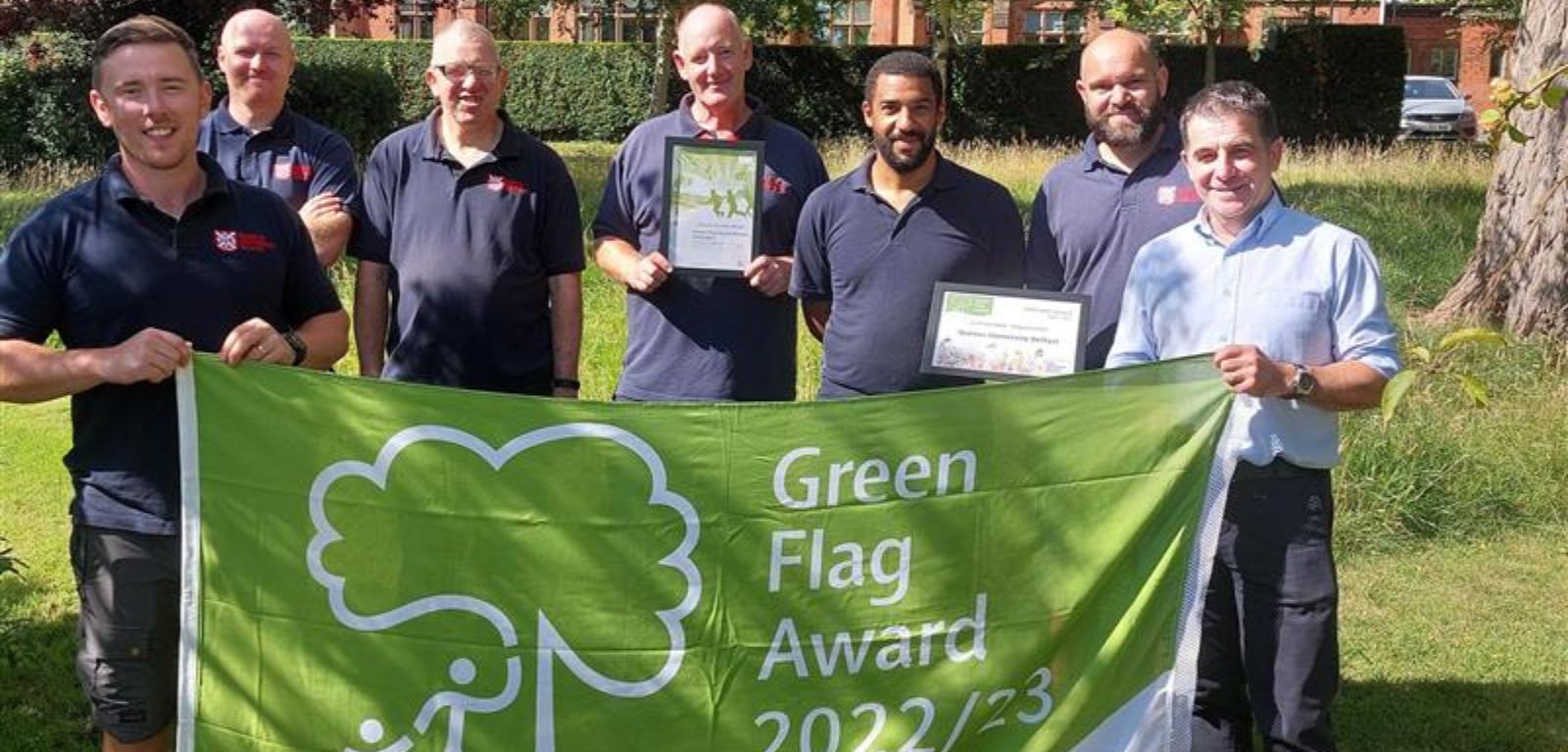 During my time at the University, we have also increased hedging and wildlife hedging, with 80 metres of hedging and 153 metres of wildlife hedging planted over the last few years. There has also been significant change in terms of equipment, and the Gardening Department are currently switching from petrol machinery to battery powered equipment.
All of these developments were brought about due to an increase in awareness across the whole University – from senior management to staff and students throughout the campus – as the University community increasingly recognised that they have a part to play in enhancing biodiversity. This has ensured that the Gardening Team are supported by a range of staff, including Staff Sustainability Champions, who have been instrumental in creating biodiversity hotspots throughout campus – such as the School of Chemistry and Chemical Engineering DKB Orchard and Elms Village Accommodation's Elms Allotment. We have also worked in partnership with the Sustainability Team and academics, our engagement with the local community has increased – with outreach projects such as the Lennoxvale Tree Nursery, Westwinds and St Malachy's Primary School engagement. A range of organisational partnerships have been forged to ensure Queen's are linking in with wider biodiversity initiatives – All Ireland Pollinator Plan and Million Trees for Belfast Initiative.
In summary, there has been a switch in priorities from lawns, to trees, to biodiversity, and to engaging with the community and partnerships.
We have a number of future plans in the pipeline:
We will continue tree planting to create a good, healthy stock of trees, with 500 saplings to planted within Malone Playing Fields in November 2022;
We will also continue to plant pollinators; create wildlife hedges; and install bird boxes;
We transition to battery powered machinery;
Increasing campus biodiversity surveys – insects, bees, butterflies, hedgehogs, birds – is also an important objective;
And community outreach will remain important, and we have several staff and community projects in the works.
Over the years, I have had the pleasure of working with very talented and dedicated individuals in the Gardens and Grounds team, whose commitment to our objectives and to delivering our projects to an excellent standard has been fantastic. They have been central to the successful development of our gardens and grounds, and I am proud to work with them.
The gardening team have embraced the changes necessary to enhance the biodiversity across the campus, as reflected in our achievement of the first Green Flag Award awarded to a University in Northern Ireland and culminating this year with a Commendation in the 2022 inaugural Pollinator Awards. It's a journey and we plan to keep improving and adapting to do our part to develop and protect our green spaces for the benefit of staff, students, the local community and, importantly, for our local wildlife and future generations to come.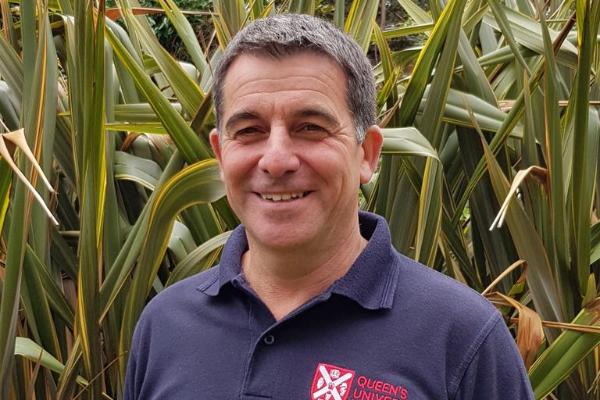 Paul Wallace, Head Gardener
Gardens and Grounds Service, Estates Directorate