BLOG: "Ashish will always be part of our global family"
Speaking at the memorial service for Ashish Vats, Isabel Jennings (MRCI) and Heather Taylor (MRCI) paid tribute to our Regional Manager in South Asia, who passed away suddenly in August 2021.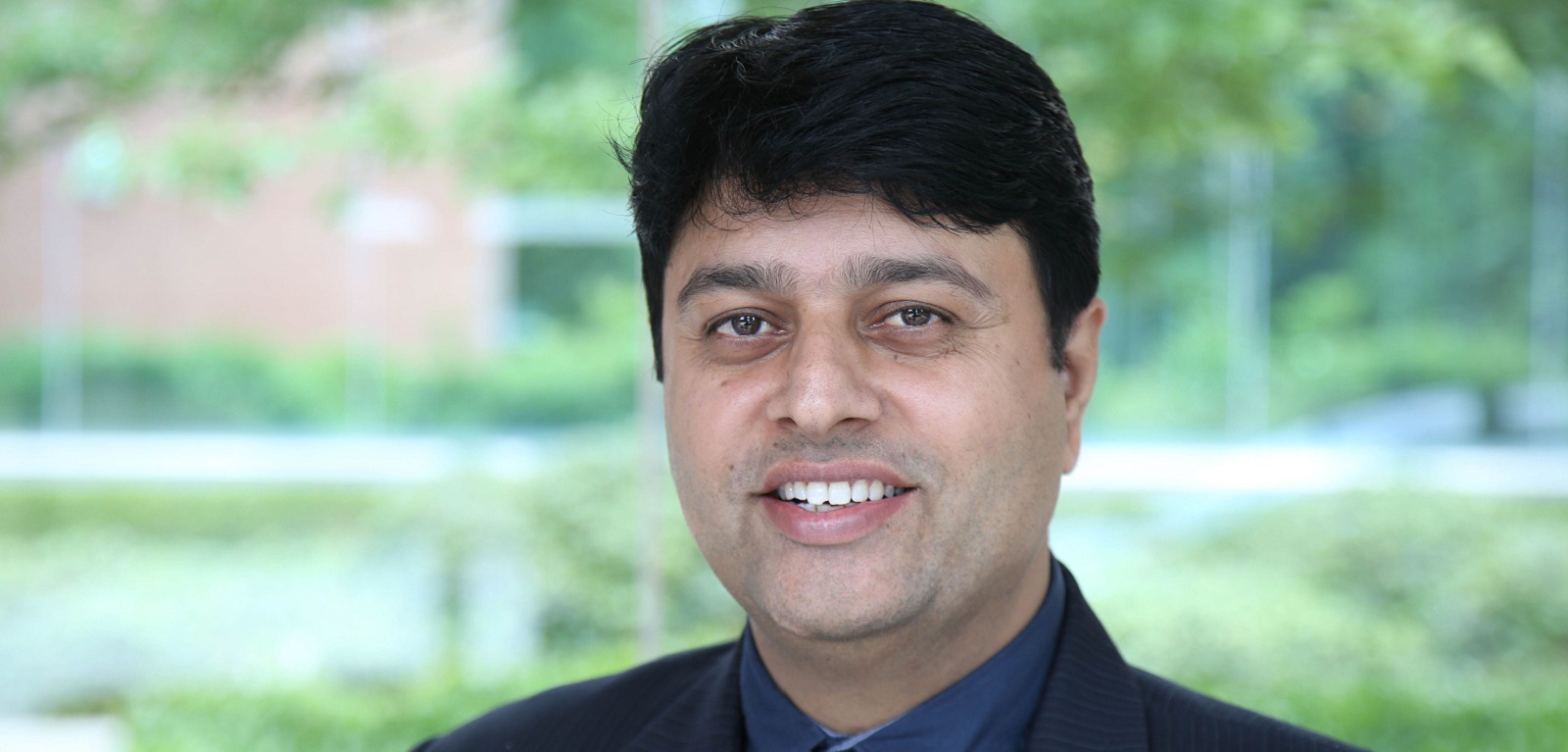 Isabel Jennings, Director of Marketing, Recruitment, Communications and Internationalisation:
"Ashish became part of the Queen's University Belfast family in November 2014 – a blessing bestowed on us by Tarun and for which we will be forever grateful.
"When I first met him in person I was struck by his charisma, authenticity, humour and the purity of his desire to transform the lives of others through education. Ashish had first-hand experience of the transformative power of education and the joy that he experienced in changing young people's lives never diminished.
"During our first meeting he shared with me photos of his beautiful wife Garima, daughter Devanchi and at that time recently arrived son Arjunand he described his family as the true colours in his life. Those of us who had the pleasure to work closely with him over almost seven years knew that it was his love of, and loyalty to, his family which was the foundation of his inspiration.
"His selfless nature combined with a relentless work ethic was evident in his unwavering commitment to students, parents, valued partners, and the T&A and Queen's team, many of whom are joining us today.
"Ashish was a team player who personified the essence of Queen's as our Regional Manager in South Asia – indeed his social media posts tell a story of the breadth and depth of his relationships with so many people, and are a testimony to the many mlles he travelled in the pursuit of his role. His sense of moral duty, integrity and determination were evident to all who knew him, and these attributes made people from all walks of life admire and want to connect with him.
"It is therefore no surprise that we see this outpouring of grief and emotion since his sudden passing, and previously untold stories of his acts of kindness to so many have emerged, which demonstrate the respect and affection of everyone he met along his journey.
"The students, partners and colleagues he supported mattered to him as individuals. And there are so many examples where Ashish connected, not only with those students he counselled, but their entire family circles. And that care and support continued throughout their studies to graduation. He was so proud of their achievements.
"He maybe didn't realise it, but due to his determination and solutions-oriented approach, anchored in the best interests of students, his insight was highly valued and often the catalyst to university wide improvements – it was not uncommon for the VC, who benefited first hand from Ashish's care and attention during three visits to India, to ask us to seek Ashish's valued view on addressing challenging issues!
"Our motto here at Queen's University Belfast is 'What shall we give in return for so much?'.
"We have been asking ourselves this a lot over the last few days and many of the Queen's team have sought advice on how to practically support Garima and the family and to appropriately honour Ashish for his amazing impact on our lives. We would like to reflect further on the many suggestions with Ashish's family at an appropriate time and will hold a memorial service in his honour to which you will all be invited.
"Ashish was more than just a colleague and friend. He was and will always be part of our global family.
"On a personal note the words of a British artist and author, Charlie Mackesy, capture something of how I feel when he wrote, 'I may forget what you've said, but I'll remember how you made me feel.'
"Ashish – I may forget some of the great things you did and the kind words you said, but I will always remember how you made me feel.
"And as long as we remember Ashish and how he taught us to be the best versions of ourselves, he will walk beside us and live on through us.
"Garima, on behalf of everyone at Queen's, please remember, we are here with you and for you."
Heather Taylor, Head of International Markets:
"Many of us here at Queen's had the pleasure of working with Ashish for many years.
"For all who knew him, there was always a twinkle in his eye. He had an enviable and unique ability to connect with everyone he met, accepting people exactly as he found them and somehow finding common ground. Within our team, even those who didn't work with him closely, have said that he felt like an old friend. He was endearing, warm and relatable –and there was a lovely light-hearted familiarity when he was around.
"Here, we called it the Ashish-effect.
"But one of the most admirable qualities about Ashish was the respect with which he treated everyone, regardless of position or background. He was authentic. And if Ashish was around, no female ever had to worry about carrying anything – he wastruly a chivalrous gentleman.
"He was first to welcome new people in the team, first to congratulate anyone on their success, first to welcome team members back from maternity leave – he was always present and like a glue that bonded us all together in many ways.
"But there was another side to Ashish – he had a gritty determination and his professional success can be attributed to the sheer hard work ethic by which he lived daily, driven by his strong family values. He arrived to work every day buzzing with the same infectious high energy and, always bursting with ideas. No-one needed caffeine when Ashish was around! He was so passionate about Queen's and he was available literally around the clock for anyone who needed him.
"Of course it wasn't all work. Ashish may have started off a colleague, but he rapidly became a close friend.
"Ashish was also so proud of his country and continuously went out of his way to ensure that anyone who visited Indiahad the best experience. From culinary delights to tuk tuks – and at least three of our team were taken personally by Ashish to Taj Mahal and even a photographer hired to recreate Princess Diana poses at the Taj! And when he brought visitors to Queen's, he showed the same pride in his second home here.
"Ashish lived by his own personal values, and with a transparency and integrity that many aspire to but rarely attain. The most fitting tribute we can pay to Ashish is to be more like him – to wake up in the morning with his thankfulness, to start our day with his resilience and continue our day with his commitment to make a difference.
"I think I speak collectively for the Queen's team with these words from the poet Anne Brontë, one of the famous Brontë sisters, whose home place was here in NI:
Farewell to thee, but not farewell
To all my fondest thoughts of thee
Within my heart they still shall dwell
And they shall cheer and comfort me."