BLOG: Making our laboratories greener with LEAF
"What we, as individuals and as a community, do now has a huge impact on future generations."
A blog by Maria Rea, Technician Floor Manager, Health Sciences Building, Patrick G Johnston Centre for Cancer Research.
Have you heard the expression "You can't teach an old dog new tricks"? Well, as an avid dog lover, I don't mind that analogy for myself! I wish I was as smart as either of my two Jack Russells.
As a technician for the last 39 years in this university, evolving with changes was, and remains, a very useful trick.
From starting in 1983 working in a tiny lab at Queen's, with no windows and a Prestige pressure cooker for a steam steriliser, to now working as a Senior Technician in a multidisciplinary research centre, between two buildings, with six state-of-the-art autoclaves (sophisticated steam sterilisers), it's fair to say some adaptation has been required over the course of my career.
I have seen a great deal of change over the past two decades. More recently, it's been fantastic to see, and be part of, a shift in focus to looking at how those involved in laboratory-based research can contribute to addressing the climate and ecological emergencies through their science.

At Queen's, we are currently piloting LEAF, a tool to help laboratory staff make changes in our lab spaces that improve the carbon footprint of our work.
The introduction of LEAF to Queen's was primarily thanks to the Technician Commitment and dedicated members of our network of Technicians at Queen's, like Gillian Riddell - who approached Queen's Environmental Manager, Sara Lynch, with the idea. As a former Green Impact champion and a member of the University's Carbon Reduction Plan Change Management Working Group, I was invited to lead on our LEAF pilot.
What is the LEAF initiative?
Designed by the sustainability team at University College London, the Laboratory Efficiency Assessment Framework, otherwise known as LEAF, is 'a standard for sustainable laboratory operations'. LEAF sets out actions which lab users can take to save plastics, water, energy and other resources.
Similar to the Athena SWAN initiative, laboratories are assessed under LEAF and awarded either a Bronze, Silver or Gold level, depending on how many sustainability actions they take.

The programme is endorsed by many other UK universities, and, since 2021, that includes Queen's University Belfast.
Why does sustainability in the lab setting matter?
Well it's the ripple effect. What we, as individuals and as a community, do now has a huge impact on future generations. As a technician who takes great pride in my work, would I walk out of the lab every evening leaving it in an unsafe mess? Certainly not. So why would I treat the planet like that - as if it's not my responsibility?
Personally speaking, the real question is "Why shouldn't I have a social responsibility?" As a consumer I'm part of the problem. To be part of the solution, I have to adapt; change a few habits of convenience; re-invent some old habits.
In the early days of my career at Queen's, I wiled away the hours washing, drying and sterilising graduated glass pipettes for reuse. Demands changed though, and the research group expanded. We soon made the move to a pre-packed, individually wrapped sterile plastic, disposable version of the glass pipette. We simply could not keep up with the demand to supply prepared sterile glass to larger research labs.
Progress and expansion in scientific research cannot be held accountable for this insatiable appetite for disposable plastic consumables, but it can be part of the solution. Washing and sterilising glassware is a full time job for someone and it might be worth considering this to go some way to off-setting our plastic use in the research laboratory in future – and, therefore, part of the solution! Reusing glassware as opposed to consuming disposable plastics all the time is a perfect example of what I meant when I referred to the need for re-invention of some old habits!
There is some scope here for measurement of metrics though.
LEAF comes with its own metrics tools, including calculators, to help us measure our own impact on CO2 emissions and money saved.
Dr Martin Farley, UCL Sustainable Labs Manager and co-creator of LEAF summarises the criteria:
Ventilation
Equipment
Energy
People
Facilities/space
Procurement
Waste
Samples and chemicals
Research quality
To achieve bronze award we will have to measure sustainability standards by looking at all of the listed criteria. Perhaps it seems obvious to start with assessing our use of equipment, even measuring energy output. However, it might surprise you to know that people and fostering relationships with other LEAF teams across the University campus, and, in particular, taking advantage of existing networks within the university's technical core, will drive this programme. Technicians had an opportunity to meet in person at our first showcase event in September 2019. New contacts made then are helping to establish new LEAF teams across campus now.
Ambitions for the future
I want to see the LEAF initiative grow and get the same attention as all our other worthy standards such as Health and Safety or Athena SWAN. I would like to see something regarding sustainability standards embedded into the job criteria of any advertised position in this university. You should know before you join Queen's that we are committed to our Net Zero challenge.
My job is so important to me that I embrace any opportunity to pass the baton on to next generation of technicians. Helping to create and embed more sustainable ways of working is an important part of that.
How to get involved
If you would like to put your own laboratory forward to sign up to the next LEAF programme, please email sustainability@qub.ac.uk.
Outside of the lab setting
The 'L' in LEAF stands for laboratory because resource intensive labs use more energy, but please do not underestimate the difference you can make to help achieve Net Zero targets while working outside the lab environment. So many offices were always doing their bit with things like:
Ban the bin (use recycle bins more and less household waste bins)
Establish a system to ensure lights are switched off when not needed
PCs are in power save mode
Get everyone involved, then introduce sustainability standards to new colleagues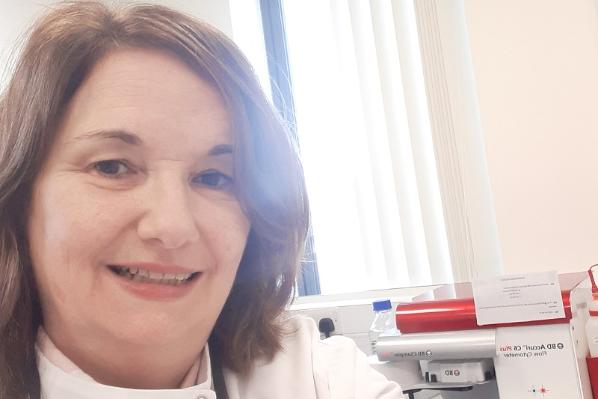 Maria Rea, Technician Floor Manager
Health Sciences Building, Patrick G Johnston Centre for Cancer Research