An international conference on manufacturing research (ICMR 2019) in September 2019. Internationally renowned researchers and industrialists will give keynote presentations that address the science and technology changing the world of manufacturing.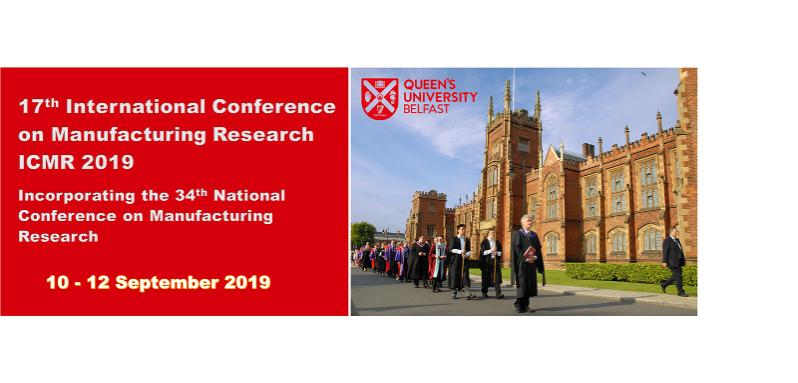 September 10, 2019 - September 12, 2019
Queen's University Belfast, Ashby Building, Stranmillis Rd, Belfast BT9 5AH
---
Manufacturing is in the midst of rapid change. Interconnected global manufacturing systems, dynamic markets that stretch around the world, new business models made possible by rapid advances in science and technology, create forces that drive these changes. Two complementary conferences bring together experts from across the world to share knowledge and expertise in manufacturing research.
Initiated by the Consortium of UK University Manufacturing and Engineering (COMEH), ICMR has been the UK's main manufacturing research conference for 34 years and an international conference since 2003 – bringing researchers, academics and industrialists together to share their vision, knowledge and experience, and discuss emerging trends and new challenges.
[ICMR 2019 website]

Keynote speakers will include:-
Professor Zhenyuan Jia; Dalian University of Technology, Dalian, China.

Professor Paul G Maropoulos; Aston University, Birmingham, UK.

Professor Guiling Yang; Ningbo Institute of Materials Technology & Engineering, Ningbo, China.

Professor Zhuming Bi; Purdue University Fort Wayne, Indiana, USA.
Find out more at through the ICMR 2019 website <http://www.icmr.org.uk/index.html>